Preventing Stroke with a Device Thinner than a Business Card: WIWE review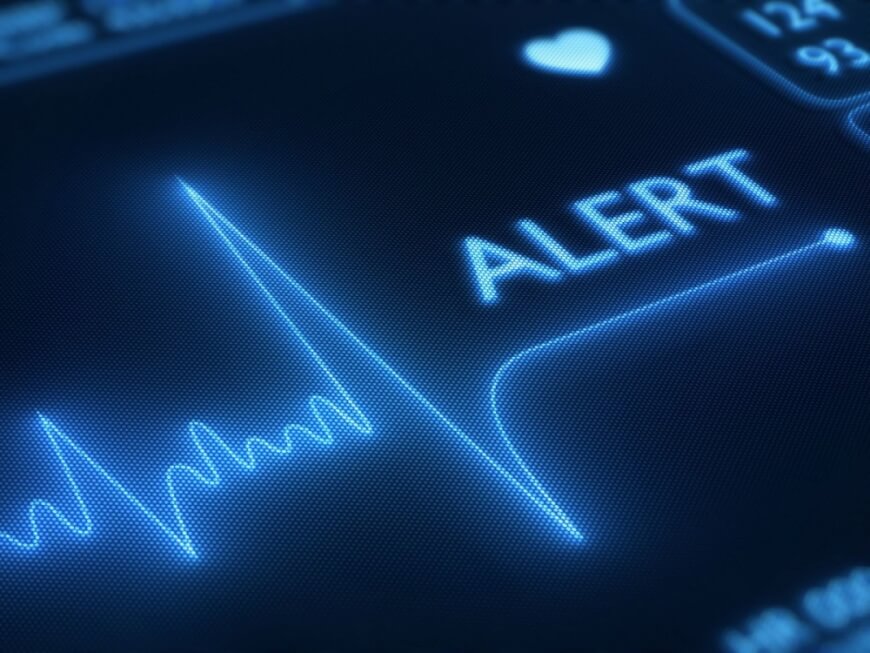 Stroke is a global health problem that can only be fought with prevention. An innovative company developed a tiny gadget called WIWE exactly for these reasons. It is able to measure ECG, blood oxygen level and pulse, while assessing health risks associated with stroke. Here, let me show you my detailed WIWE review.
Name the Problem: Stroke
According to the World Heart Federation, 15 million people suffer a stroke worldwide every year. Nearly six million die and another five million are left permanently disabled. The harsh facts also show that stroke is the second leading cause of disability (after dementia) worldwide. In this context, disability may include loss of vision and/or speech, paralysis and confusion.
Sadly, stroke and especially its consequences create a huge economic and social burden in the whole world. The World Heart Federation estimated that cardiovascular diseases (CVD) such as stroke and heart disease cost $863 billion in the developing and developed countries altogether. And the most disappointing fact is that in many cases stroke can be prevented by addressing behavioural risk factors such as smoking, high blood pressure or cholesterol level, overweight, inactivity, alcohol or diabetes.

Prevention and Speed is Crucial
Thus, it is of utmost importance to know whether you belong to the population groups with relevant risk factors; and it is also critical to turn to a doctor in time. Currently, there are several medical treatments available, which can reduce the damage caused by a stroke significantly. But you need to arrive at a hospital within 60 minutes (!!!) after symptoms start to prevent disability.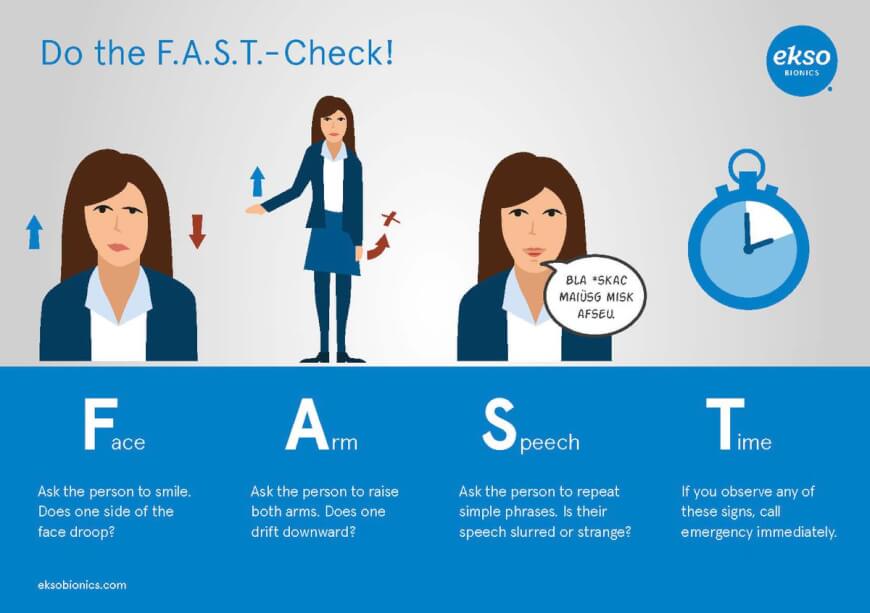 For knowing all your risk factors and to be able to contact the appropriate person(s) in time, it is highly desirable to have the adequate device at home. It's called WIWE. And it can save your or your family members' life as its algorithm is able to predict or at least to assess the risk for stroke and sudden cardiac death.
WIWE – What does it look like?
I had the pleasure to serve as a consultant in the very first phase of designing WIWE and I gave some suggestions to Dr. George Kozmann, the main creator of the pocket device, how to use his initial idea. Thus, I was happy and excited to try it out live on Facebook!
The company sends you a compact package with a white or black, business card-sized, very light device with a beautifully designed logo in the shape of an ECG sign, an elegant case and a USB-cable. It weighs only a few grams and has a great, streamlined design which perfectly puts the company's goal into practice. They wanted to produce a gadget which is easy to use, you can hold it in your pocket, and you can use it whenever and wherever you want to. I have to say, they absolutely succeeded!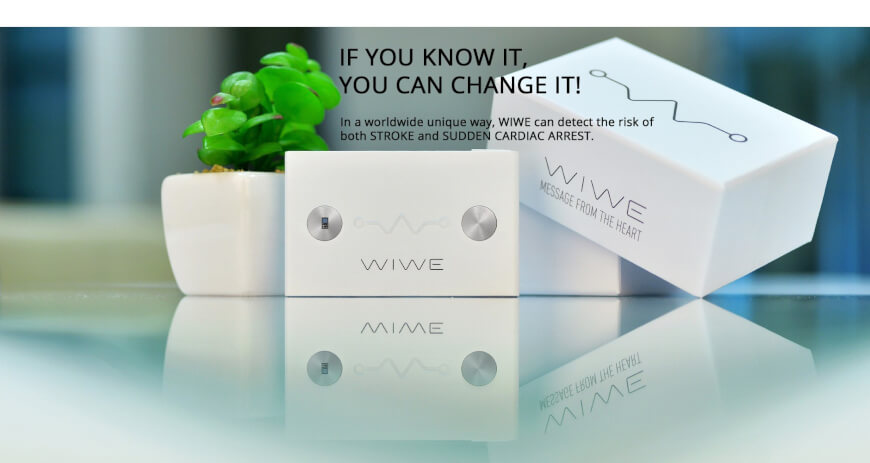 How to use it?
If you turn on the device itself, you can see how the green light runs through it similarly to the electrical signals on an ECG machine. Then you open up the WIWE application and after a couple of logical steps, you will be able to start a new recording. You have to push the two metal sensors on the WIWE device, which will record your ECG, blood oxygen level and pulse in the next 60 seconds. The company claims that the algorithm is 98 per cent accurate, which I have not had the chance to verify yet, and I know that it is quite a little statistical sample, but my data was in line with the previously measured parameters.
The results do not appear on the device itself, they are transmitted wirelessly – through Bluetooth connection – to your smartphone or another smart device, to the WIWE application. It is available both for iOS and Android. Thus, if you would like your elderly parents or grandparents to have WIWE as their guardian, you don't even need to explain them any technical details: they just push the two metal sensors from time to time, and you will have their results on your smartphone.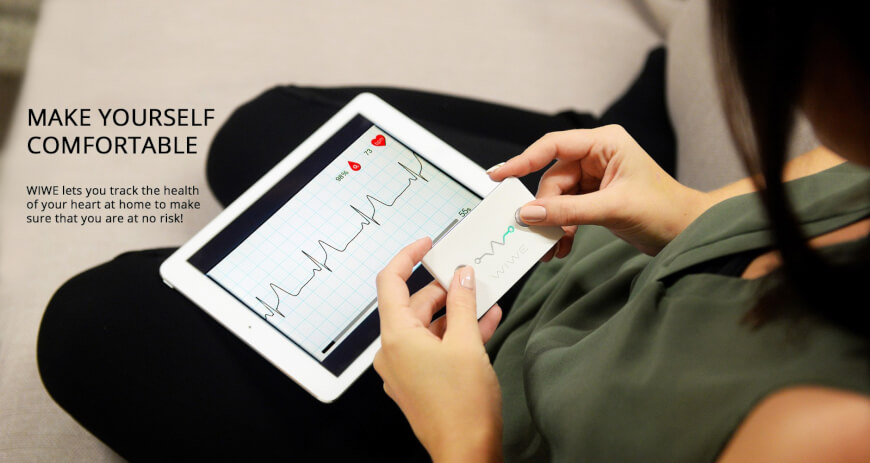 How to read your data?
WIWE is able to analyze the ECG data itself, and it is able to dive into the details about your vital signs. It offers you a detailed list, which you can save it to yourself or send via e-mail to your medical professional.
Beyond measuring ECG, the device evaluates your own risks and serves as a sports and fitness guide as well. It counts the number of steps you take a day. It also offers you lifestyle suggestions e.g. how to exercise or keep a healthy diet.
I believe it is also very important that WIWE provides information about the measured vital signs themselves such as what they mean, how they are measured, etc. Since you cannot know all these technicalities if you are not a medical professional, but they are essential for reading your data.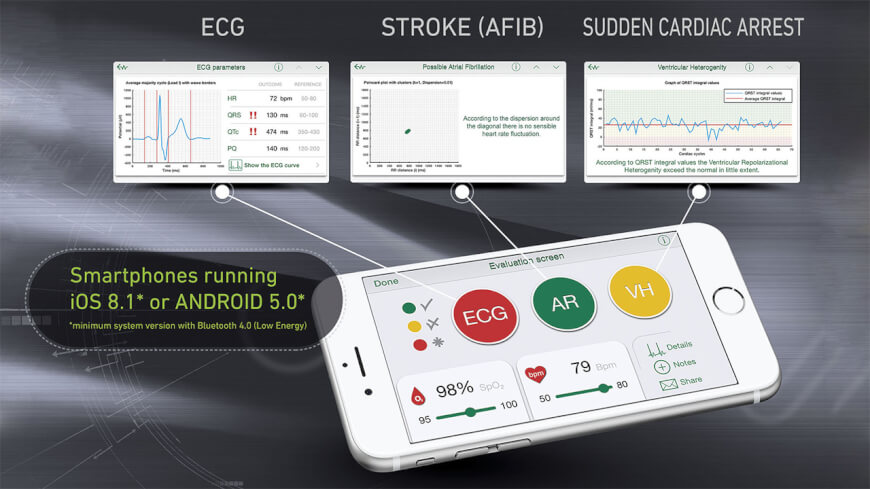 How to get the device?
If you decided right away that you cannot live without WIWE anymore, you just have to go to http://mywiwe.com/en/ and click on the order button.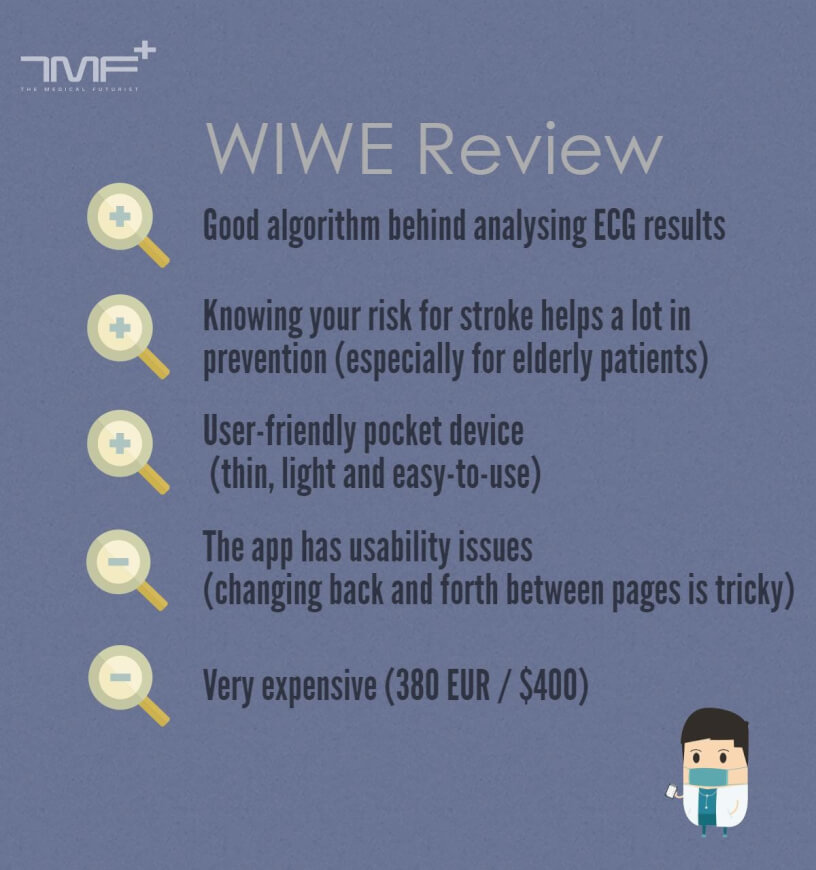 [subscribe image="false" type="article-horizontal"]Subscribe to
The Medical Futurist℠ Newsletter
News shaping the future of healthcare
Advice on taking charge of your health
Reviews of the latest health technology
[/subscribe]