Top Virtual Reality Companies in Healthcare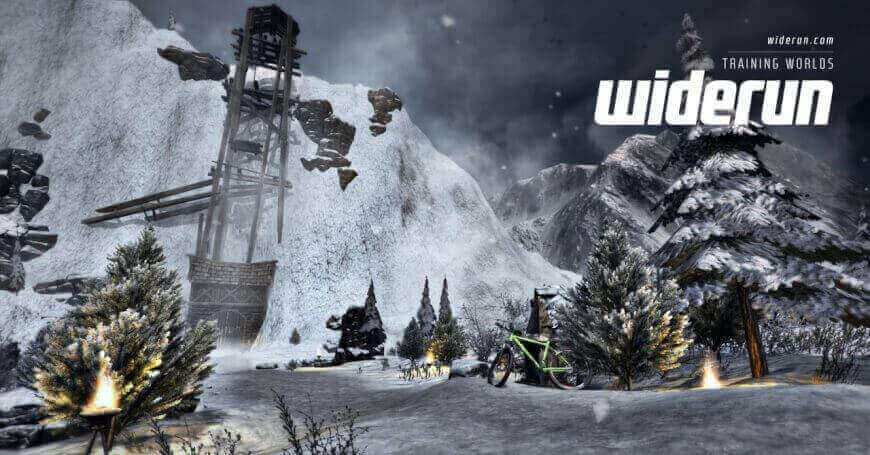 What is the common denominator of behavioral psychology, pain management, medical training, rehabilitation, and meditation? The answer is virtual reality. I believe that within a few years, VR will be a game-changer in these areas. Thus, it is high time to enlist the most important VR companies in healthcare.
VR is conquering new heights in terms of healthcare and sales figures
Medical/Therapeutic VR is an area with fascinating possibilities. It has not just moved the imagination of science-fiction fans, but also clinical researchers and real life medical practitioners. As a doctor, you could assist in the OR without ever lifting a scalpel. If you are a medical student, you could study the human body more closely and prepare better for real life surgeries. As a patient, you could escape the confinement of your hospital room and travel to Iceland. Even better, your pain and your stress might feel like they evaporated through the VR experience. As a patient with mental health problems, you could fight your possible fear of heights, schizophrenia or paranoia more successfully. VR seems to conquer healthcare gradually. And not only that.
Although VR has promised to become "the next big thing" on the market for decades in vain, statistics show that the time has come now for the technology. Various market research companies estimate that the VR hardware and software market could be worth around $30 billion by 2020. The sales of VR headsets are projected to skyrocket in the next few years: 500 million could be sold by 2025. Currently, there are 685 virtual reality start-ups with an average valuation of $4.5 million, according to start-up tracking site AngelList; and their number will grow further. This all means that both the demand and the supply side – starting from the cheap Google Cardboard to the expensive Oculus Rift – is growing. So, I thought it is time to enlist the most important VR companies in healthcare. Challenge accepted!
VR companies bringing change to psychology
1) Psious is treating your phobias differently
It is a sunny Monday and the rumbling of a busy Hong Kong street filters through the one-bedroom apartment. You want to, but you cannot leave your room because even the thought of being in a large open space packed with people terrifies you leaving you impotent. How can you get out of this dragging situation? How can effective help be offered?
The Spanish and American behavioral health technology company, Psious offers unique treatment for psychological conditions such as fear of flying, needles, various animals, public speaking, general anxiety or agoraphobia. With the help of VR, patients get into situations which are fearful for them under the constant control of a physician. Their task is to face their fears and gradually let them go, while their imagination is helped by VR. Until now, the results are more than encouraging!
2) Virtually Better offers VR exposure therapy for anxiety, depression or phobias
Do you remember the scene from Friends, where Ross and Rachel agreed that Rachel will go to the playground and try the swing in spite of her fears if Ross is willing to touch an exemplary of the dreadful spider? In psychology, this is called exposure therapy. When you confront a fearful situation.
Virtually Better, the pioneering VR company founded in 1996, offers among others an exposure therapy for people suffering from anxiety disorders, specific phobias or PTSD. This technology allows clinicians to circumvent many of the challenges associated with other types of exposure therapy; treat problem areas that most clinicians simply lack the resources to effectively treat. It is simply not enough in most cases to tell the patient to imagine his or her greatest fear to solve the problem – otherwise, the patient would not really need the intervention of a professional…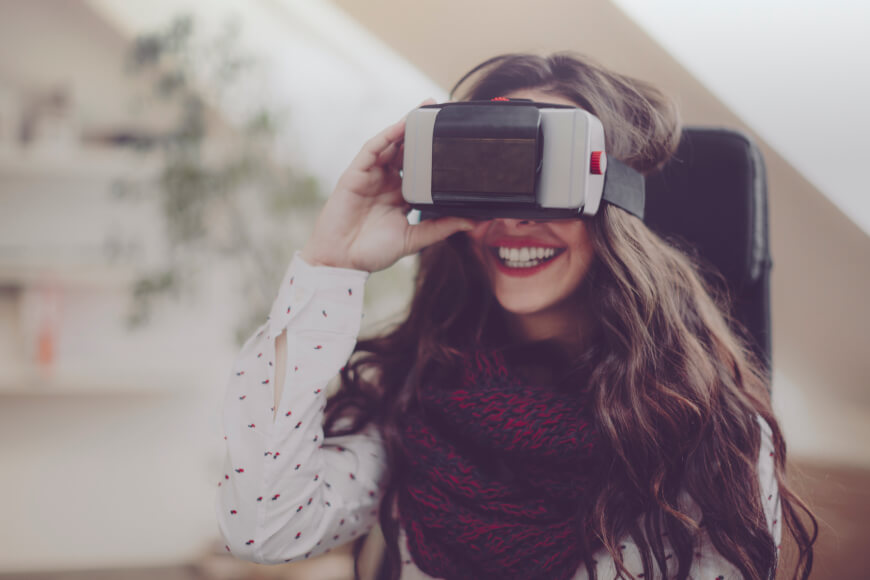 3) Bravemind is freeing soldiers from PTSD
Have you ever watched the movies The Deer Hunter, Born On The Fourth of July or The Hurt Locker? Then you might grasp the struggle of active participants of such traumatic events as the Vietnam or Iraq wars to get over their experiences and fit again into everyday life. Although not only war veterans and soldiers experience post-traumatic stress disorder (PTSD), but also victims of sexual assault or abuse, Bravemind is first of all for combat-related PTSD.
The VR Exposure Therapy was developed by a research team at the University of Southern California. It allows clinicians to gradually immerse patients into virtual environments representative of their traumatic experiences in a controlled, stepwise fashion. They control the multi-sensory emotional stimuli, which patients receive; and monitor the intensity of the patients' stress responses via advanced brain imaging and psychophysiological assessment techniques.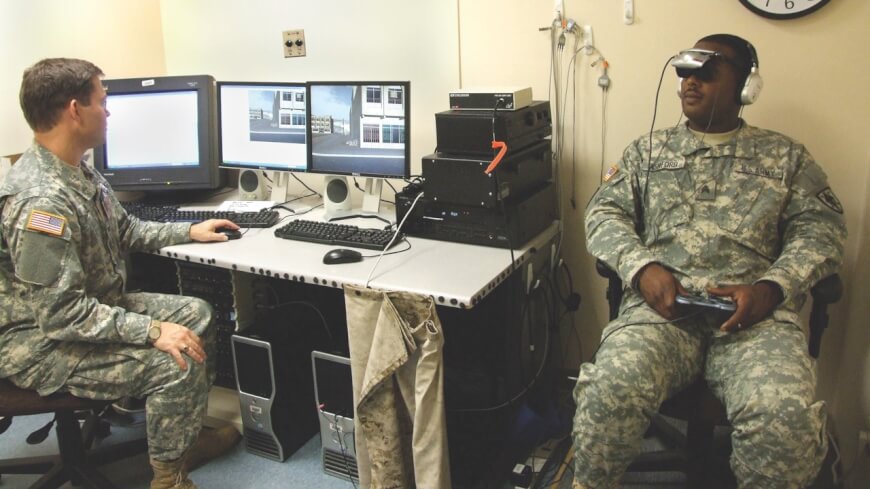 VR Companies for better pain management
Current treatment of chronic pain mainly involves narcotics, whose effectiveness decreases over time. According to various studies enlisted by Firsthand Technology, VR reduces the time of thinking about pain by 48 percent (!!), while narcotics only by 10 per cent. It decreases the unpleasantness of chronic pain by 38 percent, while this figure is only 16 percent in case of opioids. Also, the fun aspect of VR is incomparable to that of painkillers: 983 percent increase in a "better feeling" versus 33 percent decrease of joy while using narcotics.
The San Francisco-based company has been a part of pioneering research teams that have established the field of VR pain control and helped build the first VR pain relief application, SnowWorld. Firsthand Technology offers affordable and practical VR hardware kits and the corresponding software, Cool! and Glow! The first one follows you on a journey through a beautiful landscape of changing seasons, while the second lets you draw beautiful light creatures with your hands. These kits are available both for single patients, but also for hospital settings.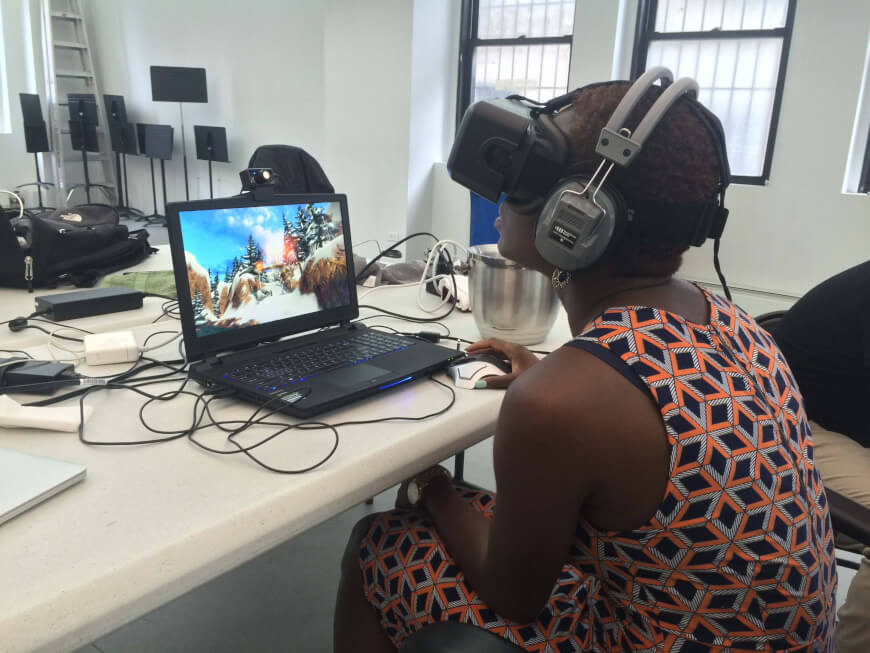 5) appliedVR for pain reduction in hospitals
The start-up born out of a global market research firm, Lieberman Research Worldwide, offers VR solutions especially for hospital settings. They conduct clinical research around both the usability and effectiveness of how VR helps patients throughout their healing path, in order to better design, acquire and make validated therapeutic VR content more accessible at scale in healthcare settings.
They brand themselves as a "Netflix" platform of validated therapeutic content. Leading hospitals in VR research and ongoing trials, such as the Cedars-Sinai Medical Center in Los Angeles, the Boston's Children Hospital or UCLA partnered with appliedVR for testing the benefits of the technology for example in reducing labor pain.
VR companies for teaching med students more effectively
6) ImmersiveTouch for more precise operations
Being a surgeon requires immense amount of knowledge, constant preparation and practice, as the smallest failure could cost a patient's life. However, up until now it was uneasy for doctors and med students to practice their profession before surgeries. ImmersiveTouch aims to become a game-changer in this respect. It offers a VR imaging platform that allows surgeons to see, feel and experience minimally invasive surgical pathways to improve surgical precision and patient outcomes.
When a surgeon prepares for a complex brain surgery, the MRI/CT scans of the patient can be uploaded into ImmersiveTouch's cloud, then reconstructed into 3D VR. Then, the surgeon can rehearse or teach various surgeries, and "get in touch with the patient", since the platform replicates the surgical touch and feel of the patient's anatomy. Simply mind-blowing!
7) Medical Realities and the first operation transmitted live in VR
For the first time in the history of medicine, on 14 April 2016 Shafi Ahmed cancer surgeon performed an operation using a virtual reality camera at the Royal London hospital. Everyone could participate in the operation in real time through the Medical Realities website and the VR in OR app. No matter whether a promising medical student from Cape Town, an interested journalist from Seattle or a worried relative, everyone could follow through two 360 degree cameras how the surgeon removed a cancerous tissue from the bowel of the patient.
In March 2015, Medical Realities announced the launch of their first product, 'The Virtual Surgeon'. They hope to kickstart a new teaching training model that will be adopted as part of a routine education tool in the future.

8) Osso VR for more effective orthopedic surgeries
A relatively young start-up, Osso VR is working on utilizing the power of VR in the field of orthopaedic surgeries and at the same time trying to improve the method of surgical training. Justin Barad, Osso VR's founder and CEO turned to VR after he got disappointed by the training he received during his residency.
The technology allows users to simulate assembling and placing a tibial nail. Users put on a VR headset (the software is currently compatible with Oculus Rift and HTC Vive) that displays a virtual operating room, and hold two controllers that track 1:1 with real-life hand movements and respond to these movements with haptic feedback that mimics the feeling of assembling and placing the nail.
9) VirtaMed for better medical training
The Swiss company established in October 2007 develops and produces highly realistic surgical simulators for medical training. Surgeons use original instruments to train in a safe environment before performing surgeries on patients.
VirtaMed has a great influence on the medical education environment of Switzerland. Since 2013, every doctor planning to specialize in orthopaedics in the alpine country has had to pass an exam on a VirtaMed ArthroS simulator. The company says that this improved the quality of the exam so much that the Swiss Orthopaedics certification board president Dr. Ariane Gerber Popp cannot even imagine organizing the test without a simulator. I hope that many more institutions introduce similar tasks for certifying medical professionals!

10) Zspace for STEM education
The California-based company creates mixed reality systems that combine elements of virtual and augmented reality in order to improve the quality of education in various areas. In their 'app store', they offer a wide range of educational VR tools ranging from a physics playground until the Human Anatomy Atlas for Zspace. It contains more than 4,600 anatomical structures, including all major organs and systems of the male and female bodies in order to better visualize the human body.
Zspace is inspiringly active in Science, Technology, Engineering and Mathematics (STEM) education, which I also promote whole-heartedly. For example, they offer an online development program for teachers in order to familiarize them with VR solutions, so they can teach their classes later with its help. Fascinating innovation, which I recommend to every enthusiastic teacher!
11) Surgical Theater for more effective surgical planning
Cleveland-based company, Surgical Theater was founded by Moty Avisar and Alon Geri. They both were affiliated with the Israeli Air Force flight simulation work. They asked the questions whether it is possible to train surgeons like fighter pilots who are able to pre-fly their missions; and what if surgical residents could also have a place to refine and practice their skills in the system of surgical simulators? And, what if these simulators could help patients be engaged in their care plan like never before?
Surgical Theater introduced a VR medical visualization platform alongside other Precision VR products exactly for offering an immersive environment for this three-fold purpose. On the one hand, it allows for unparalleled patient education and engagement; on the other hand it also delivers next-generation surgical planning and navigation capabilities as well as offers a great education platform for med students.
The originally Israeli company, Simbionix was purchased by California-based 3D printing enterprise for healthcare providers in 2014 for $120 million. It provides simulation, training, and education solutions in healthcare.
One of the most inspiring moments for a med student is to finally get into the operating room. But what if you could live through that moment virtually and prepare for it appropriately? Simbionix' Virtual Operating Room offers a truly realistic setting for laparoscopic training. The trainee practicing on the LAP Mentor simulator is fully immersed in an operating room environment including a virtual OR team, a patient, equipment and real life sound distractions. Simbionix also offers VR solution for surgeons wishing to prepare for complex surgeries. With the help of the D2P software, medical professionals can build personalized 3D models and go through the planned surgery step by step. Promising innovations!
VR for better physical activity and faster rehabilitation
13) VirZOOM for staying fit
One of the most intriguing VR experiences on the market is provided by VirZOOM and its "magic bike". It offers VR games made for active motion control where pedaling and leaning propel the users through race tracks, battlegrounds, soaring skies, and pictorial countrysides in the forms of an F1 driver, a tank commander, a cyclist or even a Pegasus. Do you wish for even more excitement during exercising?
Well, it seems the developers did, as they also included the possibility of experiencing community Vsports. It means other online players could drop into the games, providing competitive and cooperative matches up to 8 players. VirZOOM brings its technologies to fitness centers and gyms, and it wants to organize similar tournaments in the future.
14) Widerun for spicing up exercising
Are you bored and tired to ride your bicycle at the same old garage space at the same time every weekend? Widerun offers you a solution which might get you enthusiastic in exercising again: the first bike trainer, which you can connect to VR headsets, from Oculus Rift to Samsung Gear VR, to get a fully immersive training, engaging biking experience.
The Italy-based team also has a wide range of VR landscapes to dive into. One day you might try the "Winter is coming" fantasy game sending you to the icy scenes of Game of Thrones, the other you might bike around the streets of San Francisco or the Chinese empire.
15) GestureTek Health for revolutionizing rehabilitation
The Canadian company founded in 1986 invented video gesture control technology that was part of the origins of the VR field. Its pioneering technology was utilized by Sony, Microsoft, Hasbro, Disney or Coca-Cola, but GestureTek also established a division in healthcare, GestureTek Health in the mid 1990s, when the company first started developing applications specific to health, disability and rehabilitation.
Its VR exercise programs enable patients to have fun while stretching their physical and cognitive capabilities. It is especially important when the patients are small children, who usually refuse to participate in any rehabilitation, unless it is fun. On the other hand, if it is an engaging, achievement-oriented game, such as Gestrack 3D or any of its multi-touch solutions, the caregiver has an easy task.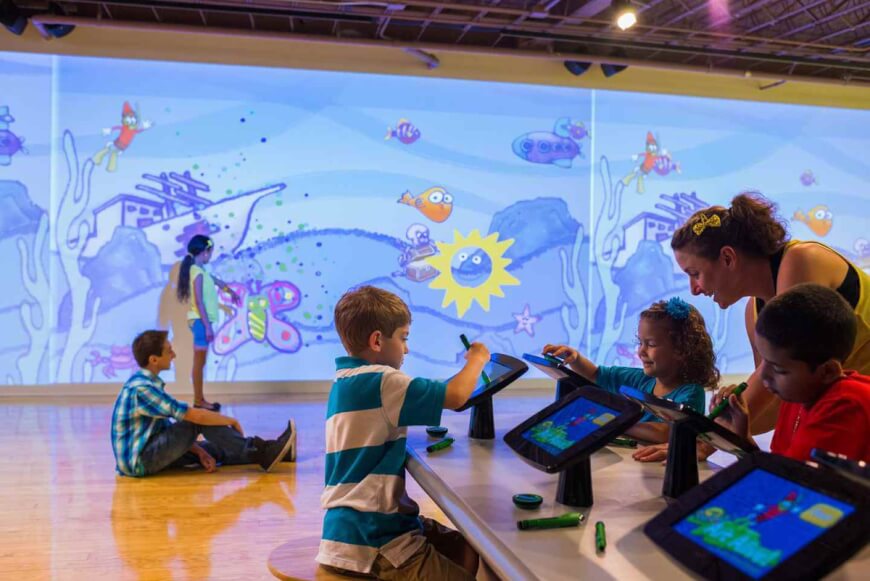 16) Mindmaze for recovering from brain injuries
Dr Tej Tadi, a neuroscientist, founded MindMaze in 2011 to develop technologies that help patients recover from brain injuries. The neurotechnology company operates in Switzerland, US and Romania. It has become in less than four years one of the top technology start-ups in Switzerland. In February 2016, it raised $100 million at a pre-money valuation of $1 billion.
Also last year, the company successfully launched devices, which use virtual reality, brain imaging and gaming technologies to retrain the brain in stroke victims. MindMaze is now developing solutions for spinal cord injury and amputee patients.
17) Eye Play the Piano for combining VR with the joy of music
Have you ever dreamed about moving objects with your thoughts or sight? For children and adults without the ability to move any of their limbs, it is an even stronger wish. However, the combination of VR, eye tracking technology and a piano, also those could experience the power of their thoughts, who may not even have the possibility to lift a pencil in their everyday life.
It is a Japanese collaborative project between the University of Tsukuba's Special Needs Education School for the Physically Challenged and the manufacturer of FOVE, an eye tracking head mount device. It is a wonderful innovation combining music with technology for a noble cause in healthcare. Lovin' it!
VR companies for a more relaxed meditation
18) Reach meditative state with Deep
Imagine that you are walking under water: your body becomes light and translucid, your steps slower and more theatrical. The whole world seems to slow down with you. Now, imagine this scene as a point for meditation (except where you have to come to the surface for breathing). This is exactly, what Deep is offering you with the help of VR – excluding the disturbing real world conditions. Game designers, Owen Harris and Niki Smit developed a VR game, where you control movements through your breathing.
With a customised controller strapped around your diaphragm and an Oculus Rift, you dictate your movement in a low-poly underwater VR through diaphragmatic breathing. In to gently rise, and out to sink to the seabed. The point is meditative, but shoals of low-poly fish add the joy of discovery.
19) Zen Zone and your own "secret garden" for meditation
Zen Zone is another relaxation game designed by Unello Design specifically for VR. It features two innovative relaxation sessions with beautifully relaxing music, which visualize the body and the breath in ways only possible in VR. You also get the chance to arrange your special "secret garden", where you might find your inner peace.
The Texas-based design studio is led by developer and musician Aaron Lemke. Mostly interested in exploring the experiential side of VR, Unello created many of the first relaxation experience available for the Oculus Rift.
If you know about other companies disrupting healthcare through virtual reality, please let me know! And if you are curious about  the top companies in other areas of medicine, check out my article about robotics' companies as well as my piece about those working with artificial intelligence!
[subscribe image="false" type="article-horizontal"]Subscribe to
The Medical Futurist℠ Newsletter
News shaping the future of healthcare
Advice on taking charge of your health
Reviews of the latest health technology
[/subscribe]