The Top 8 Technologies Combating Food Allergy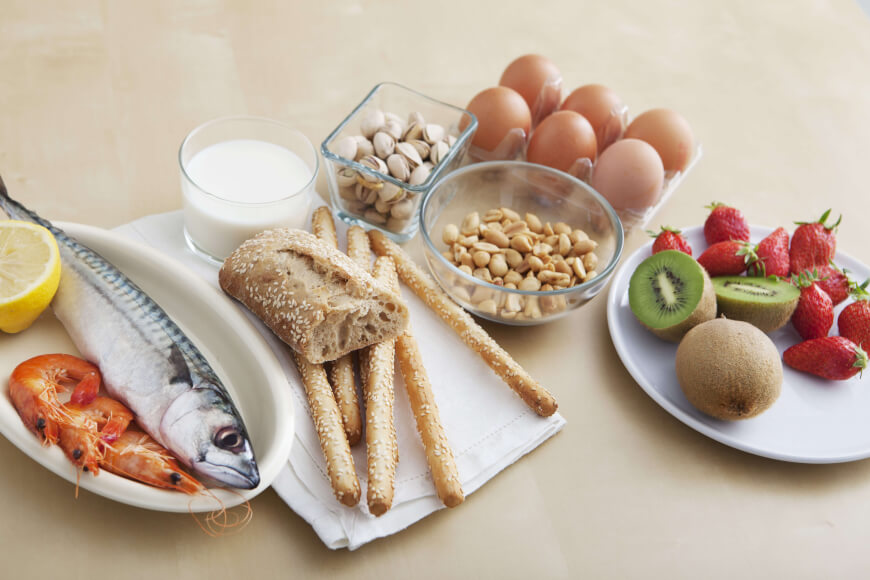 Every three minutes, a food allergy reaction sends someone to the emergency room in the US. Not only the number of people suffering from food allergies but also the complexity and severity of conditions are rising globally. Food scanners or portable devices could tell you the exact ingredients of the food on your plate; while apps and wearables help you deal with the effects of allergens. Here, I listed the best technologies combating food allergy!
Food allergy on the rise
Food allergy has been referred to as the second wave of the allergy epidemic, asthma being the first. Researchers estimate that up to 15 million Americans have food allergies, including 5.9 million children under age 18. That's 1 in 13 children or roughly two in every classroom. Moreover, childhood hospitalizations for food allergy tripled between the late 1990s and the mid-2000s.
According to estimates by Chinese doctors, 10 million or about 10 percent of Chinese children aged 0-6 suffer from various degrees of food allergies. In Japan, 7 percent of the population has to face a similar condition, while in Europe, the European Academy of Allergy & Clinical Immunology estimated that food allergies embitter about 17 million Europeans' lives, with 3.5 million of them less than 25 years of age. The tendency is also worrisome: the number of children with allergies has doubled in the last ten years. The prevalence of allergies in children varies from 1.7% in Greece to 4% in Italy and Spain, to over 5% in France, UK, Netherlands, and Germany.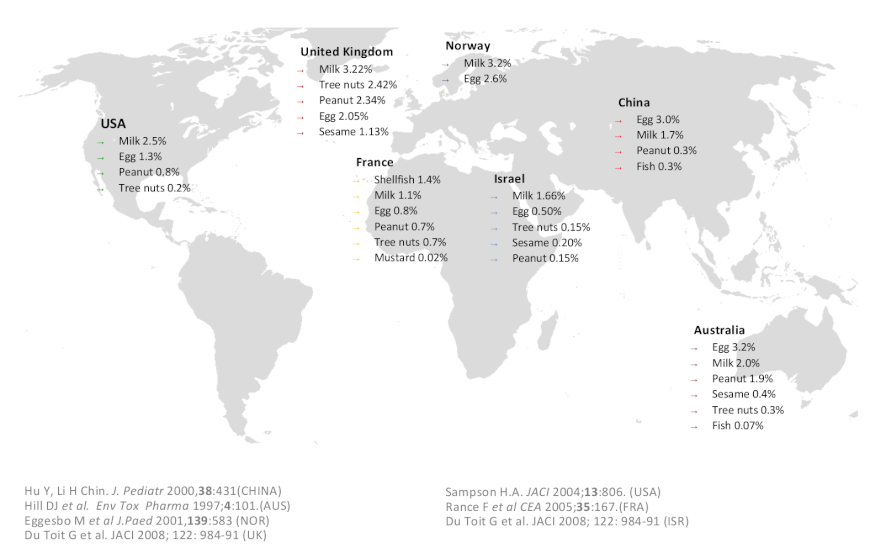 Digital health for effective condition management 
FARE says that more than 170 foods have been reported to cause allergic reactions. For most of the serious food allergy reactions, eight major food allergens – milk, egg, peanut, tree nuts, wheat, soy, fish and crustacean shellfish – are responsible. In the last couple of years, sesame started to fall into the line, too. Imagine how awfully difficult it could be to find something decent to eat if you have lactose and gluten intolerance, you cannot eat fish and soy. Not to speak about the huge chance of biting on something with the no-go ingredients.
Currently, there is no cure for food allergies, although disruptive technologies might offer some help in the future. Researchers at the University of Queensland have been able to 'turn-off' the immune response which causes an allergic reaction in animals with the help of a specific gene therapy. CRISPR has also been publicized as a technology capable of generating an allergy-free peanut – but that is far from now. At the moment, digital technologies could offer help in managing food allergies effectively.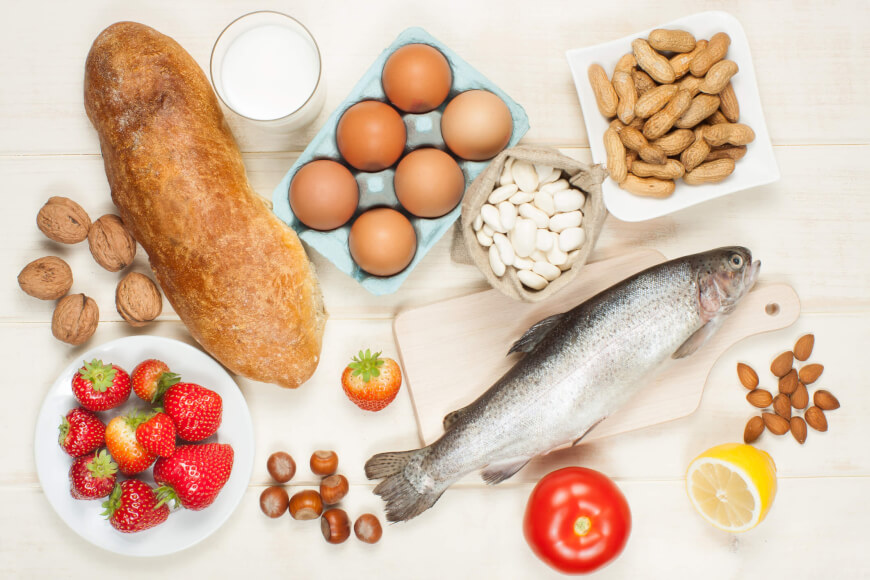 Nima co-founders Shireen Yates and Scott Sundvor have long struggled with various food allergies, so after meeting at MIT in 2013, they decided to build a company for bringing peace of mind to people eating out. They started to market their Nima gluten-sensor in 2016, which was named one of Time Magazine's 25 best inventions of 2015. The portable device is able to tell you from a small food sample within two minutes, whether your food contains gluten. It is truly useful, as based on thousands of restaurant visits, the Nima community found that 1 out of 3 foods that are claimed to be gluten-free actually contains gluten.
The firm hopes to apply its technology to detect other food allergens: they expect to release a sensor for peanut late 2017.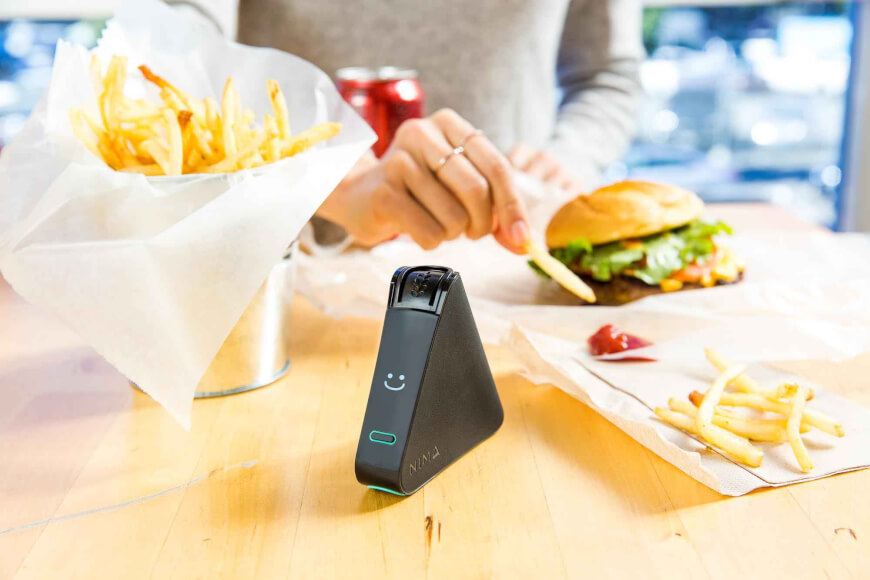 2) Ally
The lollypop-shaped device, called Ally, is able to show whether your food contains lactose. It was designed by Imogen Adams, a student in product design engineering at Brunel University and its name comes from a play on the words "allergies" and "ally", as in "friend".
The users should only crush a small food sample and add a few drops of water inside a small flexible silicone pod. They dip in a test strip and then insert the strip into a slot in the Ally – a Bluetooth enabled gadget inside a hard plastic casing. When the accompanying app is opened on a mobile phone, and the button in the middle of the "lollypop" is pressed, it takes 60 seconds for the app to process the test. Feedback on the food's allergen status appears on the app, while the Ally device also signals a positive or negative result with a quick vibration. The gadget is not in stores yet, but it has the potential to go to market at a fraction of the cost of comparable products.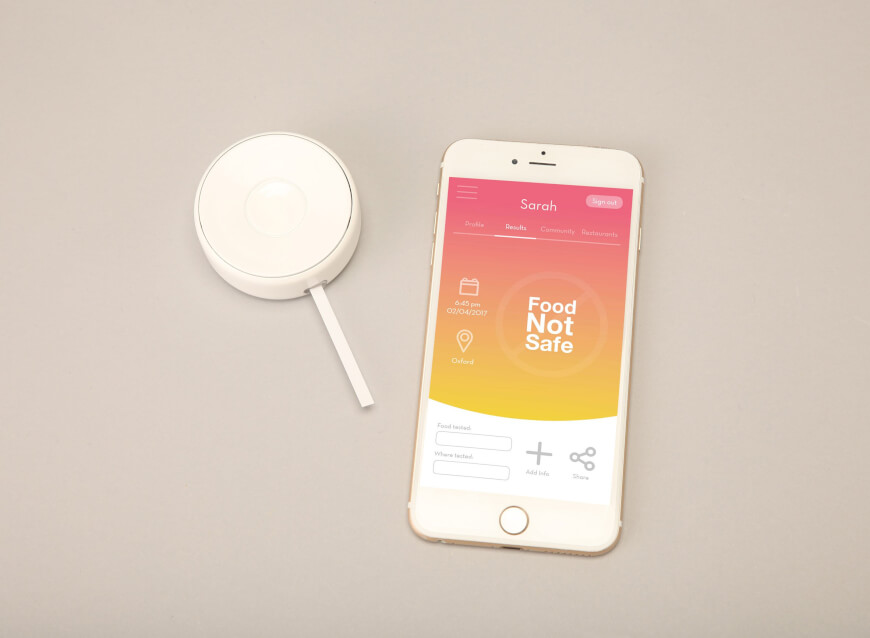 Abigail Barnes, the company's founder, who grew up with several food allergies, told Slate that she hopes their product will decrease the number of severe reactions due to accidental exposure to allergens and help to alleviate the anxiety of people with allergies. Her company basically produces a two-piece allergen detection kit fit for testing whether your food contains peanuts, but in the future, they also want to detect other food allergy triggers such as tree nuts, dairy, shellfish, and gluten.
The gadget is actually an amulet, the "reader" of the food test, able to be worn on a necklace, bracelet, watch or a key holder. The other part of the kit, the "tester" is actually a disposable strip that can be inserted into solid or liquid food. The strip has microscopic cavities on it that match the molecular shape of the unique proteins in a given allergen. If that allergen is present in a dish, the proteins in it will bind to the strip. When you insert the strip into the amulet, it signals with red or green whether or not the food contains any peanut. It gives hope to everyone who had to leave food products with labels "it may contain traces of peanut" untouched.
Honestly, we have no idea what we eat. Ingredients are listed on most of the products we buy, but every meal and every plate is different. One remedy would be having a list of exactly what ingredients and how many calories a meal contains, and what allergens and toxins might be in it. Not just the kind of meal we eat but the actual food on our plate and its specific amount. Food scanners such as TellSpec are aiming to address this problem.
The Canadian data company offers an end-to-end solution for food testing, food safety, and food authenticity. They provide predictive intelligence about food, by combining NIR spectroscopy, bio-informatics techniques and learning algorithms in a revolutionary technology that analyses foods at the molecular level. According to its mission, the company's goal is to help create a clean food revolution by providing consumers with information about what is really in their food beyond the nutrition label. TellSpec aims to develop a handheld food scanner that can inform users about specific ingredients and macronutrients.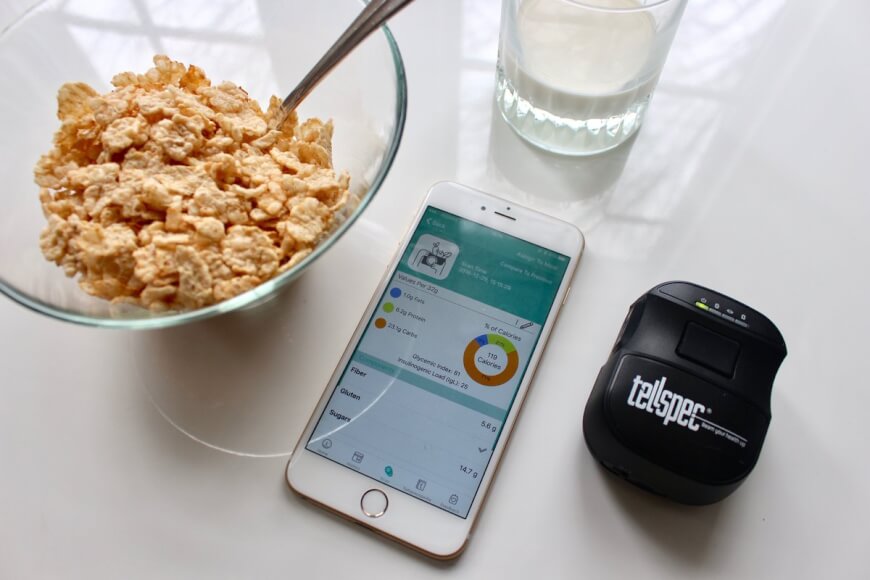 The Israeli start-up has developed a multifaceted sensor in order to identify the molecular content of foods, medicines, and even plants. It illuminates an object; optical sensors detect the reflected light, and the device analyzes it using an algorithm and a cloud-based database that is constantly updated.
The company says that in milliseconds the ingredients and molecular make–up of the foodstuff will appear on the user's smartphone. However, their promises have yet to be fulfilled, as the scanner, they introduced on the market does not exactly deliver what the demo did.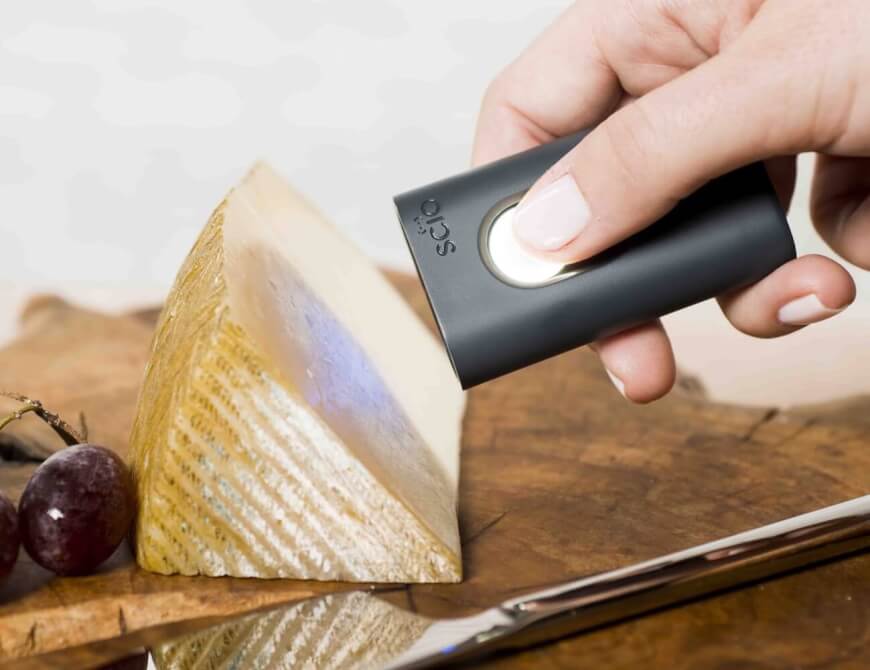 Imagine that your child is lactose intolerant and allergic to eggs, but wants to go camping for two weeks with all the other kids from school. How do you make sure his diet will be lactose and egg-free?
The AllerPal app, available since 2015 on iOS and Google Play, enables easier communication between doctors, families, and caregivers when it comes to caring for children with food allergies. The product makes it easy to for families to share their kid's emergency treatment plan with the many caregivers in their child's life. The creator of AllerPal, Elizabeth Luce, explained Metrowest Daily News that an action plan explains what symptoms of an allergic reaction to look for, when and how to treat a reaction and who to call. With AllerPal, this important information will be readily accessible on every caregiver's phone. Very useful technology for concerned parents!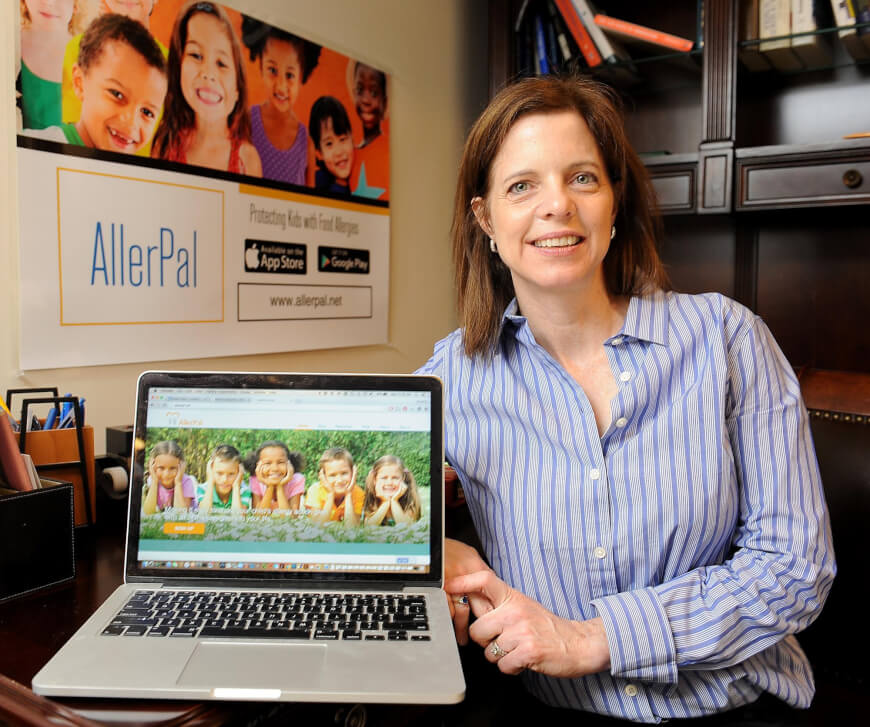 What happens when a child at school has an anaphylactic allergic reaction? Who is able to help? How does the environment of the kid make sure that he or she gets help in time or will be carried to the hospital if symptoms are severe?
The Aibi, basically an EpiPen redesigned into a fun-looking wearable, aims to solve exactly this problem. As often, the unexpected triggers of allergies and the complexity of school health services hinder timely medical response. Aibi allows children with allergies monitor their condition and alerts the onset of an allergic reaction to caregivers to ensure a timely response. Moreover, it offers cute animal characters for kids to play with – making sure they will wear Aibi day-and-night.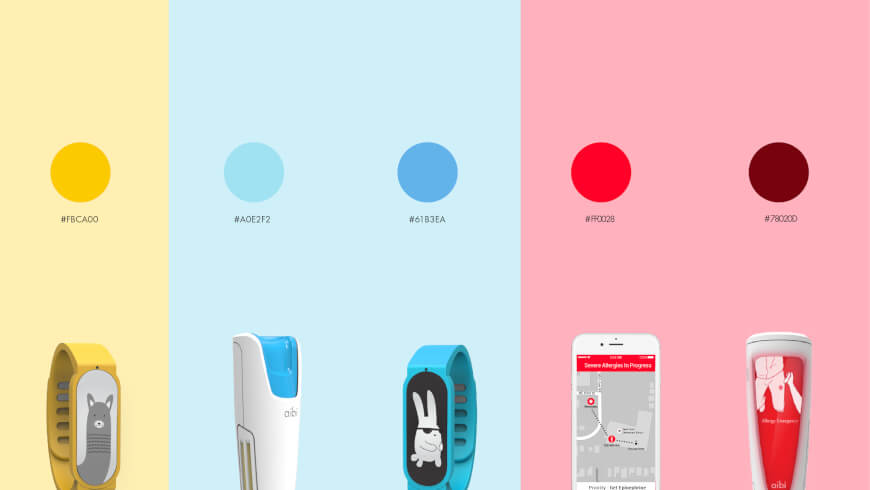 The start-up was founded by David Edwards, who has a son with a severe allergy to tree nuts. He and his wife, Rachel, figured that although they have a solid disease management plan, they need a reliable and fast way to reach 9-1-1 and emergency contacts in case they have to deal with anaphylaxis. They created Rescufy as everyone with food allergy and its possible consequences needs to know that he or she will have the necessary information and support.
Rescufy simplifies and expedites the process of notifying first responders and emergency contacts; and shares critical allergy and medical information with responders in the case of severe allergic reactions.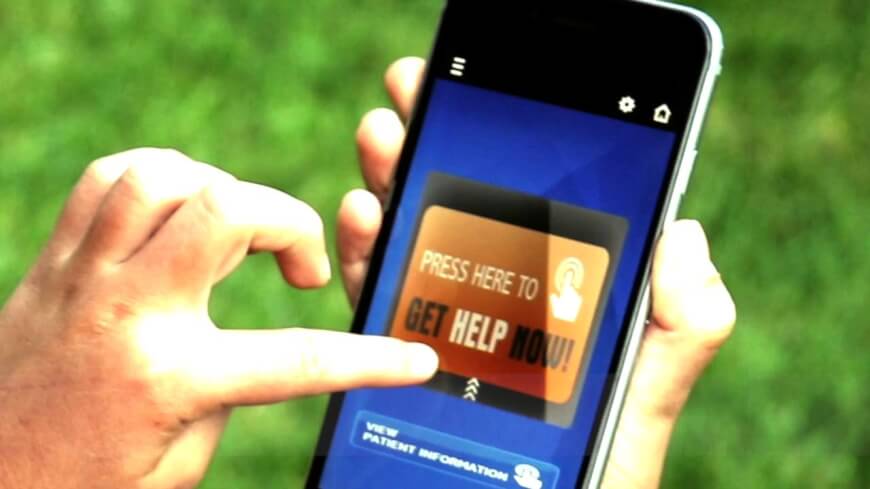 Food allergies are severe conditions which might result in death when not taken seriously or not managed with utmost care. Food allergy or food ingredient scanners, apps and wearables are able to offer some peace of mind to those who suffer from allergies as well as their loved ones. However, I hope that in the future, disruptive technologies will also be able to come up with permanent solutions cutting out food allergies from our lives.