The Talkative Blood Pressure Monitor – My iHealth Clear Review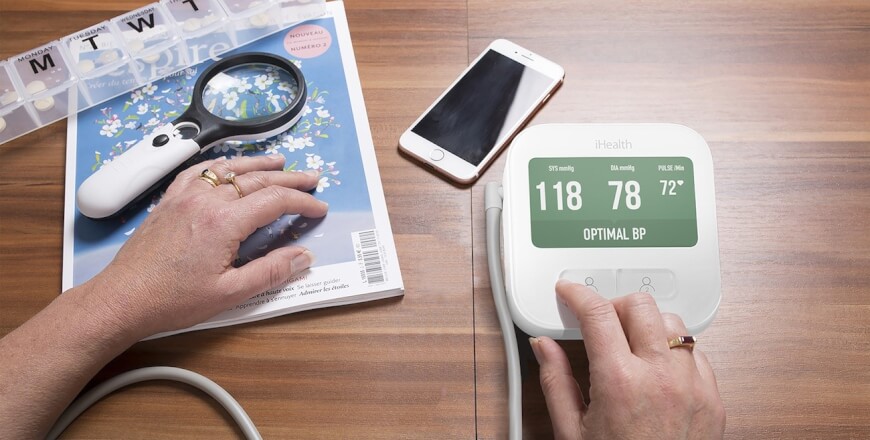 I do not put too high expectations on blood pressure monitors. They should measure blood pressure accurately, comfortably, silently and very fast. Luckily, this is exactly what iHealth Clear does. Check out my review below!
From the force of blood until the automatic wrist cuff
In the last couple of years, medical technology is evolving at an unimaginable speed. Especially if you consider the medical history of the previous ages. Just look at blood pressure monitoring! Before William Harvey, the brilliant English physician discovered in the early 17th century that blood circulates in our bodies, people believed that blood-letting close to an infected area of the body or a diseased organ would affect that particular organ or area positively. Well, it didn't. But it took decades until the medical community recognized Harvey's discovery. Moreover, it was only in the 18th century, when the first measurement of what was then called "the force of blood" was administered by the likewise British Stephan Hales – on a horse. He used a water manometer to measure the blood pressure in the arteries of various animals in a rather crude way.
But it was not until the early 19th century that French physician Jean Poiseuille was able to measure the blood pressure of certain animals with a mercury manometer fabricated by himself. This was the start of blood pressure monitoring. Poiseuille's innovation enabled a German professor, Carl Ludwig to develop the kymograph in 1847 for recording clinical data; which served as a starting point for the first monitor for the pulse, the sphygmograph developed by Vierordt of Tubingen. Later on, it took almost half a century to build a user-friendlier version of the blood pressure monitor with the pneumatic cuff. In addition, it almost lasted another century to ensure that a compact and automatic wrist cuff is available for any household for blood pressure monitoring.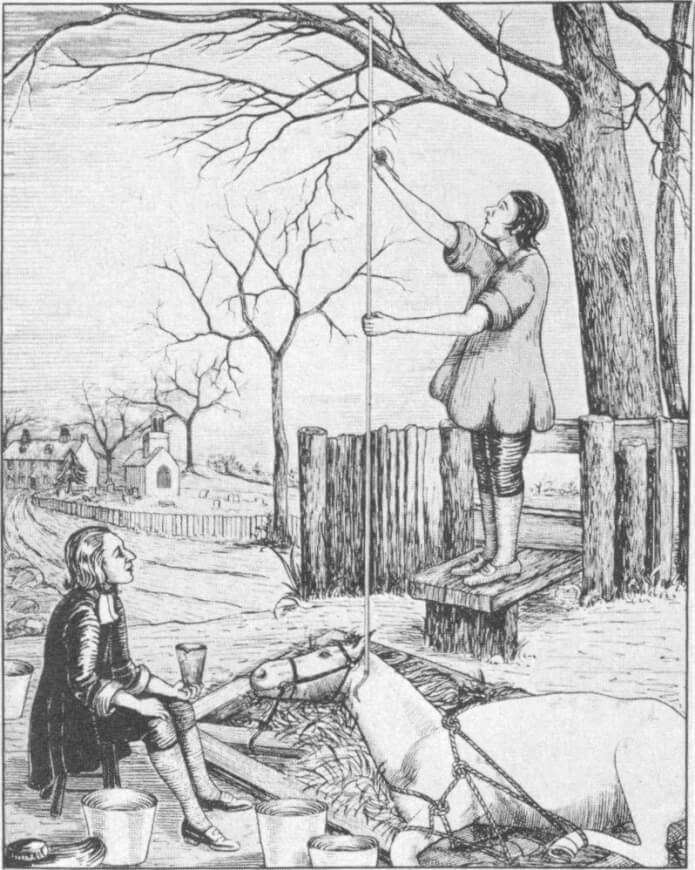 Blood pressure monitoring should be upgraded
As the digital age brings new horizons in healthcare through the wearable revolution and patient empowerment, blood pressure monitoring cannot and should not be left out either.
Whenever I think of the fact that physicians spend their precious time measuring blood pressure with the traditional cuffs, I feel disappointment. Patients should arrive at the doctor-patient meeting with all their basic vital signs and parameters measured already at home with a clinical quality device. So the valuable time of both the patient and the medical professional is not spent on redundant tasks, but healing and quality counseling. There is already a swarm of wearables and health sensors on the market, that make instant and constant monitoring of vital signs possible; why would that be different in the case of blood pressure monitors?
Although looking at the market of blood pressure cuffs, I have to say innovators have a difficult time to step forward with something new. The traditional ones are well-recognized and widely used even in developed countries with a blossoming digital health scene. And the new, digital devices do not really have space here to come up with anything bold and unexpected. Thus, I only expect such a device to measure blood pressure accurately, comfortably (without pressing the blood off my arm), silently and very fast. Well, this is exactly what iHealth Clear does.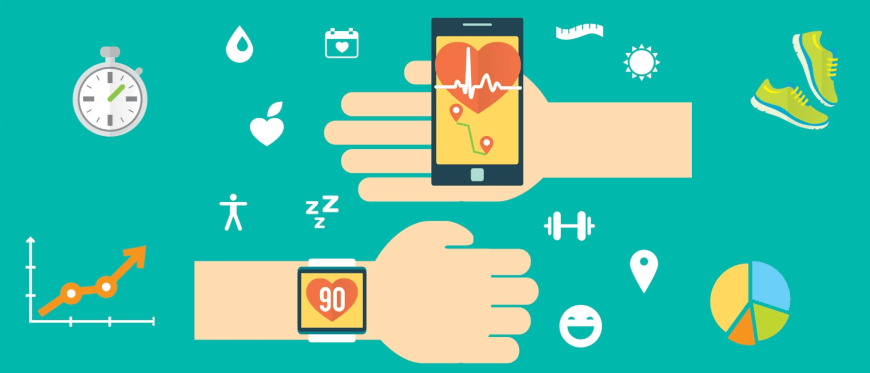 Straightforward, reliable and talkative blood pressure monitor
iHealth Clear joins the company's product line in blood pressure monitoring with iHealth Sense, View, Feel, Ease and Blood Pressure Dock for a fair price of $99. The FDA-cleared device has a nice package and a smooth design. The light and well-crafted monitors with a large, streamlined 4.3" display come with traditional cuffs.
As the screen shows the numbers in clear, big fonts, its reading might be especially comfortable for elderly people. I also appreciated that the blood pressure readings are color coded. The range goes from dark green, meaning "optimal blood pressure" until red, meaning "Stage 3 Hypertension. Another feature, the audible read-out could also help seniors in making sense of their results. The iHealth Clear provides an audio reading of your systolic, diastolic, heart rate, and the range the results fall under. This way, also people with visual impairments can easily use the monitor.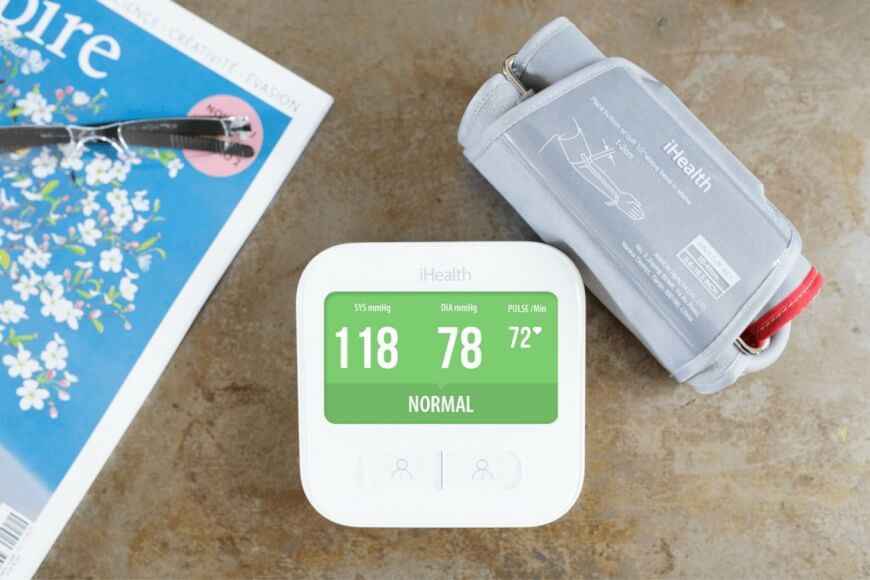 iHealth Clear measures your blood pressure within 20 seconds!
The monitor has a seamless application that is very easy to use. It supports two users and it can store up to 2,000 offline readings. Moreover, it compares your actual reading to previous measurements to help you make better decisions on prevention and treatment. It even tells you the exact indoor and outdoor temperature. I'm not quite sure how these are related, though.
When I tried on the cuffs, which come in two sizes, I was surprised how comfortable they felt compared to the circumstances. In the case of blood pressure monitoring, the most distressing feeling is when the cuff squeezes together your arm, but with the iHealth Clear, I only felt a slight pressure. And this is most probably the biggest compliment a blood pressure monitor could get… Or perhaps that it also provides the fastest measurement I have ever seen with a digital device. You can see your results and the appropriate color within 20 seconds!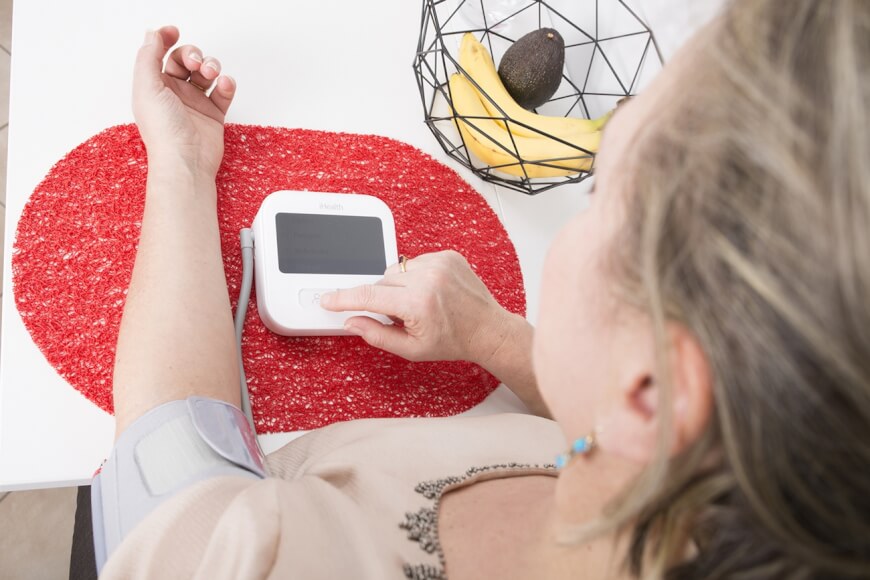 Offline/online measurement is a definite plus, misleading buttons are minuses
The iHealth Clear's another clear advantage is that the monitor itself also shows the measurement, but it can be transmitted wirelessly to your smartphone, too. It might be important if you consider that many digital health devices do not show any results on the gadget itself. Only their app transforms the raw data into digestible, little information packages. Thus, the iHealth Clear might act as an offline as well as an online device. It builds a bridge between the digital age and traditions such as in the case of the EKO Core digital stethoscope.
Beyond the already enlisted measurement and monitoring options, the app offers you to take not and record your mood or activity; and store your results in a digital logbook.
I hardly found any flaw in the workings of the gadget, but there was one issue which definitely needs some improvement. There are two buttons on the device marking person one and person two. In reality, however, I found out that the "person two" button is the OK button – which is quite misleading. Otherwise, my only problem was that I could not see whether the device needs recharging or not. It is indicated on its website that it provides more than 180 measurements with one single charge, which is impressive.
I think that every household should have an accurate blood pressure monitor as part of its medical kit.  And I would whole-heartedly recommend the iHealth Clear to become your family's number one blood pressure measurement device.