Slow Eating For Balanced Weight Management: The HAPIfork Review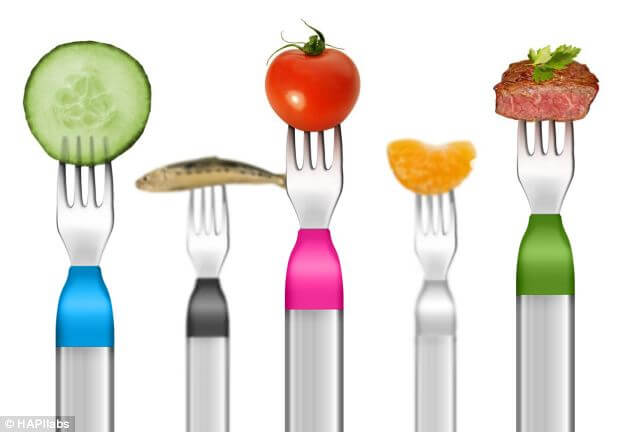 In a world where personal care like eating and sleeping takes 46% of a person's day, it makes sense for companies to invest in food- and bedtime-related technology and market them to the public. In the past, I have monitored my sleep plenty of trackers, sleep sensors and apps, reviewed food content analyzers like Nima's peanut and gluten sensor. Today, I will take a closer look at a seemingly inconspicuous device – the HAPIfork.
Smart cutlery in a HAPI world
The HAPIfork was developed by the health- and fitness-focused company HAPILABS Ltd and was actually their first product put on the market in 2013. Since then, the company has also released an activity tracker and has a couple of other products in the pipeline. They also have an online dashboard that monitors registered users' data like steps, meals, and weight which can be synced with compatible devices like the Nike FuelBand, Fitbit and Withings Smart Body Analyzer. The HAPIfork is particularly interesting as the company opted for supplementing a daily utensil with technology and I was intrigued as to how well it achieves this.
If I were to tell my mother a few years ago that I would be using a $99 tech-aided fork for my spaghetti, she would have undoubtedly dismissed the idea as pure fantasy or would have told me I have gone crazy. However, the HAPIfork is far from being a fantasy, and as far as I'm concerned, my brain functions better than ever.
This smart fork aims to control the user's eating patterns and can subsequently help control their weight. While it might look like a regular fork with a wider handle and even weighs as little as 65 grams, the HAPIfork packs an interesting, detachable piece of technology in its handle. This electronic component is linked to the fork tines, and when the user puts the fork in the mouth, an electric circuit is closed, and the device registers this as having taken a bite from a meal. In this way, the HAPIfork can monitor how fast the user is eating and vibrate if the pace is too fast (less than 10 seconds between bites). Moreover, the data can be analyzed via an accompanying computer or a smartphone (iOS and Android) app. Now that we've covered how the HAPIfork works in theory, let's see how it fares in practice!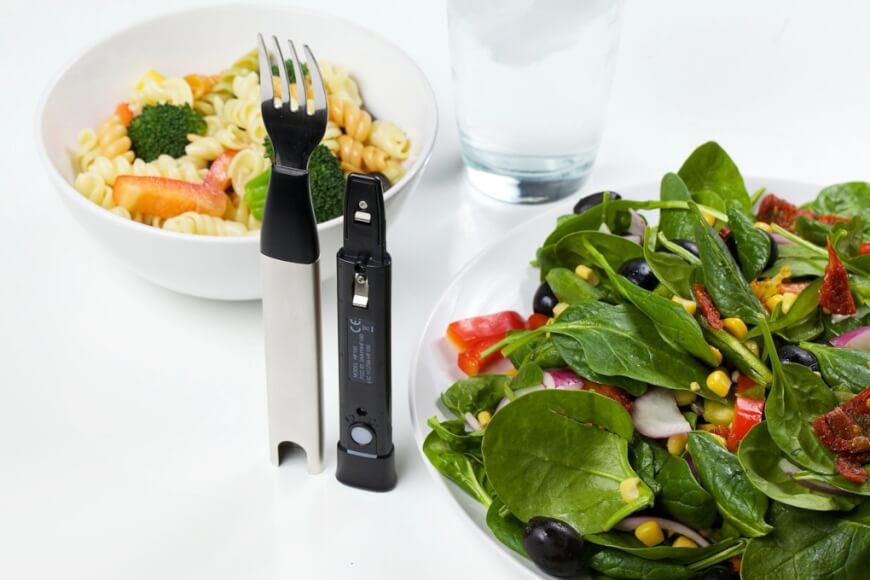 Paced eating and bite monitoring
HAPIfork's focus on slow eating is based off a few studies that showed eating speed's association with diabetes and benefits like improved taste and less calorie intake. That is particularly interesting as it can lead to better weight control in the long run. It is proven that during a meal, satiety is felt after about 20 minutes, thus if you eat faster, you will eat more. Also, too quick bites can lead to digestion problems and reflux. These are the main challenges that HAPIfork aims to go against and ultimately help avoid. However, weight control and weight loss ultimately depend on several other important factors like the content of a meal and physical activity, so I assume the smart cutlery aims to fit smoothly into an already existing weight management plan rather than used randomly on its own.
Nevertheless, the HAPIfork does a very decent job at monitoring the user's food bites. It would vibrate and show a red light whenever I was taking bites too quickly, forcing me to pause and take more time to chew before digging back in. After a meal, the data can be analyzed via the phone or PC app which show details like the meal time, how many times I've eaten too quickly, the average number of fork servings per minute and my success rate. You can also pair the device to the phone app while eating to see how long you have to wait before your next bite thanks to its built-in countdown. However, I did notice that some fork servings would not be registered and this has to do with the way I eat or the idea that the fork is positioned while taking a bite. But on average, I would say that most servings are indeed accurately monitored.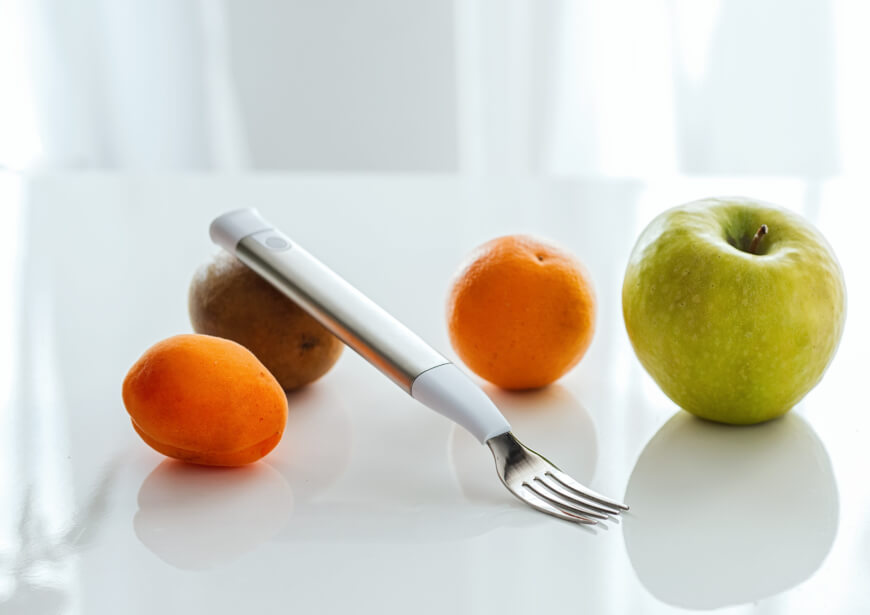 After-meal analytics
Now when you've finished eating, you would want to clean this smart fork but might be concerned if that would be safe for the electronics. The HAPI company made the electronic component splash-resistant and the forkhead and handle waterproof. And since the electronic key is easily detachable, you will find no issues removing it to wash the other parts. Afterwards, you can also store the HAPIfork in the handy carry case provided.
I also really appreciated the fact that the HAPIfork does not need a constant connection to the app to monitor the data and give feedback. You just need to switch the HAPIfork on, eat your meals, as usual, be alerted of fast servings via the fork's vibrations and sync the data later in the evening to analyze it. The built-in battery is also something not to worry too much about as a one hour charge can last for up to two weeks!
Some aspects that I do regret is that the phone app needs an internet connection to function and the fork's settings like the vibration intensity and desired feedback can only be adjusted via the computer app. It would have been more convenient to just fire the smartphone app and make the desired adjustments on the fly. Moreover, the USB cable that the company included in the box does not fit in the HAPIfork port properly, rendering charging and data synchronization virtually impossible. I thus had to use another cable that I had already owned to connect it to my computer or to charge it. These are the few but noticeable flaws that I hope the company will address if they release an updated version of their smart fork.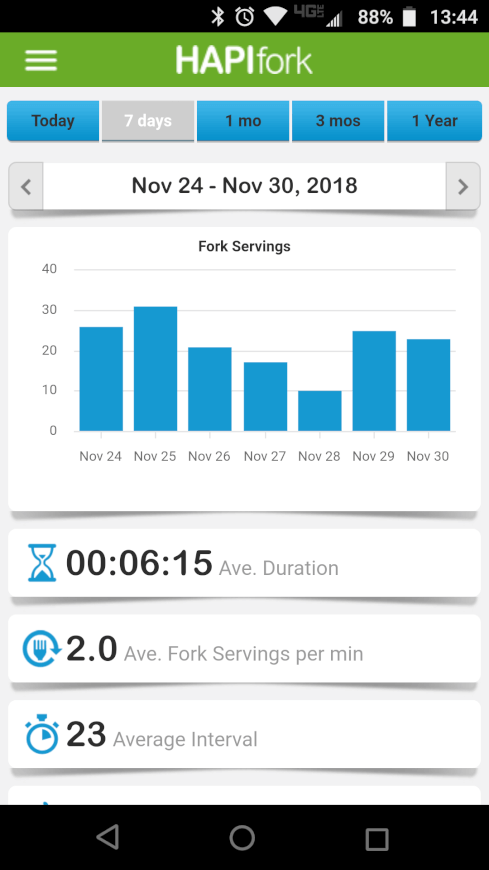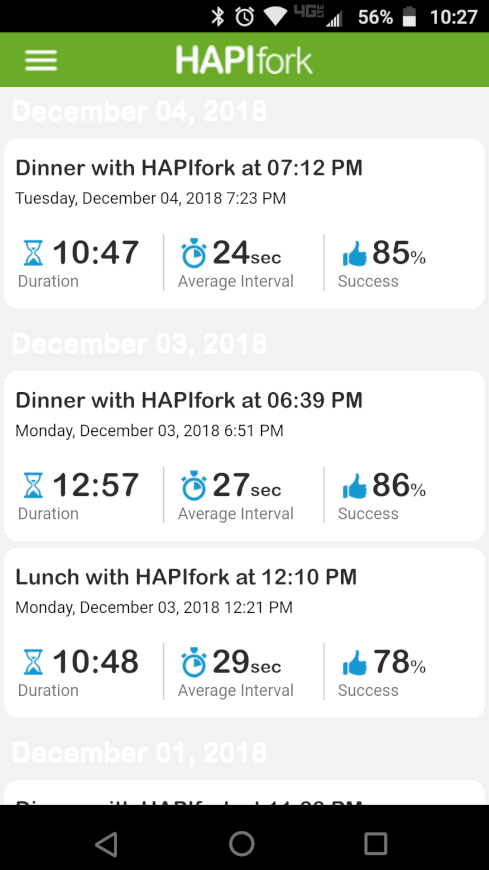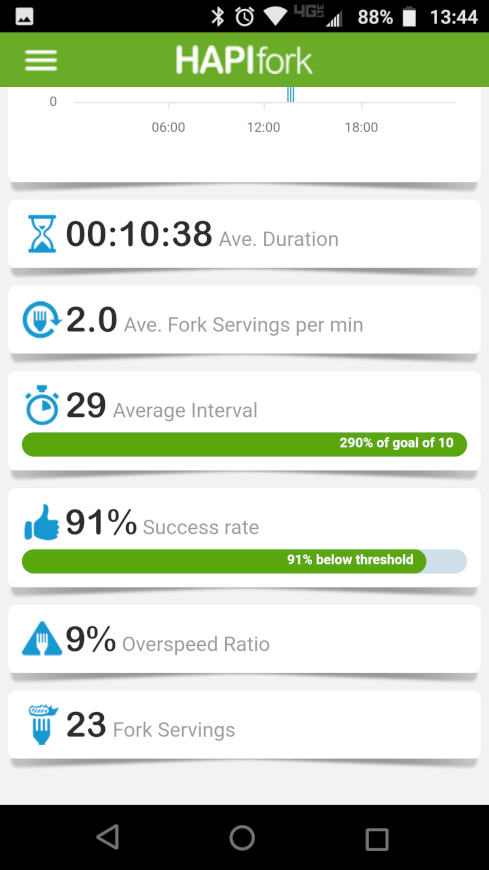 HAPIfork, Happy Folk?
My experience with the HAPIfork as an eating pace-tracking device has been an interesting and a rather pleasant one. It has indeed helped me pay more attention to my eating pace, even if I believe the company might consider some improvements to the smartphone app and settings aspect.
It could especially be helpful if you have trouble taking your time with your meals and you suspect that's in connection with your digestive problems or with the constant weight gain-loss limbo that you arrived in. If you managed to remain on a diet for three months and then you finally decide to have a feast, you might end up having too much too fast. That's when HAPIfork could come in and save the day. Sure, when it comes to controlling one's weight, other factors like food content and exercise also have to be factored in, but HAPIfork could prove to be an additional asset in the fight against calories and fat.