Sleep Tracking 2.0: My Viatom O2 Sleep Monitor Review
One of my duties as The Medical Futurist is testing new healthcare sensors. I tested the Viatom O2 which promises to closely monitor your heart rate and blood oxygen level, while you are dreaming about a holiday in Hawaii. Moreover, it offers to warn you with a smart vibration, if the SpO2 level drops too low. Here is my verdict about the device.
Sleep tracking for improving sleep quality
For me, sleep tracking and going to bed goes as naturally together as a movie-night with popcorn or Belgium with rainy weather. I have been tracking my sleep for years to be able to optimize it. So, I have quite an experience with apps, sensors and methods. I even had a six-month long sleep tracking experiment to get the most out of my sleep. Naturally, I have tried many sensors ranging from Fitbit One and Surge to Viatom Checkme and Withings Pulse. But for me, the ultimate solution turned out to be the Pebble Time sensor and Android for Sleep app duo. I have been using this jackpot combination for two years already. The app is the primary source of algorithms. It measures detailed sleep quality, while the sensor is measuring my movements, and wakes me up at the best time in the morning.
However, I regularly review and test new sensors and new versions of trackers because I'm eager to learn more about my sleep as well as the new methods used to measure sleep quality. Thus, I recently reviewed the Viatom Checkme Pro device, which might be the first real Star Trek tricorder. Later, the company sent me an O2 sleep monitor, their newest device for measuring your sleep quality. I got very excited, so let me show you what I found!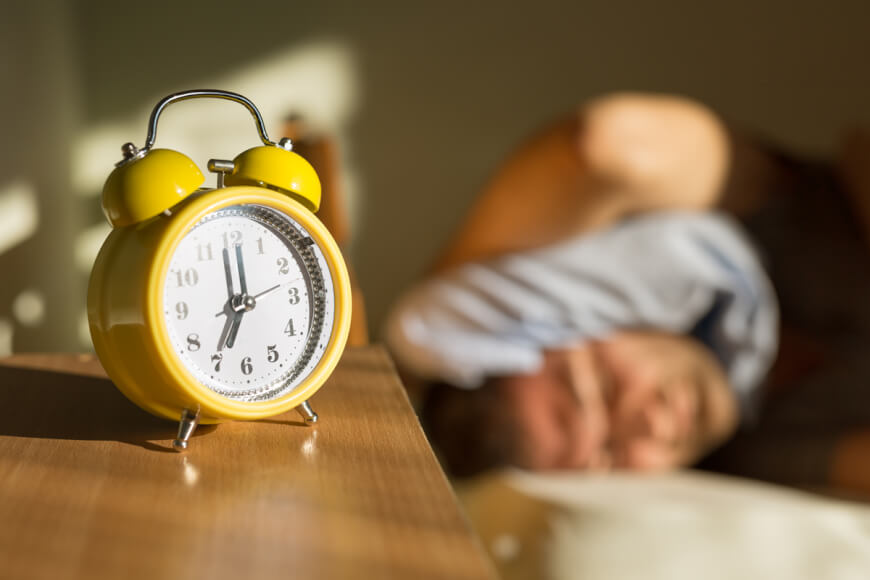 The Viatom Checkme O2 Sleep Monitor – Wristband with a ring sensor
When I opened the box, I could unpack the O2 sensor – basically a wristband functioning as the sleep monitor -, an attachment for measuring blood oxygen levels, which feels like a plastic ring on my thumb, a microUSB charging cable and the instructions for the optimal use. To be honest, I was a little bit surprised, because on the website you only see the sleep monitor at first, and I thought that the soft ring was an optional attachment. However, you are only able to measure your blood oxygen level accurately, if both the wristband and the ring-like sensor are in use.
Overall, the wristband has a streamlined design similarly to other fitness and sleep trackers, but I had to realize how hard it is to put it on, when you are alone. Practically, it's hard to attach the two straps together with your other hand. Otherwise, it is a very comfortable feeling to wear the device, even the ring sensor. If you are reluctant to wear a ring on your finger in bed because you consider it as a disturbing factor during sleep, I have to tell you, the O2 sleep monitor was one of the most comfortable sleep tracking devices I have ever worn. The light and small ring is especially practical, since other devices usually cover your whole finger, which could result in an awkwardly cramping feeling, as well as sweating.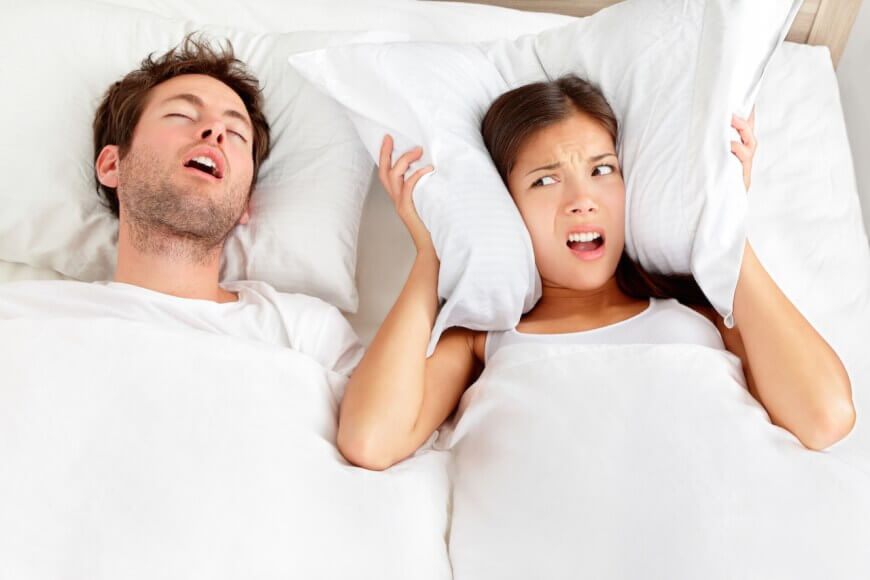 Smart aid for snorers and people suffering from sleep apnea
The device monitors your blood oxygen and heart rate level as well as your movements. When your blood oxygen level drops too low (e.g. below 90%), it signals that with a small vibration function to help overcome the oxygen shortage. Basically, it buzzes you to switch position.
And why is it important to keep the blood oxygen level high? If the oxygen levels are very low during sleep, you can wake up tired in the morning and it can contribute to more restless sleep. Furthermore, when the oxygen levels start to drop, the carbon dioxide levels build up in your blood. This might lead to morning headaches, fatigue and sleepiness during the day.
So the smart vibration function is useful for everyone, but it is especially useful for people who snore – as well as for their partners who sleep with them – and those who have to live with sleep apnea. This dangerous health condition means that breathing stops periodically during sleeping – so the blood oxygen level could alternate quite randomly. Apnoea might even generate hypertension, heart disease, brain attacks, diabetes or somnolence. However, it is not easy to detect in its first phase; normally people do not really experience symptoms – as they are oversleeping them and dream about unicorns instead. Usually, sleep apnea patients are surprised when they are diagnosed with this condition. The O2 sleep monitor could make their life much easier.
The company also thought of users who like to combine sleep sensors with other fitness trackers. So, the O2 sleep monitor is obviously able to follow your step count and other vital parameters closely while doing various outdoor or indoor sporting activities. However, its main advantage is definitely its ability to measure blood oxygen level during sleep. If you are preparing for a half marathon and more interested in your running or biking performance, I would recommend Fitbit Surge.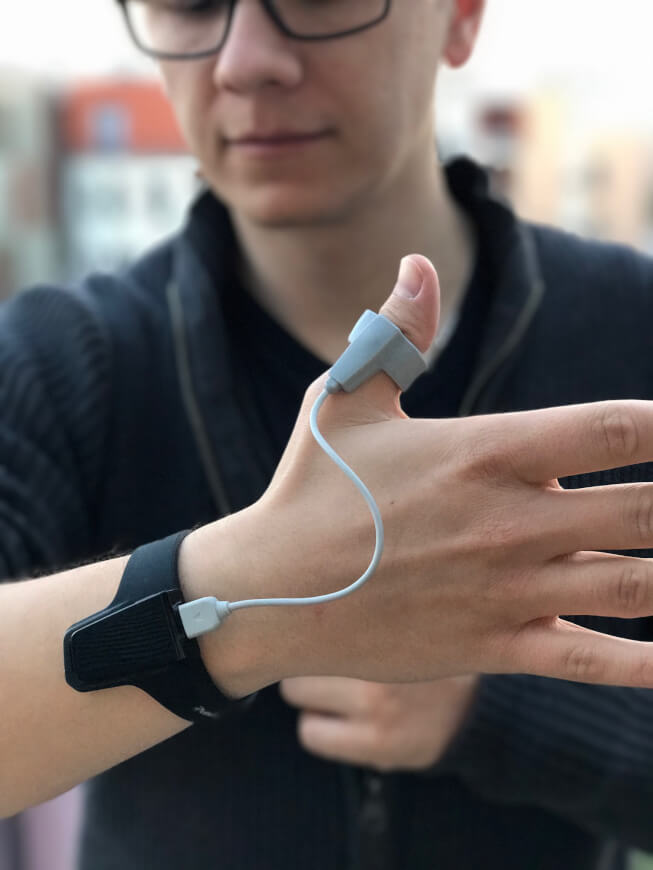 My very own O2 sleep monitor experience
For managing the device and reviewing data, I had to download the app on my phone (it is available both for iOS and Android for free). I created an account in the Checkme Cloud, where it would synchronize my sleep monitor data automatically with my data from other Checkme devices – for example the Viatom Checkme Pro. It enables you to store your data in one place, while you are also able to share these measurements with your physician easily over the cloud. The app offers you a real-time dashboard for monitoring your heart rate, blood oxygen level and step count.
When I figured out every little feature on the app as well as on the device, I finally felt that I can go to sleep and try it for real. However, when I went to sleep with it the first time, I forgot to turn on the smart vibration function on the app. It did not measure my sleep quality. So, I had to do it again in order to have any result. For the developers, I would suggest a warning on the device or on the phone of the user itself about the need to turn on the smart vibration function – otherwise nothing will happen in terms of measurements. It would be a useful improvement.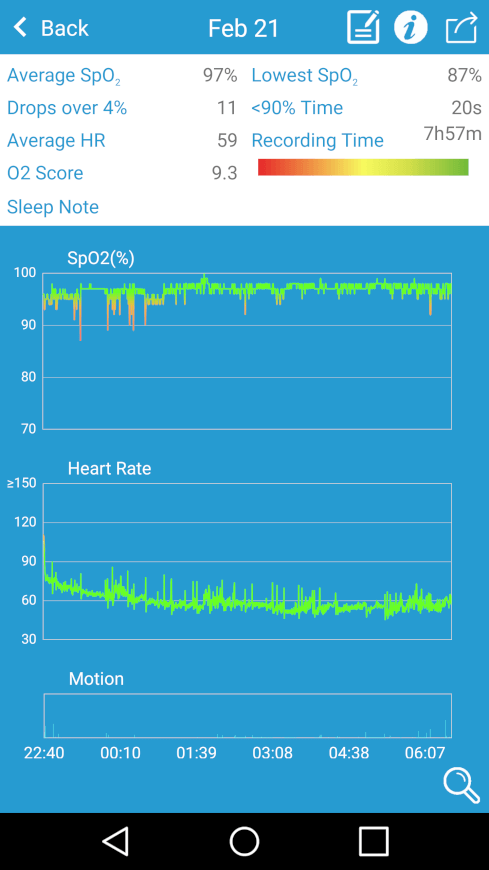 All-in-all, wearing the device was a fairly comfortable experience. It was fascinating for me to see such a detailed analysis of my blood oxygen level and heart rate during the whole night – it recorded a data in every minute or so. No sleep tracker ever provided me with so much information about SpO2 or heart rate.
On the other hand, I missed the smart alarm function very much. Maybe because I'm really used to it – my Pebble Time & Sleep as Android duo is able to wake me up always at the best possible time in the morning. Also, I could not check my motion during sleep as it is not possible to scroll down in the app, but it might also be an Android app issue. And finally, I had the biggest troubles with the batteries. It has a rather poor battery lifetime: it is enough approximately for one sleep. Moreover, if the device is not fully charged, it stops measuring anything, which is kind of annoying.
While I do not consider the O2 sleep monitor the best sleep tracker, I certainly see its advantages. If you suffer from snoring, and you are tired of others in your environment constantly reminding you of it, while giving you silly advices, how to deal with it, you should certainly consider trying the Viatom O2 sleep monitor. The same is true for sleep apnea patients, as the device is certainly the most convenient tracker for measuring SpO2 during sleep.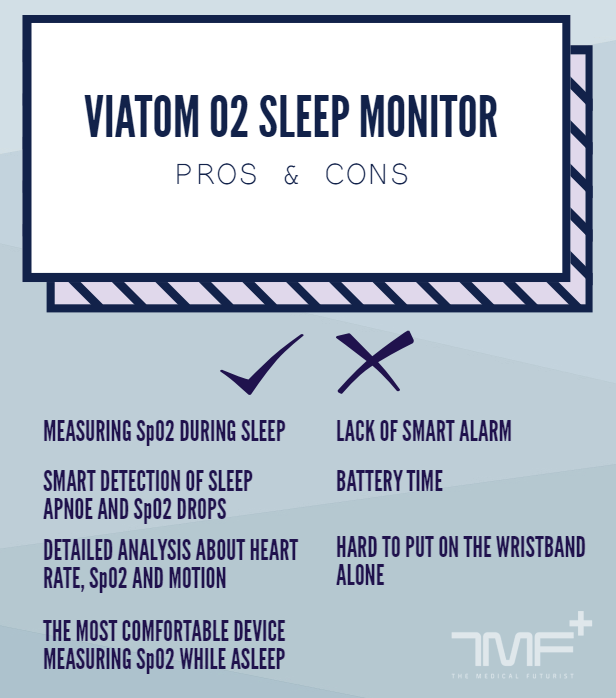 News shaping the future of healthcare
Advice on taking charge of your health
Reviews of the latest health technology