A Revolution in Access to Healthcare: DIY Labs and Makerspaces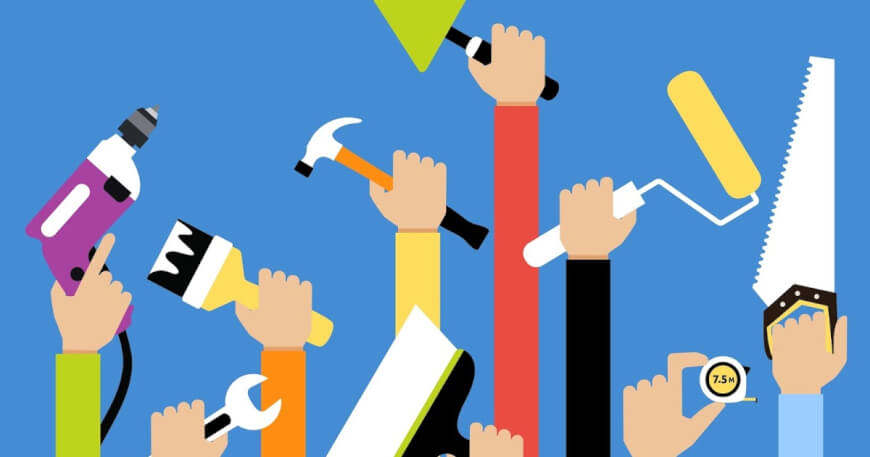 Makerspaces, DIY labs and communities for fabricating objects are multiplying at an unimaginable speed. As such spaces, equipped with 3D printers, laser cutters and many other digital tools, are perfect for building health sensors or medical alert systems, The Medical Futurist team had to experiment with it. I cannot be more enthusiastic about both the idea and its realization!
Technology and know-how for everyone
I'm curious about how things go today, but I have to warn you that I'm technologically challenged, said a member of The Medical Futurist team at the start of our Makerspace workshop. That was the sentence when the organizers' eyes started to kindle with joy as their ultimate mission is to show how the power of technology is within reach for everyone – and not only those who were able to play music postcards with the help of large potatoes and some wire already when they were five years old.
While several years ago it was the privilege of tech-savvy researchers to experiment with robots or medical devices behind closed doors, the situation has since changed profoundly. The spread of social media, crowdsourcing and DIY technologies demolished the barriers to know-how and raw materials. This not only paved the way for enthusiastic amateur gadgeteers to make simple devices at home for their own pleasure but also to solve health problems with the power of community and technology within the frames of Makerspaces or DIY laboratories.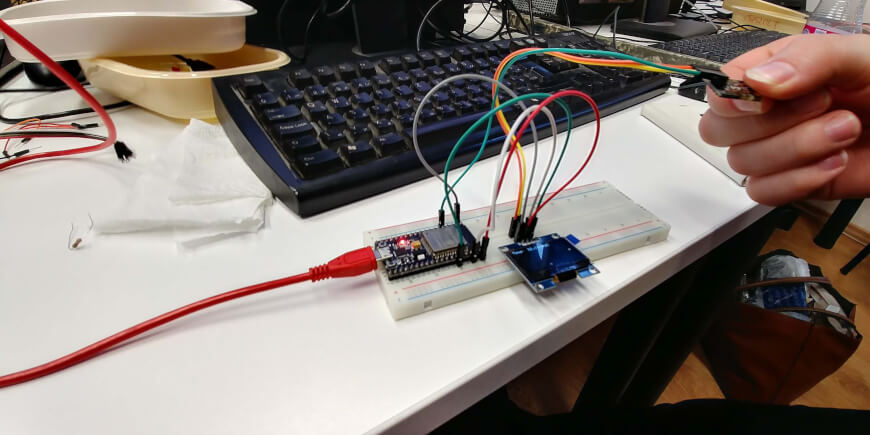 From #wearenotwaiting through 3D printing to Makerspaces
In the case of medicine and healthcare, the availability of know-how, raw materials, and an active community not only means the chance for at-home-gadgeteering, but also for working out long-term solutions for serious medical conditions outside of the traditional "ivory tower of medical knowledge". Our favorite example is the #wearenotwaiting Twitter-movement for patients suffering from diabetes. The initiator of the community, Dana Lewis, and her husband built a so-called artificial pancreas at home and started to spread the blueprints and know-how on Twitter to other diabetes patients – without waiting for the approval of the FDA or any other agency. Why? Because it works and patients needed it. Dana had been using the device for almost two years by the time the US Food and Drug Administration finally approved it.
The invention of the 3D printing means another great tool for making people's lives better outside mainstream medicine. With the help of 3D printers, anyone can create solid three-dimensional objects from a digital file using the innovative process called additive manufacturing. Just look at the e-NABLING the Future project. As Jennifer Owen, the owner of the website describes its essence, it is basically a global network of passionate volunteers who by sharing 3-D printing designs, video tutorials and other information about building prosthetic hands enable volunteers, doctors or anyone on the field to make a difference by literally "giving a helping hand" to those in need.
While digital technologies make the spread of know-how, raw materials and tools possible, the power of community materializes in DIY laboratories, Makerspaces and certainly online.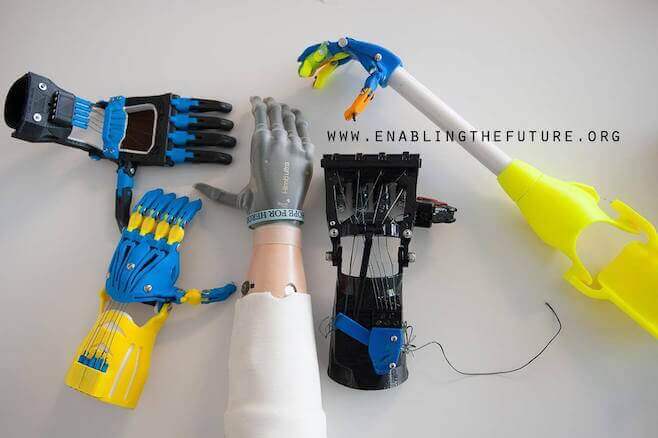 The Maker Movement is flourishing
The community of "Makers", individuals crafting objects by themselves with the help of available tools and shared knowledge, has been growing steadily for the last 15-20 years. The launch of the Make magazine in 2005 followed by the first Maker Faire the next year institutionalized the practice. MIT's FabLabs – laboratories to fabricate things – exerted a significant influence on the Maker movement and on their central venues, the Makerspaces.
These are spaces to realize futuristic ideas and the concept of learning-by-doing through 3D-printing, robotics, electronics, woodworking, laser cutting, programming or any of these combinations surrounded by a supportive community. It is ideal for getting students familiarized with science and technology as well as for building the first prototype product for a start-up. The concept of the Makerspace is so successful that larger companies such as GE wanted to be a part of it as well. The company started "GE Garages," spaces where makers can come and learn modern ways of prototyping and manufacturing new products using devices like laser cutters and 3D printers.
DIY medical alert systems and insulin pump clips
Makerspaces are ideal for solving medical issues that are out of sight for mainstream healthcare providers. A website called Hackaday.io collecting every kind of DIY solutions presents plenty of ingenious "hacks" – simply clever and/or highly technical tackling of everyday problems – connected to the medical field. For example, there is a project aiming to replace highly expensive medical alert systems with an affordable version, a wireless pendant communicating with a base device being able to call emergency services, the user's family or both. Another enthusiastic maker created a clip for a friend suffering from diabetes which keeps breaking the Medtronic MiniMed insulin pump clip.
Yet another undertaking uses the potential of Arduino, an open-source electronic prototyping platform enabling users to create interactive electronic objects, to create a medical tricorder. The device is meant to measure important health parameters such as pulse, temperature, respiration rate as well as biomarkers like glucose and cholesterol. This is the dream of every diagnostician, so I hope that the project will be successful very soon! The building of diagnostic tools inspires plenty of other undertakings as well. The team of Hospital in a Toilet is designing a daily urinalysis device helping e.g. diabetes patients monitor their condition through a different combination of sensors.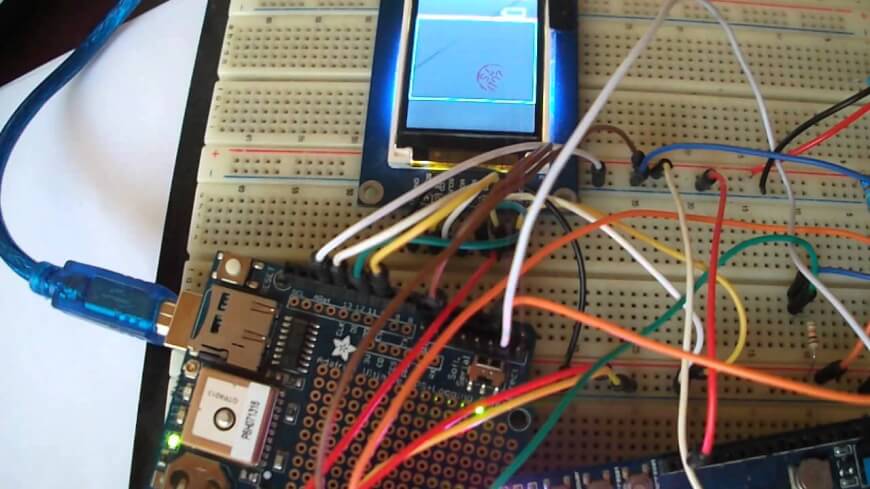 The possibilities for making stuff are so endless that Brien Henley already started a quest to "hack" his own genes. While such a risky experiment carries a lot of ethical issues, the phenomenon illustrates perfectly how individuals outside the traditional stream of science and healthcare challenge the frontiers of medicine and the conventional ways of providing healthcare.
The Medical Futurist team in a Makerspace equals health sensors
Luckily, the Maker Movement reached Central Europe as well: Makerspace Budapest organizes workshops for prospective engineers, scientists, thinkers, and creators, while it aims to promote the maker movement too. As its founder, Peter Fuchs said, the real beauty of a Makerspace is that they can offer something new to everyone. If you are a 3D printing guru you might be enthralled with the laser cutter or a CNC sewing machine, if you are an expert programmer who loves IoT devices, you can get lost in the wood or metal workshop to form a working prototype box.
In December, The Medical Futurist team decided to get lost in a Makerspace. The story and the endless possibilities intrigued us so much that we just had to go and see for ourselves how things work in such an inspiring environment. Moreover, we thought experimenting with health sensors or 3D printing is an excellent occasion for team building.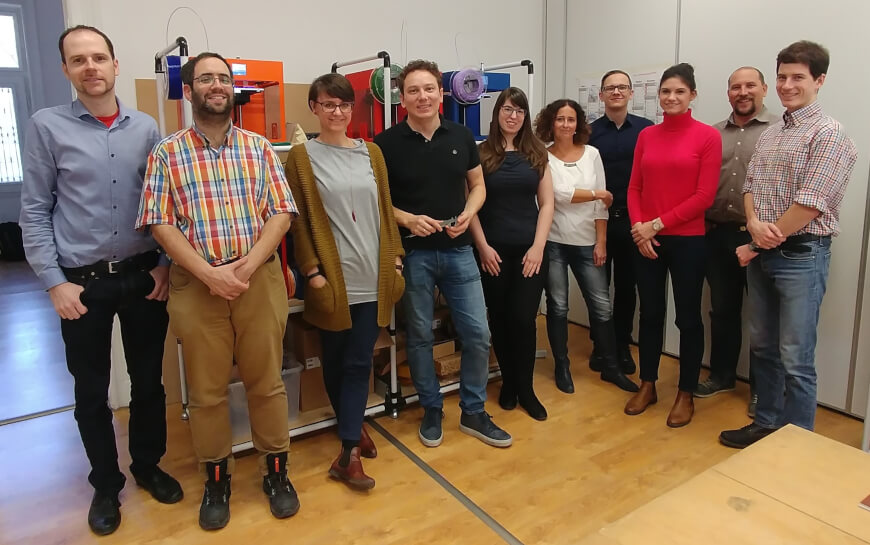 Makerspace Budapest organized an awesome day where we had to design health sensors that make patients the point-of-care even on Mars! One of our teams built a sensor with the help of Arduino which is able to measure lung capacity. The pressure sensor, which you can see below, was adjusted to a team member's known lung capacity result. It was amazing to see that with the guidance of professionals, truly anyone is able to build health sensors and small vital sign monitoring devices. The day-long workshop proved us that anyone can peek into the wonders of science and engineering; and with the right tools, even the wildest ideas come true.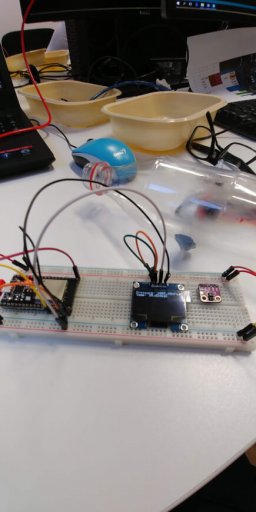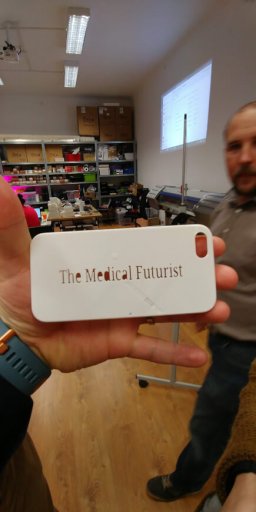 The end of the medical world as we know it?
Makerspaces, DIY labs, and digital technologies enable individuals to enter the ivory tower of medicine, which for centuries has only been open for doctors, nurses, medical engineers and healthcare professionals in general. It is a groundbreaking phenomenon since the idea of who can access medical knowledge was intact for centuries. While regulatory agencies have the enormous task to respond to changes in a timely manner, the most important is to react well. As a response to the safety concerns around DIY gene therapies, the Food and Drug Administration issued a warning that selling such products to consumers is against the law. However, I'm not convinced that stern prohibition could hinder experiments with DIY CRISPR or other risky health projects.
The FDA should rather make way for the latest tools and initiatives bearing in mind safety and security as well as innovative, patient-friendly solutions. For example, I fully embrace its stance towards 3D printing. In 2017, FDA Commissioner Dr. Scott Gottlieb released a statement reaffirming the agency's commitment to a "new era of 3D printing of medical products." The document shows its confidence about the further spread of 3D printing in medicine and healthcare, and it also demonstrates its preparation for the coming developments in synthetic organ production and biomedical additive manufacturing. Thus, I hope the FDA, as well as other regulatory agencies, will adjust their viewpoint so as to include the innovations of Makerspaces and DIY labs into everyday medicine and healthcare as widely as possible.
Because if they don't do so, patients will find their own way.
News shaping the future of healthcare
Advice on taking charge of your health
Reviews of the latest health technology