#PatientCV Shows Doctors How Proactive Patients Are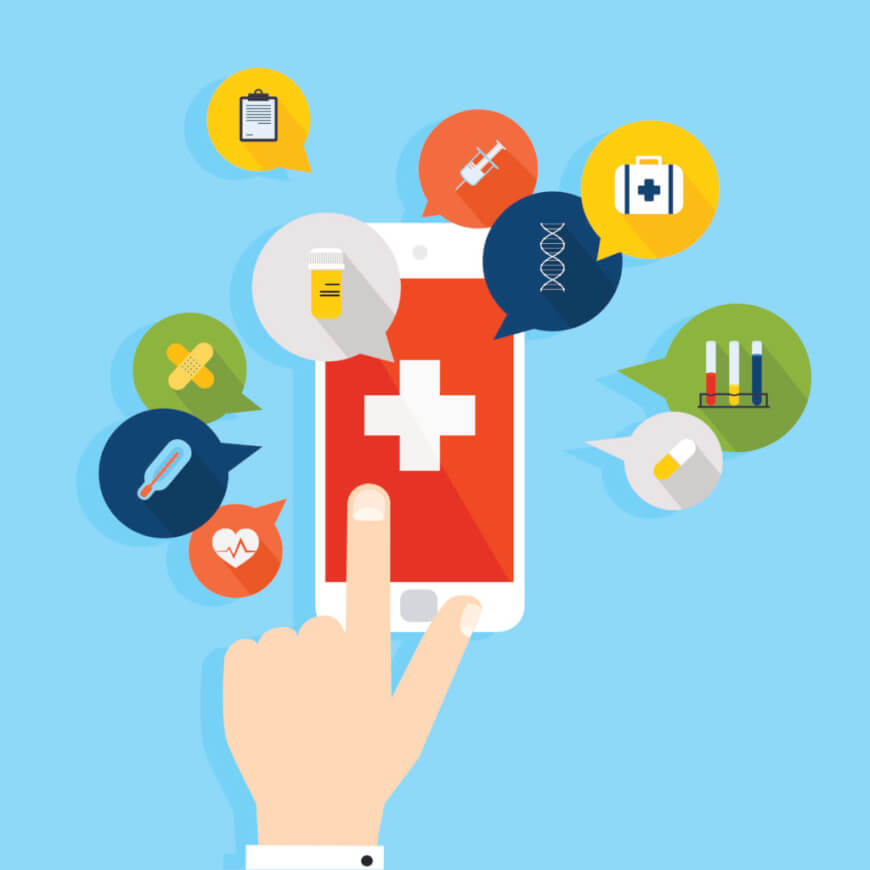 The idea of a one-pager skill-set called "Patient CV" created by a chronic patient for her future doctors generated quite a buzz lately on Twitter. Listing of personal health skills could enable patients to show their doctors they are active participants in their care. That means being a patient is not a passive adjective, but a very active verb.
How to present complex patient info easily to doctors?
The Medical Futurist reached out to the idea initiator, @betabetic or Lindsay Fallow, a software developer turned science journalist; who is coping with multiple endocrine problems including adrenal insufficiency and a type-1 variant diabetes, plus severe asthma and gastric issues. That means she needs to have some of her hydration and nutrition through a central IV. It becomes clear just by reading the listing of all these medical conditions how complex skill-set it must take her to manage them on a daily basis.
She said she was walking her dog and contemplating about an upcoming appointment with a new specialist when the idea popped into her mind. She was thinking about how to present the complex and massive amount of information that she knows about her illnesses. "So I was thinking, this doctor needs to know that this is something I do normally – because physicians have a habit of thinking that their patients are a bit weird when they turn up with 'professional' style information. And how crazy is it to imagine that people who have health problems wouldn't bring all of their experience and expertise to their health – whether professional or personal? Who you are, defines how you deal with anything life throws at you… yet our medical records do not store that", she explained.
So, she created a one-pager where she included bits and pieces about her personal and professional life. Fallow listed what kind of technologies and social media she uses, trackers such as Fitbit, Garmin or Strava. Moreover, she entered all the resources and assets that help her manage her condition starting from her supportive partner until the medical alert dog. She described what symptoms she struggles with and what her current goals are with regards to managing her illness. It is clear, concise and might be very helpful to doctors. She said that she has only tried once so far, but the initial response was very positive. Fallow plans to try it in all her clinics this year.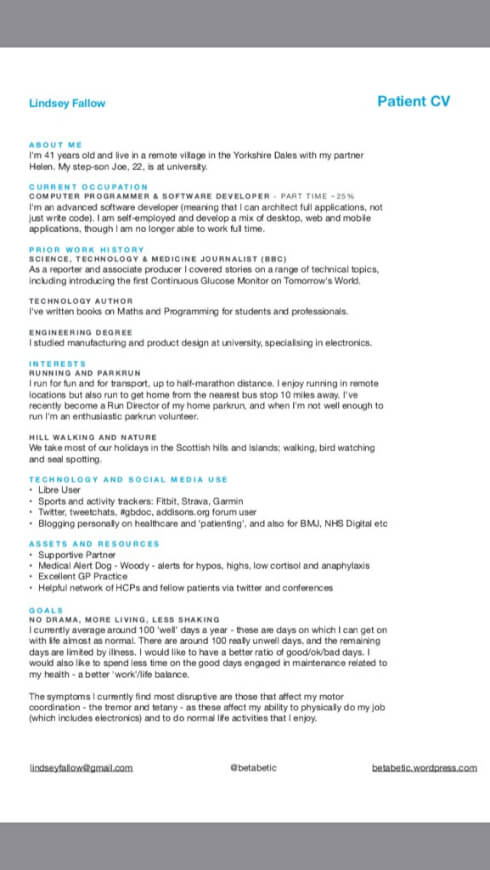 The Twitter community hailed the idea, now it's the doctors' turn
The Twitter community, including healthcare professionals and e-patients, loved her idea. Well-known health tech and patient advocate, Susannah Fox, told The Medical Futurist that the juxtaposition of professional and personal lives is what grabs her when she sees the #patientCV conversation. "We are encouraged to publicly list our work-related skill sets, such as in our CVs or on LinkedIn, but rarely our personal health skills. By owning that hard-won experience as patients or as caregivers, we own our power", she added.
However, Fallow believes everyone should be cautious when introducing things to physicians that are changing how 'patienting' – the way she calls the activity of being a patient – is done by the doctor because it could both help and do harm. The patient-doctor communication is a delicate rapport and needs to be treated with respect. On the other hand, she thinks that the Patient CV should become a core part of any healthcare plan; as 99.9 percent of the work in managing illness is done by the patient and not the medics. We cannot agree more. It's a great tool for empowering patients and showing healthcare professionals that being a patient is not a passive condition but an active participation. It's an excellent idea, and we hope to hear more about it in the future!
News shaping the future of healthcare
Advice on taking charge of your health
Reviews of the latest health technology