The Multichannel ECG on Your Smartphone: The ECG Dongle Review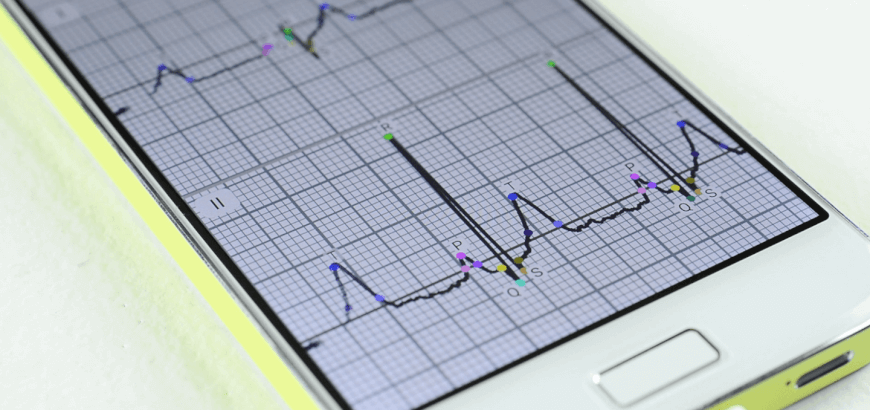 I reviewed the ECG Dongle heart rate and stress level monitor developed by the Russian company, Nordavind. With its promise to bring multichannel ECG as an add-on to your smartphone, it is certainly one of its kind.
My childhood magic box and smartphones
I remember a tale from one of my aunts, which got caught in the back of my head ever since. One day, when a little boy played in the attic of their house with his cat, he threw away the ball, but of course cats are not for catching balls, so she refused to go after it. The ball fell into a huge box, and the little boy had to crawl into it. On the very bottom of the huge box he found a deep blue smaller one. He did not care that much, until the light began to twinkle on it. As he looked closer, he discovered that there were small, colourful pieces of mirrors glued on it. They shined through in spite of the dust accumulated over the years. The little boy threw his ball out, grabbed the box and crawled out.
As he started to wipe off the colourful mirror-pieces of the box, something miraculous happened. When he touched a yellow one, the box turned into a playful, friendly black cat, when he reached a red one, the box turned into a gramophone playing the tune currently on his mind, when he tapped on a green one, it turned into a little toy-car, a Porsche, what he wished for his birthday. He was amazed! The magic box gave him, what he wished for and what he needed. Over the years, I wished I had something like this. Then I realized, I actually do. Although it is not as pretty as the dark blue box decorated with colourful mirror pieces, it might give me what I need or what I wish for. Of course, I'm talking about my smartphone.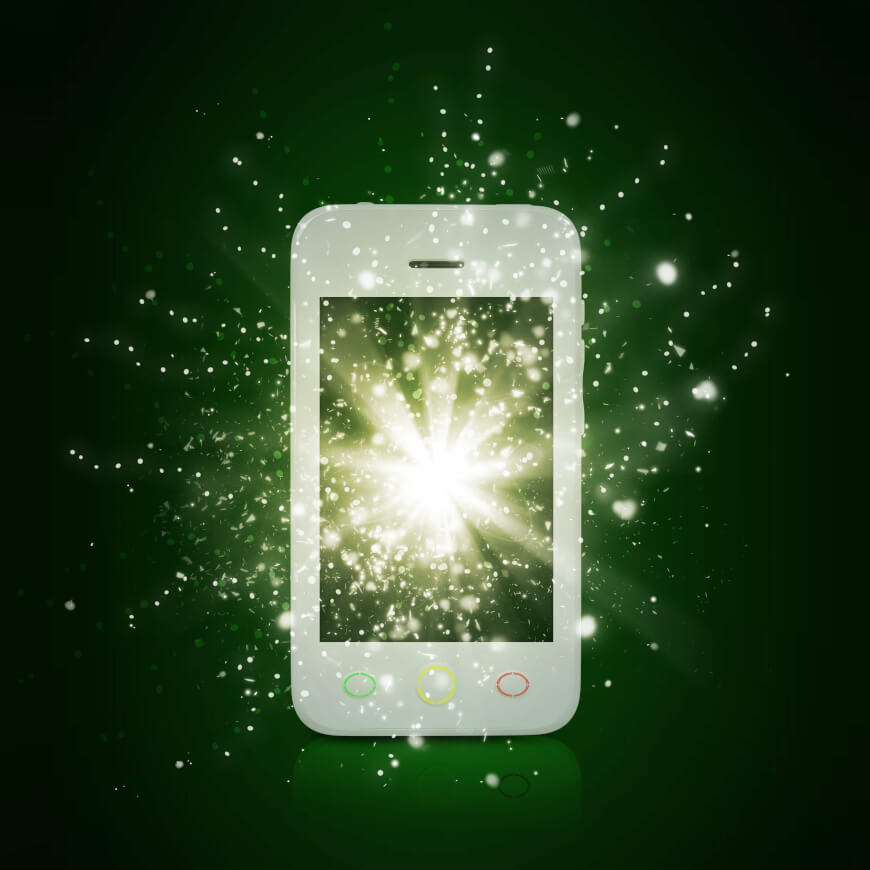 Multichannel ECG on your smartphone
If you think about it, your smartphone is capable of amazing metamorphoses, even in the area of healthcare; and the palette widens even more with the rapid development of digital health. Do you think your small child has an ear infection? You can already diagnose it with an accessory to your smartphone! Do you want to monitor your blood pressure or follow-up on whether you had enough water for a given day? You can download the necessary apps or buy add-ons such as the Withings Smart Blood Pressure Monitor or the ECG Dongle for that matter.
There are many digital health devices, which you can connect to your smartphone so they help measure and analyse health parameters and vital signs. For example, I've been using Alivecor for measuring ECG on my smartphone, there is the FDA-approved McKesson Cardiology ECG Mobile and many others are on their way. However, these are usually single-lead ECGs, commonly known as a rhythm strip; while multichannel – usually 12-lead – ECGs record information from different views of the heart, and provide a complete picture of electrical activity. While both types of ECG monitoring are viable, there have not yet been developed any multichannel ECGs on a smartphone. Nordavind tries to fill this niche.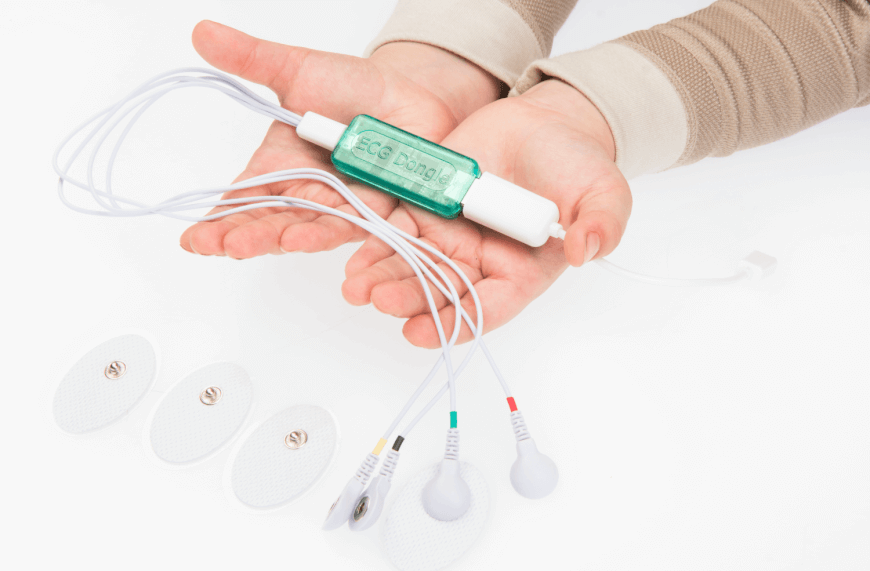 What does the ECG Dongle offer?
The Russian company worked out two options in case of the ECG Dongle, one for everyday users and another for medical professionals. According to Nordavind, it targets first of all emerging markets, including the Middle East, North Africa or South East Asia with its product, so it offers both developments for a fairly reasonable price.
It has a unique construction as the device itself is a USB flash drive. As such, it does not have its own battery, but runs on the power of your smartphone or tablet. The developers took the demands of both Android and iOS users into account, so you can connect it to an iOS device with a special adapter, while to an Android gadget with a standard OTG-cable. ECG Dongle specifies on its website that their product does not have FDA-approval – or any similar approval from any health regulator –, clearly marking that it is "not a product of medical technology".
The main difference between the product aimed at medical professionals and average people is that the former is able to capture data on heart functions corresponding to the 6-standard lead measurement, while the latter is able to provide 12-lead ECG. However, only the cable for 10 electrodes is included in your professional package, you have to purchase the electrodes for the ECG Dongle for doctors separately.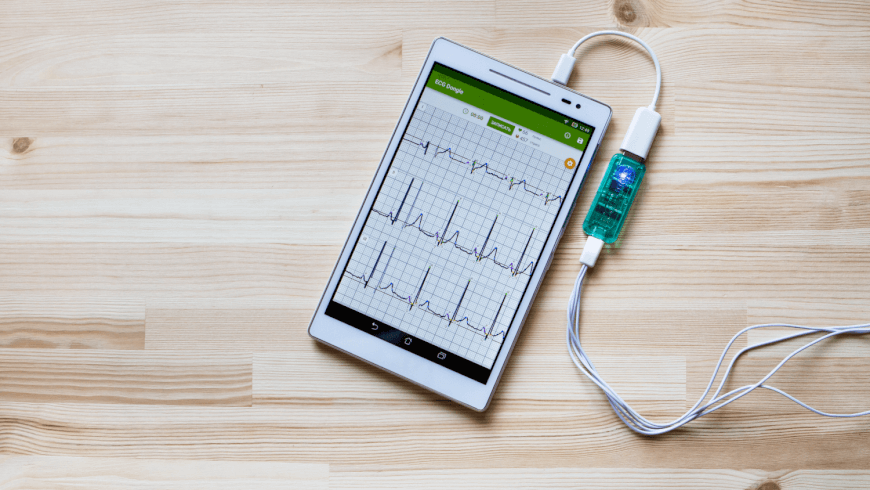 What are the benefits of a multichannel ECG experience?
I had the chance to ask the colleagues of Nordavind about their innovations. They told me that they developed a multichannel ECG in order to allow to calculate heart data through 6 standard leads (I, II, III, aVR, aVL, AVF). It is enough to detect all kinds (100%) of arrhythmias, while it requires only four electrodes. The latter is especially important, because it makes anyone without any medical or technical experience to connect the device and carry out the measurement.
Also, ECG Dongle not only offers you to monitor your heart data, but also your stress level. Nordavind told me that they measure the latter with the help of the stress index developed by the Russian professor, Roman Baevsky, who used his innovative method to assess the status of astronauts in space.
How does heart monitoring work in real life with ECG Dongle?
In the ECG Dongle package, you'll get the USB stick, cables for attaching it to your Android/iOS device, as well as the necessary electrodes and patches. On the English-speaking website, you can find a video guiding you through the measurement process. For me, it was very simple and easy to use. You should download the ECG Dongle app, attach the electrodes with the help of the patches to your body and within seconds, you will see how your heart beats and what the status of your stress level is. All the features are measured in real time, so it is pretty neat.
Although my problem was that they do not provide analysis through the app, just the simplest. For having some clue what you are looking at or whether you have any health problems, you have to send your data to the so-called "CardioCloud". Then, your anonymized data is analysed by various cardiologist experts, who send back the results to your or your doctor's e-mail address.
All-in-all, I believe that for a multi-channel ECG as a digital health device, it is definitely one of a kind.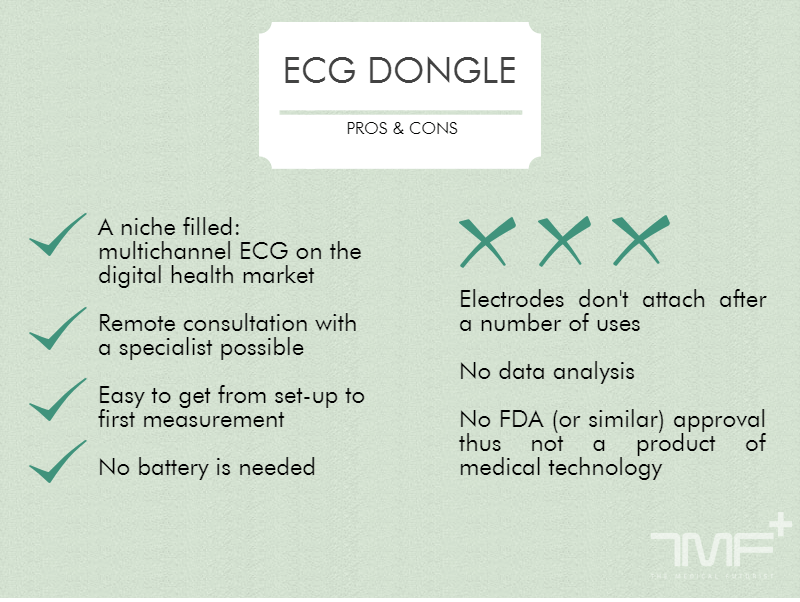 [subscribe image="false" type="article-horizontal"]Subscribe to
The Medical Futurist℠ Newsletter
News shaping the future of healthcare
Advice on taking charge of your health
Reviews of the latest health technology
[/subscribe]