Medical Professionals Put The Ask Me About Digital Badge Into Action Worldwide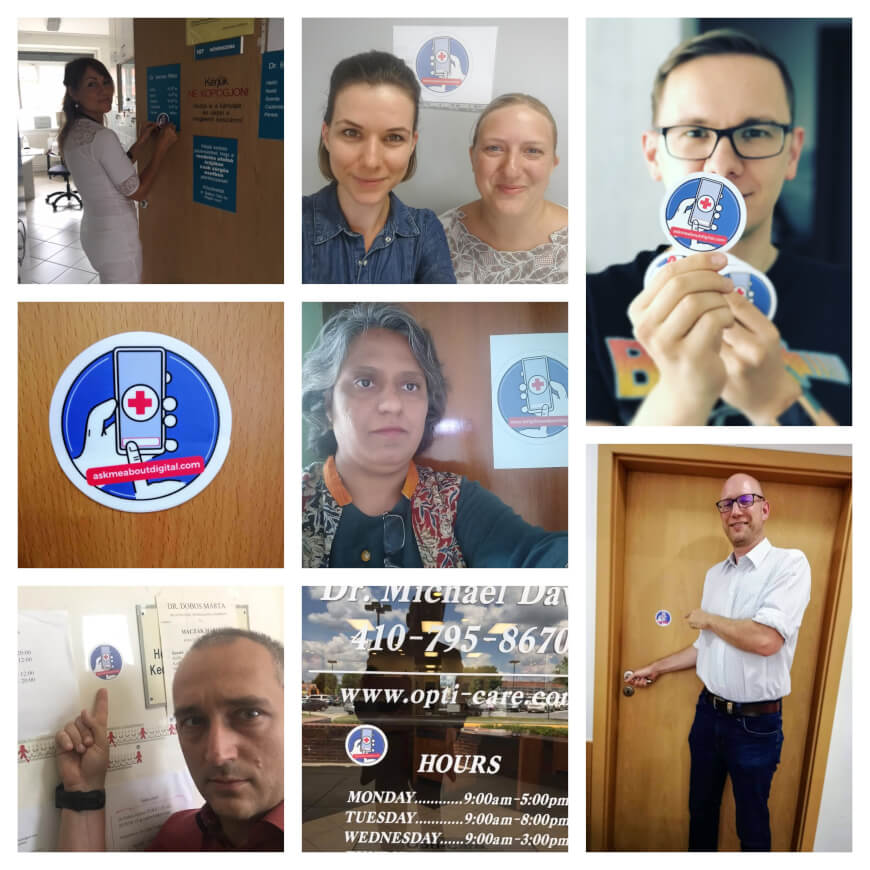 70, 22, 380, 6 – Can you guess what these figures stand for? No, unfortunately, we have no clue about how to win the lottery. These are our magic numbers when it comes to the Ask Me About Digital campaign. 70 medical professionals asked The Medical Futurist team to send out 380 badges and/or pins to 22 countries worldwide in the course of the last 6 months. That's what we call a boost to patient-doctor communication!
What's the Ask Me About Digital campaign all about?
We cannot believe how time flies. We launched the Ask Me About Digital campaign in June 2018 with the goal to bridge a communication gap between patients and primary care physicians, nurses or other healthcare professionals regarding topics related to digital health: Googling symptoms, online patient communities, data from health trackers or genetic tests, the usage of health sensors or wearables.
Although numerous patients use online tools to get medical advice, they are often reluctant to discuss their findings with their doctors out of fear or embarrassment as they don't know whether they would be open towards that conversation. As a study found that, for example, three-quarters of unwell Brits google their symptoms to get better, this attitude of doctors is alarming, but patients' fears are not unfounded. Medical professionals usually don't like online information gathering as patients could fall prey to cyberchondriac thoughts, believe falsehoods or imagine they know much more than their care provider.
However, not having a conversation about digital issues could leave patients in the dark. Besides, physicians will not have the chance to advise people on a number of topics. In the end, patients won't know whom they could turn to with questions related to digital health as their experiences will teach them it's not a wise step to come forward with having googled symptoms in the GP's office.
That's why we created the Ask Me About Digital campaign. To give a chance to patients to raise questions and have a conversation about what they saw online, what their direct-to-consumer genetic test or their Fitbit Blaze is saying. When someone sees the badge on the door of a physician or the pin on the clothes of doctors, nurses, pharmacists or any other healthcare professionals, they can be sure that those persons will be happy to respond to queries about digital health apps, online symptom checking, trackers and a lot more.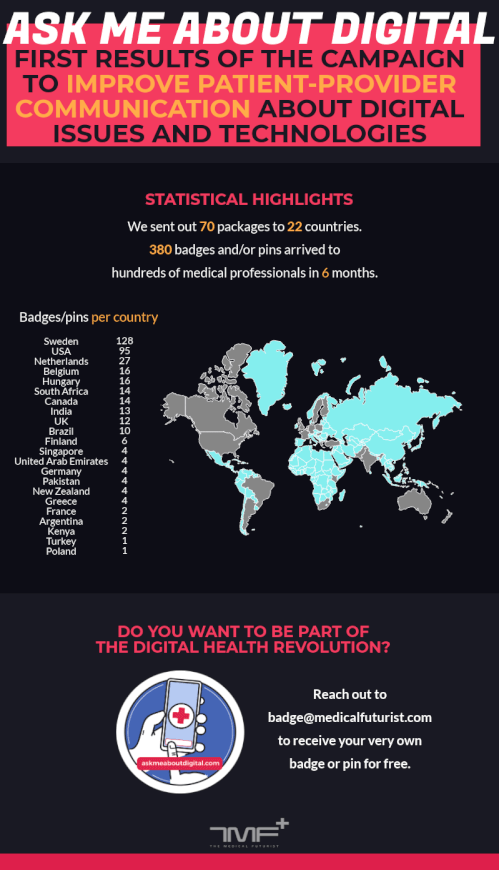 From rural South Africa through Austin to Stockholm
Before we launched the campaign, we hadn't expected such an outpouring of support and interest. As you could see on the infographic, within those six months, we managed to send out almost 400 badges and pins to more than 20 countries to the request of 70 medical professionals: medical students, doctors, nurses, professors.
Every time we send out our badges and pins, we ask the recipients to share their story with us. One of the first recounts came from Dr. Zsuzsanna Varga, a primary care physician in Budapest. She said that "a young girl came in the other day who had seen the badge earlier that week, so she was brave enough to come in and show me the pictures she took with her phone on her urticaria that only comes in the morning. The patient also told her about how she googled her symptoms but couldn't find any reasonable explanation. She was happy about the badge because she has mixed experiences of googling and interpreting it to healthcare practitioners. Dr. Varga believes it's a great possibility to get closer to younger generations because the patient felt safe and understood, so "she won't be hesitating next time she has any problem."
Dr. Sudeshan Govender, an Integrated Practitioner, practicing in a rural area 50 km outside Durban in South Africa sent us photos and shared his story. Inspired by The Medical Futurist, he is using digital innovations to disrupt healthcare delivery in his community. He told us that "from EHR adoption 6 years ago, moving the point-of-care from hospicentric to patient-centric, using wearables, biosensors, and smart devices to finally offering synchronous and asynchronous virtual care. We have successfully assembled multidisciplinary teams to combat numerous chronic conditions. Digital disruptive innovations in healthcare are allowing us to practice at scale without compromising quality".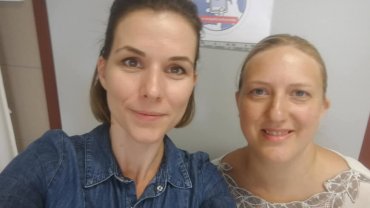 We are over the Moon looking at these heart-warming, enthusiastic stories and fantastic numbers! For us, it means that the campaign is working and there is hope that we, together, are bringing change into the doctor-patient relationship and through that into both patients' lives and the medical profession. What else could we be working for?
Would you like to know more about the Ask Me About Digital campaign? Here's our summary.
Would you like to join the global community of proud badge and/or pin owners? Reach out to badge@medicalfuturist.com.