The Hottest Healthcare Start-Ups at NVIDIA's #GTC2017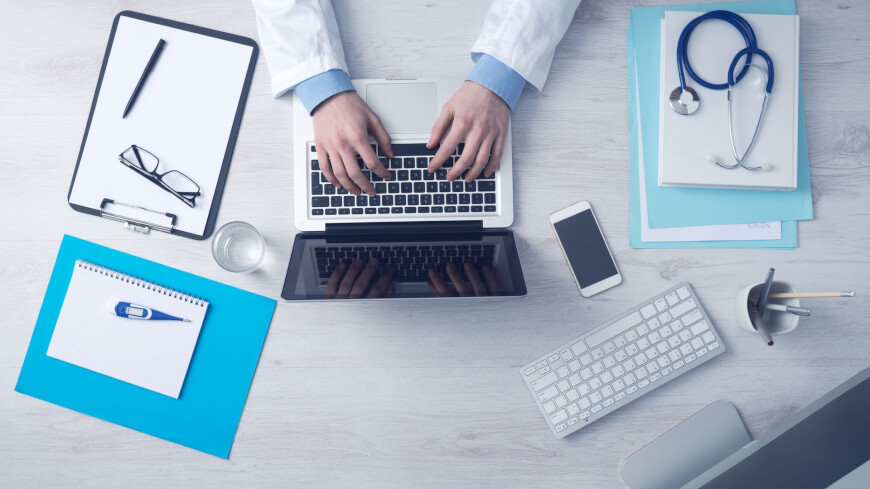 Through the rapid speed by which start-ups in the healthcare sector are multiplying, it can be detected what a massive potential digital technologies, such as artificial intelligence, virtual or augmented reality have in healthcare. At NVIDIA's GPU Tech Conference in San José this year (#GTC2017), countless innovative and inspiring teams lined up aiming to bring the future to healthcare. These five start-ups were my favorites.
From AI police cars to VR butterflies
Artificial intelligence (AI) has the potential to revolutionize healthcare in a way we could not imagine before: it will help mine medical records, design treatment plans, foster drug creation, assist repetitive jobs and support medical imaging professionals.
The #GTC2017 organized in the Silicon Valley on 8-11 May 2017 for representing the latest NVIDIA innovations in computing, especially the performative power of its Graphic Processing Units (GPUs), dedicated this year's event for a significant part to deep learning, artificial intelligence and its many applications. No wonder that it extensively featured talks, workshops and many start-ups about healthcare, as beyond computing, media & entertainment, government & intelligence gathering, the automotive & transportation industry in general it is medicine and healthcare, where AI is going to be a game-changer.
The #GTC2017 also featured the AI police car of the future, an automatic licence plate recognizing robot, an entire village for virtual reality innovations, and all kinds of amazing results of accelerated analytics and computer vision, graphics and visualization technology. As Jensen Huang, CEO & Founder of NVIDIA explained in his keynote, GTC creates what other people think of as science fiction. True story.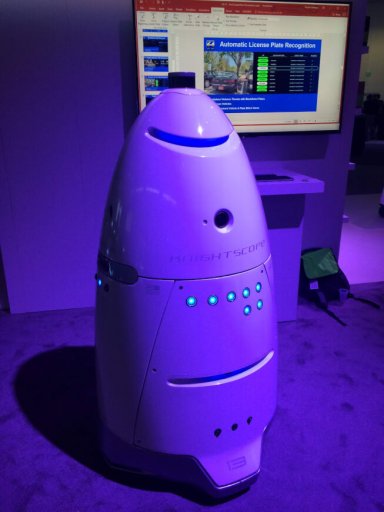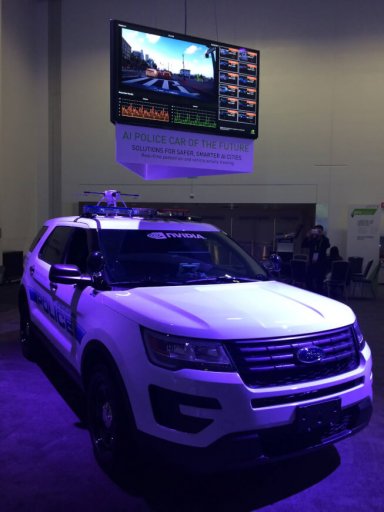 For me, the most inspiring innovations came obviously from the healthcare sector, and I'm grateful that so many amazing start-ups bring their ideas to the market and eagerly try to change the state of play in healthcare for a better future. Let's look at the 5 most promising!
The Mason-based start-up, established in 2013 won the title of Best Social Innovation AI Start-Up at this year's NVIDIA Inception Awards, which means a further $375,000 support for their work. Their ultimate goal is to enable diagnosticians with better solutions to determine quickly and accurately what is causing chest pain to the patient.
Thus, the clinical-stage medical device company has developed the CardioFlux platform allowing clinicians to visualize the heart's inherent electrical activity in dynamic 3D maps through a truly non-invasive technology using biomagnetic sensors. The exciting innovation will be on the market as early as mid-2018. I wish it could help doctors sooner!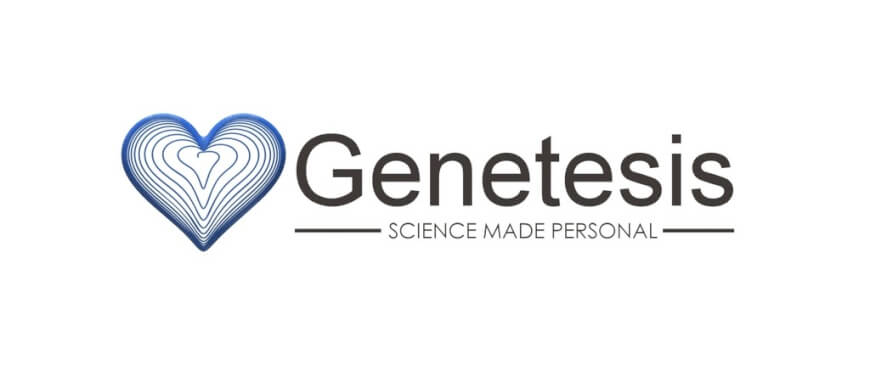 The other rising star of the NVIDIA Inception Awards was the blood-analytics company, Athelas having won the title of Hottest Emerging AI Start-Up. No wonder! Athelas developed a portable diagnostic device leveraging deep learning and machine vision in order to rapidly measure white blood cell count and tell the medical professional whether it can identify leukemia, infections, inflammations and other diseases.
Deepika Bodapati, the start-up's co-founder reassured TMF that they have nothing in common with the ill-famed blood-testing company, Theranos, since they have an FDA-pre-cleared Class 1 device enabling rapid analytics, already being deployed at clinics and patients' homes.
The only three-month old Swiss start-up, Virtual Radiology might have one of the best VR demos on the healthcare market. Together with the University Hospital Zurich, the small team develops a high-resolution, in-color VR visualization from CT and MRI devices. Trying on the VR goggles, the users could choose among others whether they would like to diagnose a broken bone or see the inside of a human chest. They are able to turn the models, cut and slice or crop the various layers. Amazing innovation!
The Virtual Radiology team told TMF that its innovation is aimed at surgeons preparing for complicated operations, as well as at medical students, for whom it is way easier to practice their future profession this way. I wish I had such a tool in my hand back then, when I had to study anatomy from a 1000-page-long book with black-and-white visuals.
The UK-based start-up's mission is to create a VR environment for healthcare professionals in order to practice and refine their surgical skills. They brought a so-called FeelRealVR haptic platform to the #GTC2017, where anyone could try how it feels to use a pen-like device as a virtual hollow needle on a virtual open knee wound. Just as in real life, the user had to reload the hollow needle every time it became empty, and anyone could notice the point where the needle reached the virtual flesh. It will be a great tool for surgeons!
Richard Vincent, Founder of Fundamental VR told TMF that they target medical professionals in the first place, as their devices might be too specific for medical students in their early stages of their studies.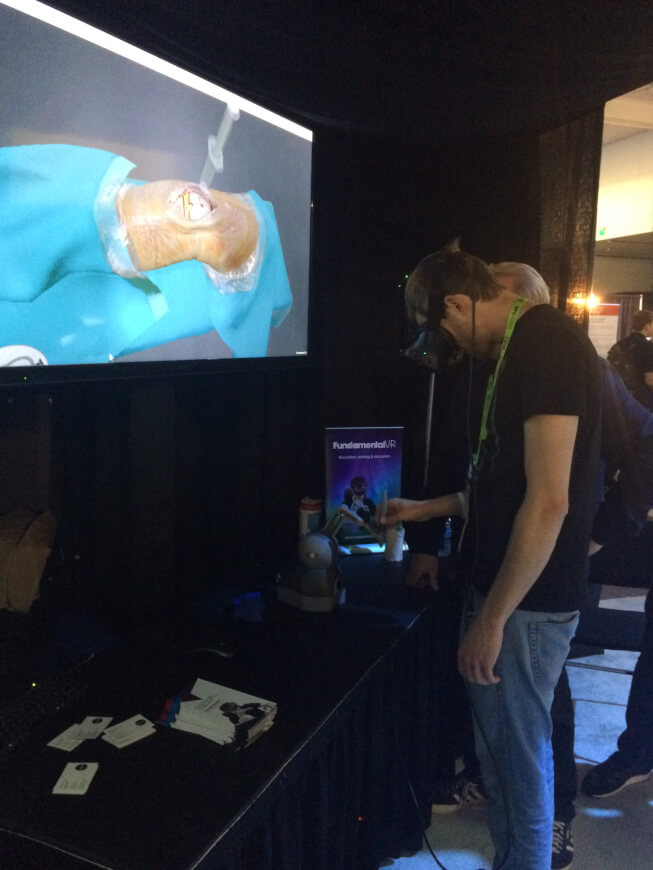 Bay Labs, whose launch was communicated last year, uses deep learning to help medical professionals in developing countries interpret ultrasounds so they can better treat heart disease. The start-up won the runner-up prize in the best social innovation AI start-up category at #GTC2017.
In September 2016, Bay Labs and some collaborators took the technology to Africa to help identify symptoms of Rheumatic Heart Disease (RHD) in Kenyan school children. The Bay Labs software analysed data derived from an ultrasound to take a good educated guess as to whether it's seeing something consistent with RHD. During the trip, medical professionals scanned 1200 children in four days and were able to spot 48 children with RHD or congenital heart disease. Moreover, Johan Mathe from Bay Labs' said the algorithm performed what usually takes a sonographer few years of training in a few minutes!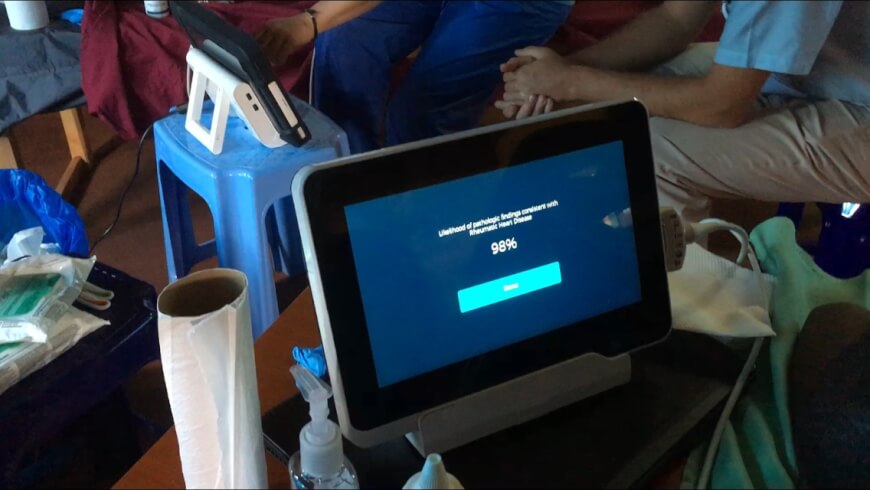 As my overall goal is to bring you closer to the latest digital health innovations, The Medical Futurist will keep on covering similar events globally in order to inform you about the most exciting ventures and ideas.
[subscribe image="false" type="article-horizontal"]Subscribe to
The Medical Futurist℠ Newsletter
News shaping the future of healthcare
Advice on taking charge of your health
Reviews of the latest health technology
[/subscribe]