Health Sensor Under The Mattress: Live by Earlysense Review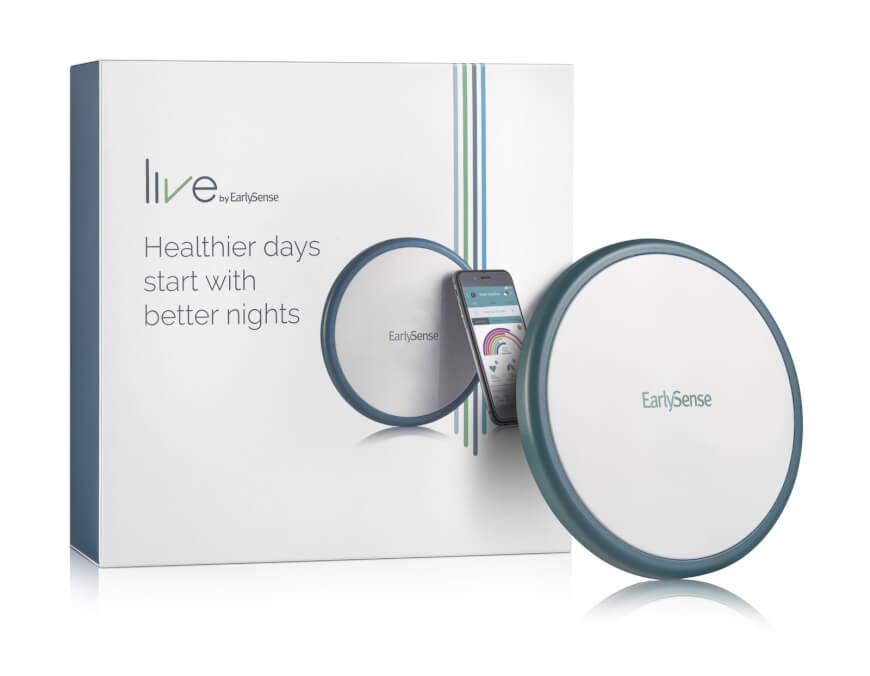 I have always been skeptical of sleep sensors to be placed under the mattress due to their assumed inaccuracy. However, Live by Earlysense proved me wrong, and if its smart alarm were better, I would even reconsider my routine sleep tracking method. Read on to discover the details of my big Live by Earlysense review.
Why have I never put a sensor under my mattress so far?
I'm a sleep tracking crusader. I already had a six-month-long sleep tracking experiment with the Pebble Time sensor and Sleep as Android app duo, a week-long comparative test with five various sleep trackers, and I optimized my sleep with technology successfully. I know how it is to sleep with a sensor on your arm, on your fingertip, on your chest, in your bed or next to your bed. So, I guess, here is the space for thanking my wife for her endless patience.
However, there is one type I have never tried yet, and that is putting a sensor under the mattress. And there is a good reason for it. I have been skeptical. How could it differentiate between my and my wife's movements in bed? How could it be accurate enough without any contact to my body? Could it be as good at the smart alarm function as my smartwatch? Except for the latter, my doubts were resolved completely. Let me show you, how!
First of all, I needed the appropriate device. And luckily, the team behind Live by Earlysense was kind enough to send me their health tracker, their product with a function to track sleep, to try beat my misconceptions about sensors to put under the mattress.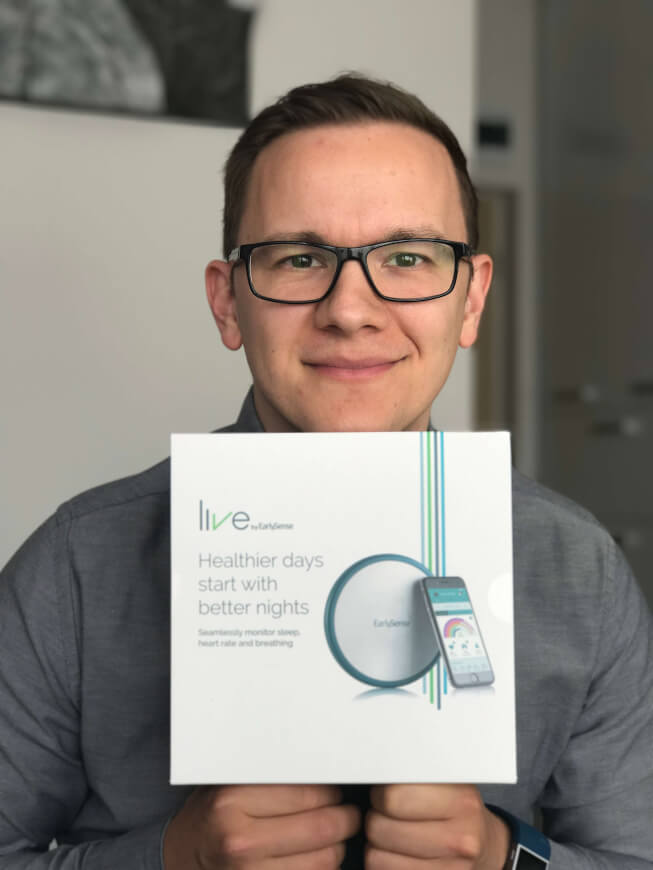 Setting up the contactless health and sleep monitor
When I unpacked the neat box the company sent me, I found the circular, white and discus-like sensor and its power supply. Naturally, the device is flat and a little bit bigger than other sensors to be able to put it under your mattress. It has a clear, simple design, and overall a pleasant appeal.
So, after I plugged it in, I placed the gadget under my mattress about 15 cm from the side, basically just below the bottom line of my pillow. The Live by Earlysense team also recommends to place the sensor exactly 15 cm in from the edge of the bed. If there is only one person in bed, the user should position the device at shoulder level, in the middle of the back, since the sensing range of the device is about 40 cm.
If there are two persons sharing their dreams, but only one of them uses the sensor, it should be placed under the user's shoulder closer to the bedside. I often get the question how could the sensor differentiate the movements when two persons are sleeping next to each other. In our case, me and my wife have separate, quality mattresses. It is ideal for a sleep sensor, since it cannot sense the other person's movements.
Live by Earlysense also reminds everyone that the sensor will only work if your mattress is not thicker than 50 cm. But if you are not the princess with the pea, I guess you're going to be fine.
What does the measurement look like?
So, after I placed my favorite pillow under my head, I opened the Live by EarlySense mobile app, which I downloaded for free. It is compatible with Android as well as iOS. It connects to the sensor via Bluetooth. A blue LED indication light on the sensor will turn on to show the sensor and the app are connected. You have to pay attention that Live by EarlySense will only record data if your mobile device is within Bluetooth range of the sensor. However, when it is on, it can tell you in a second, whether you are in bed and it starts recording data right away.
It tracks my sleep quality, time spent awake, in light sleep, deep sleep and REM phase, as well as my movements, stress level, heart rate and breathing rate, as you can see on my recordings below. It is great that it calculates the percentages of the various sleep phases – also the time when I'm out of bed. Moreover, the app helps you check your progress over time through constant comparisons. The only measurement, which I find strange and I could not figure out what it measures and how, is the stress level rating. For me, sleeping and stress does not come together, and I could not find any explanation for this measurement either on the website or in the app.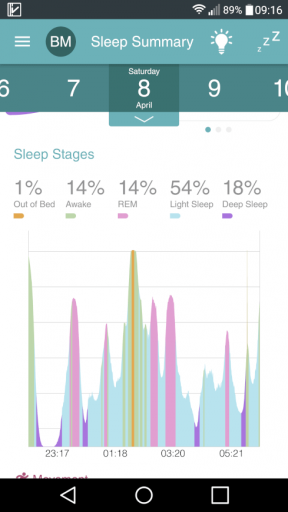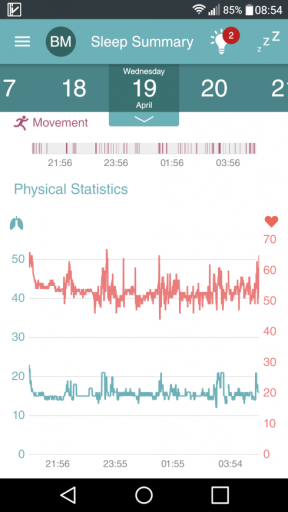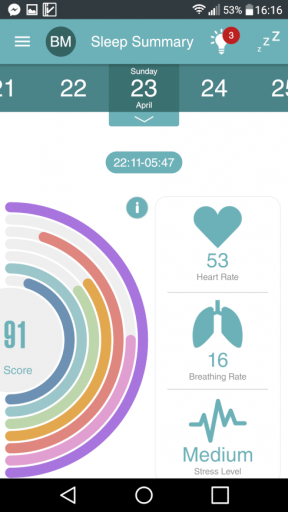 Smart alarm – The might-have-been-great innovation
For more than two years, I have been using my jackpot combination, the Pebble Time smartwatch and the Sleep as Android app. My favorite feature is the smart alarm which always wakes me up at the best possible time. So, I was excited when I realized the team behind Live by Earlysense also put an emphasis on this trait.
Thus, I was able to set a smart alarm that promised to wake me up at the best possible time in a given time period. However, I did not have an overall satisfying experience with it, since the volume of the alarm was way too loud, and you cannot even adjust it. Also, you need to choose the wake up alarm from the list of your ringtones. This is far from the ideal way for me, as I've been waking up for a while at the best possible time for only one vibration signal of my smartwatch. This way, I do not wake up anybody around me. It is an important factor, since I usually get out of bed before 6 am.
On the other hand, push notifications proved to be very useful features of Live by Earlysense. You can set up such alarms for your heart rate or breathing values. Or even for situations, when your sleep mate leaves the bed and does not come back after a specified amount of time. It can be really useful for those, who are living together with people in need of special attention, or who suffer from various medical problems. If you are choosing Live+ instead of the basic Live package, you can also monitor your loved ones from a distance, which is made possible through remote connection.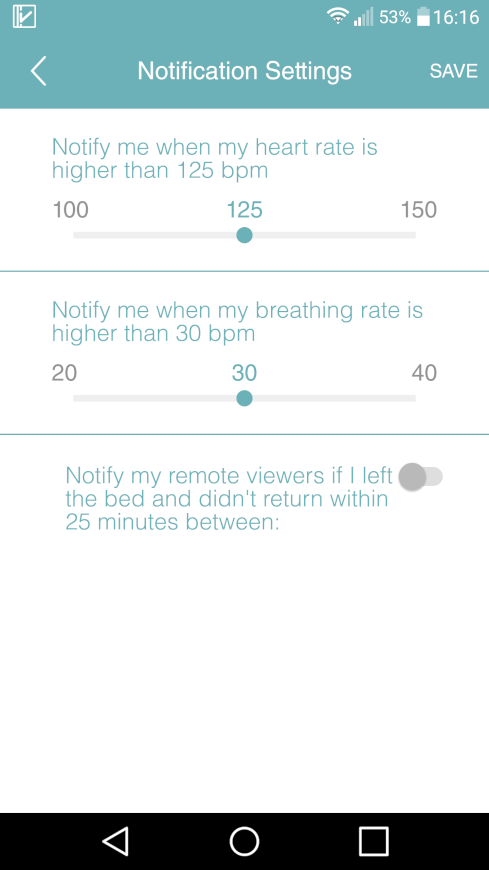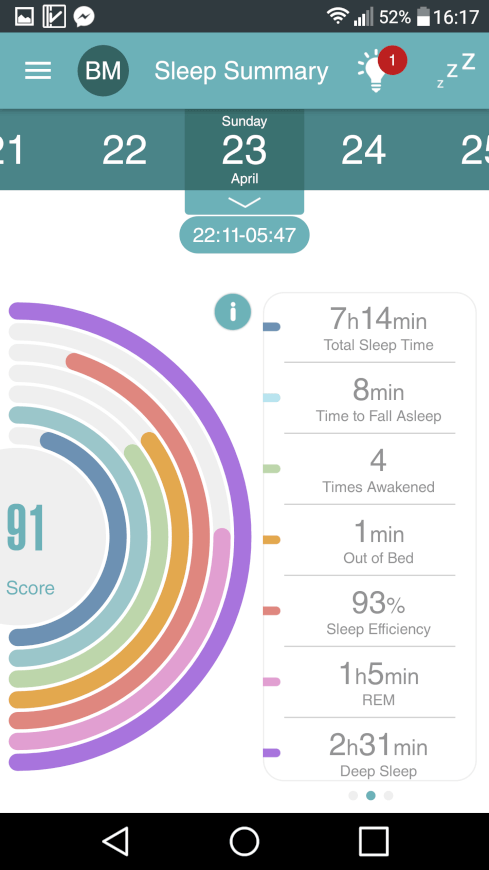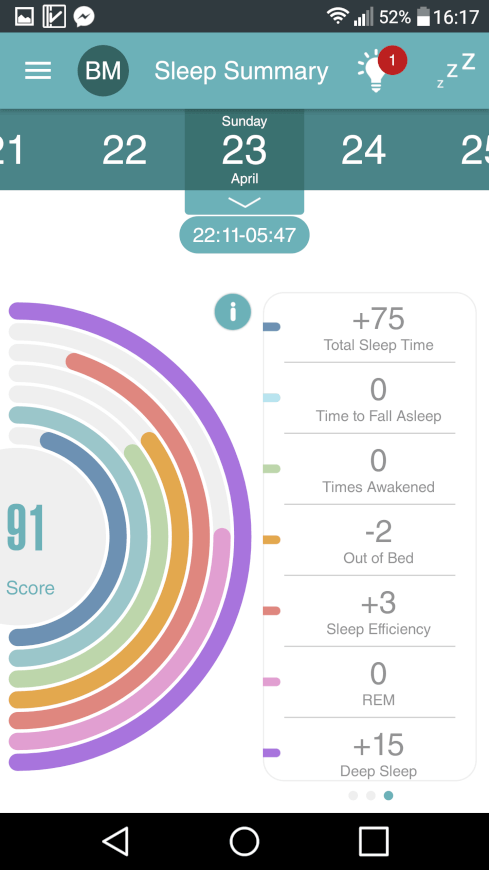 How accurate is the sleep measurement of Live by Earlysense?
For assessing the accuracy of the sensor, I used the most basic method. I compared it to other devices whose scientific methods I trust and which I have been using for a while quite successfully, so I have a significant amount of data. However, if you are interested how Live by Earlysense measures sleep quality as well as vital signs, their validation paper is available here.
Regarding sleep quality, I need to say it almost perfectly matched my already mentioned, favorite method with the Pebble Time-Sleep as Android duo. Regarding the heart rate, I compared it to Viatom Checkme Pro/Fitbit Surge and found that there was no significant difference even though these devices measured my heart rate directly.
It also provides sleep tips which I loved but unfortunately these are not connected to my own data. I believe it is a missed opportunity. There is a lot to discover in my data, while I would love to receive personalized tips (see the app Sleep as Android for an example). Maybe the company will perform further developments for that.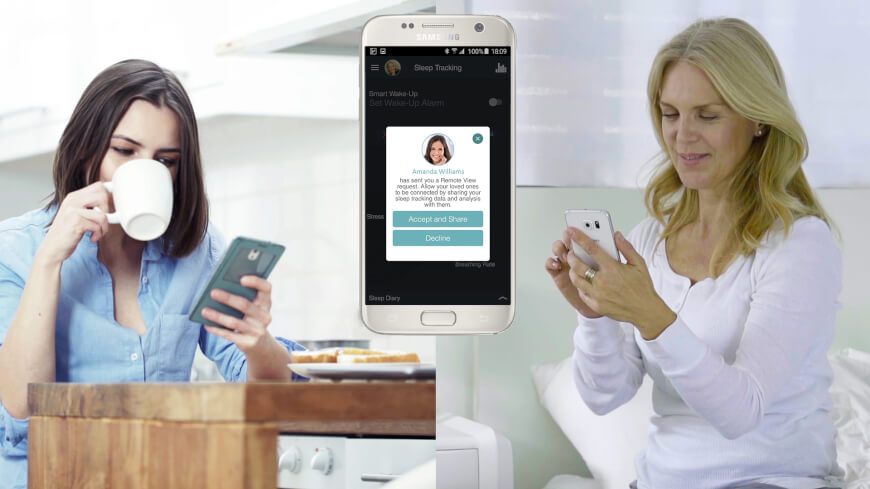 My Verdict: B+ (with a better smart alarm, I would give it a straight A)
If you are searching for an easy way to track your health and sleep, Live by Earlysense could be your ideal choice. Here, you do not have to deal with the utterly personalized solutions different applications and wearable sensors can offer, which require time, effort and testing.
If the smart alarm were more sophisticated, I would even think about leaving my own method and switch entirely to Live by Earlysense. However, until the smart alarm remains the same as it is today, I decided to keep on using both.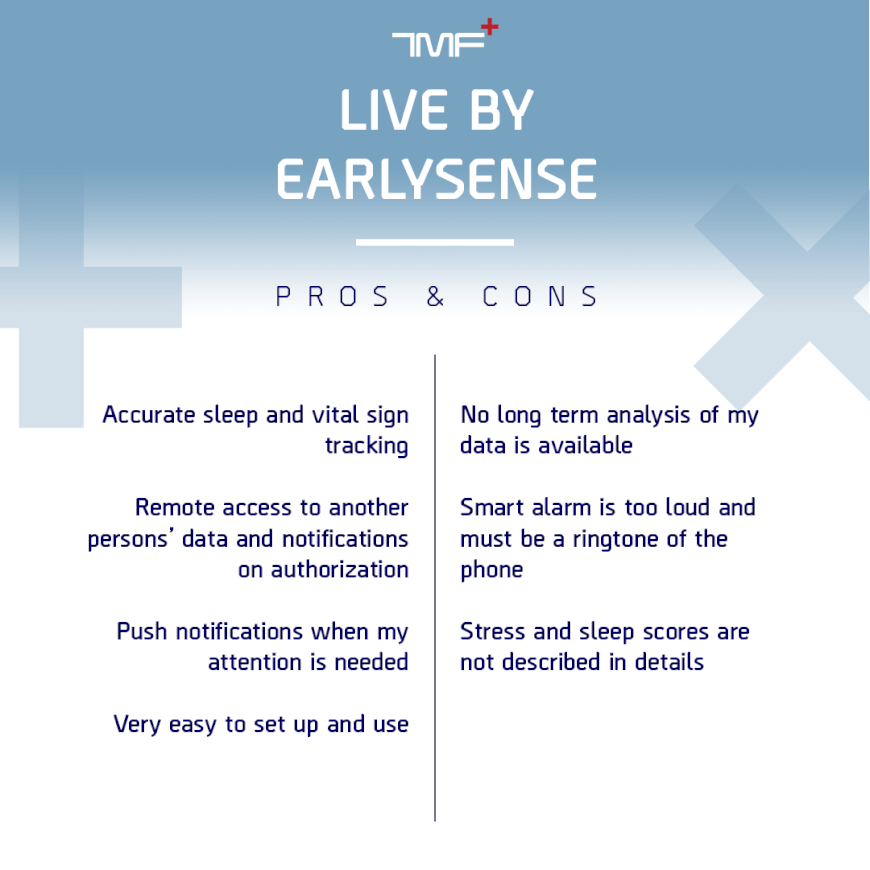 [subscribe image="false" type="article-horizontal"]Subscribe to
The Medical Futurist℠ Newsletter
News shaping the future of healthcare
Advice on taking charge of your health
Reviews of the latest health technology
[/subscribe]