The First Medical Tricorder? The Big Viatom CheckMe Pro Review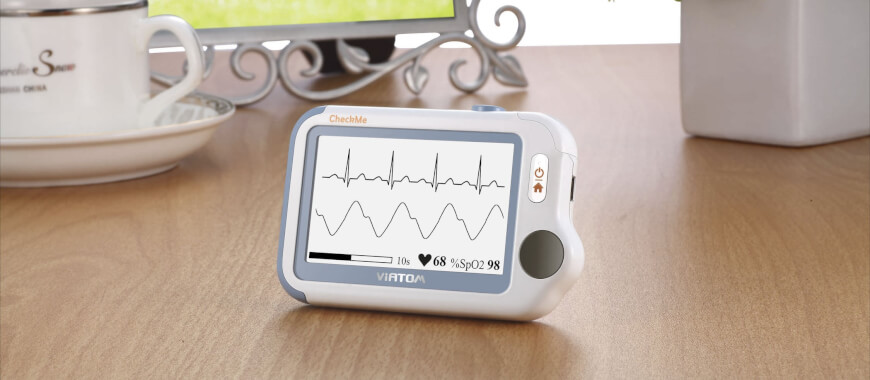 The Viatom CheckMe promises to bring the medical tricorder to life by measuring ECG, blood oxygen level, body temperature, step count and many other health parameters. Let's see how it works in practice!
One step closer to science fiction
I believe you already know I'm a huge fan of science fiction. For the record, I just finished a course at the Harvard Extension School focusing on science fiction, society and other ethical questions and I was over the moon for getting an A. Anyway, for years I was mesmerized by the medical tricorder used in the fantastic Star Trek series. Dr. McCoy just used his device to scan a patient, then it immediately told him the diagnosis, basic vital signs and health parameters.
Years ago, when I started using the earlier version of Viatom CheckMe, I knew the start-up did something amazing: it brought us one huge step closer to science fiction. They took one big leap towards developing the all-mighty medical tricorder. Now, the Viatom CheckMeteam was kind enough to send me a new package with their latest product, the pro health monitor.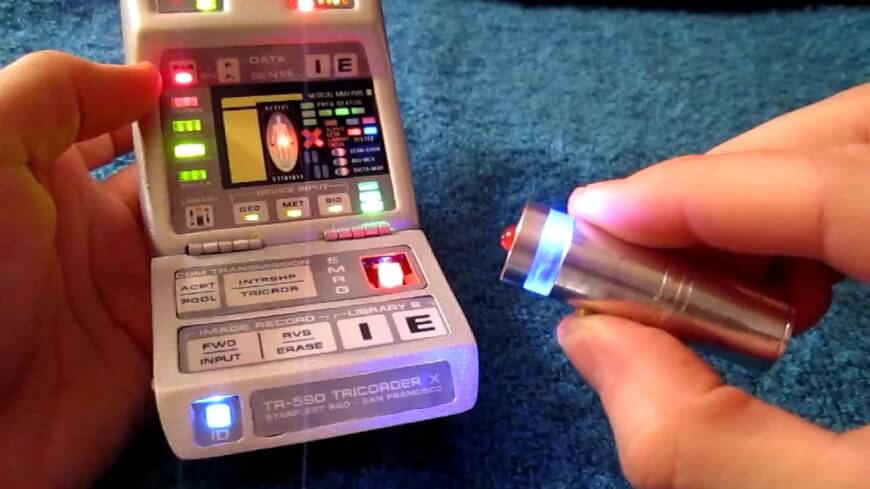 Let's see what it looks like and how it performs!
FDA-approved, multifaceted, light and easy
The greatest feature of the Viatom CheckMe Pro is that it is truly multifaceted. It functions as a health tracker (just like a wearable sensor), it records your electrocardiogram (electrophysiology of your heart), measures your blood oxygen saturation, the number of steps you take a day, serves as a thermometer, a blood pressure tracker, sleep monitor and a reminder. It's quite an all-in-one package. Needless to say, it is portable, very light, hand-held and transfers data wirelessly. Another telling sign about the quality of the product is that it gained the US Food and Drug Administration's approval.
You should also keep in mind that it can be used for home care as well as in medical setting, it can perform as a health tracking device and a fitness/sport equipment. As much as I would like to recommend it to everyone, I should emphasize that it is first of all a medical device, not a health sensor or a wearable health tracker. So, it's primary target segment is the community of medical professionals.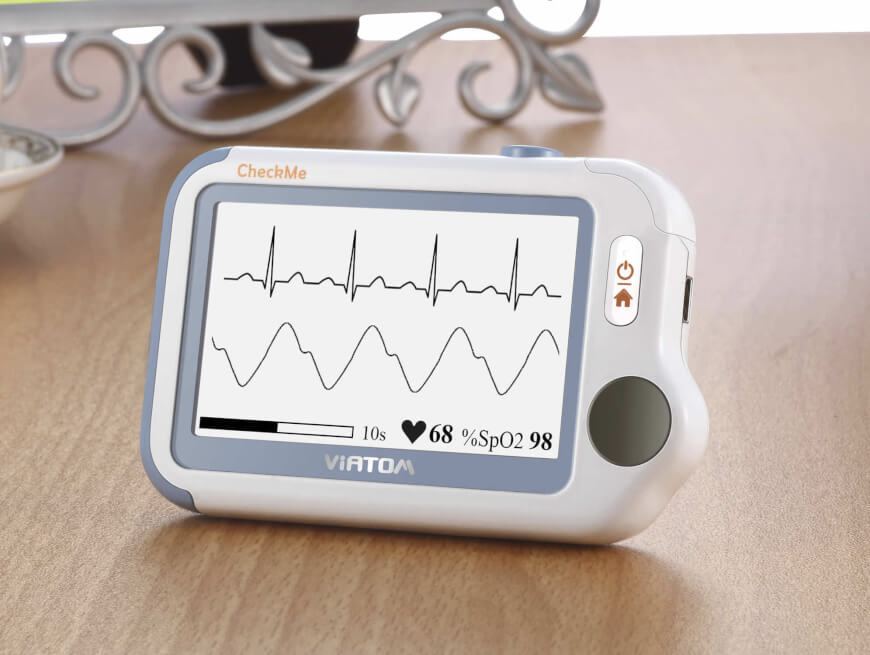 Few weeks ago I went to a Hungarian emergency department, where a patient was brought in, and they could not measure the person's ECG because the ECG machine refused to work. I just gave them my old Viatom CheckMe device. It measured the required vital signs including ECG within 30 seconds. They marveled at how small and how comfortable it is…
What will you receive after having ordered the Viatom CheckMe Pro?
When you unpack the box, you will find there the phone-sized device in a tone of white colour itself, a special Viatom cable similar to a micro USB, attachment to measure blood oxygen saturation, a bracelet for monitoring your sleep, electrodes for the ECG for more channel ECG-measurements, a lanyard, a belt to wrap around your chest for ECG Holter and a mini monitor adapter for different channel ECGs as well as for blood oxygen level.
The hardware is not so different from the earlier version, but there are some changes. The device for checking blood oxygen saturation is much bigger; I guess it had to be changed for accuracy reasons. The first menu section looks the same, while the second screen shows a new feature (mini monitor) in case of the newer version and the ECG Holter.
The device connects through Bluetooth connection to your smartphone to be able to transfer data wirelessly.
What happens when you turn on your CheckMe Pro?
After you set your personal profile with your own data, you are ready to go.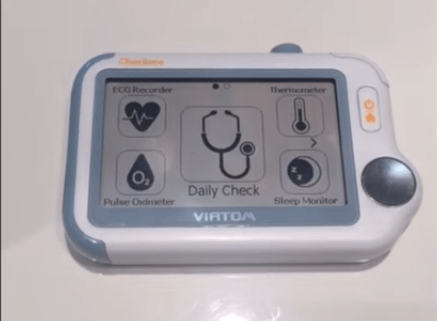 On the first screen, there is the body temperature, sleep monitor, and if you swipe right, you change the menu. The review section contains the earlier measurements (you can search among them), the pedometer, which tracks your physical activities during the day, the mini monitor (new feature in Pro!), the settings option and an ECG Holter, which is a huge advancement.
First I advise you to try the easiest feature. Measuring your body temperature. You press the gadget to your forehead, and the sensor measures your temperature within seconds. If it is adequate, you get a little smiley on the screen. I love this feature!
The daily check and the blood oxygen monitor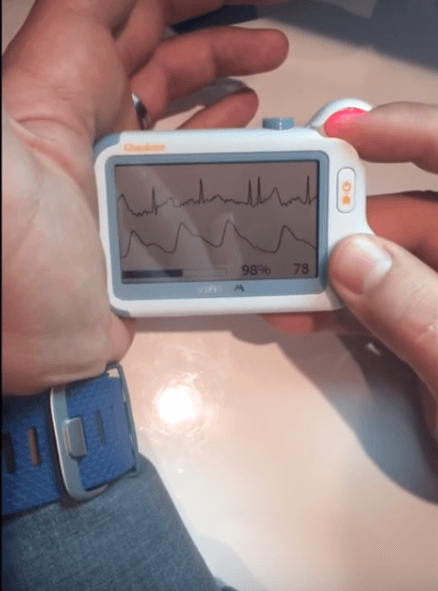 When doing a daily check, you have to hold the device in your hands to touch the two metal sensors, with one of your index fingers touching the button for measuring the blood oxygen saturation. Within seconds, you will be able to see your ECG on the top, your pulse in the middle, and at the bottom the blood oxygen-level in percentages. When I tried the device on Facebook Live, the results showed that my ECG rhythm is regular, my oxygen saturation was 98 per cent (it is okay above 95), and thus I got two smileys! I was happy!
It is obviously also possible to use the gadget only for checking your ECG. For doing so, you can choose between two programs (Lead I and Lead II). It took the device up to a minute to measure my ECG – and fortunately it haven't found any abnormalities! I got a smiley again!
Blood oxygen level can be measured by using the appropriate attachment. How does it work? On the gadget, you choose pulse oximeter. You put your index finger into the appropriate part of the attachment comfortably. It will beep for some seconds according to your pulse and your blood oxygen levels in line with the pulse curve. After maybe 10 seconds, the gadget showed me my blood oxygen level (99 per cent) and my heart rate (71). So I'm supposed to be fine (again, I got a smiley in the end). When you further check the information section, you receive reference data and information about the normal ranges as well. The latter is pretty useful in interpreting your data.
The most unique feature: ECG Holter
When your doctor tells you need to have an ECG Holter monitor for the whole day, you usually have to wear a very uncomfortable device for 24-hours. Now, with Viatom CheckMe, the suffering is over. It is so comfortable you will not even realize, you are wearing something.
Before using the ECG Holter, the gadget warns you that your batteries should be fully charged and the previous data will be deleted. The smart device also explains with small drawings for you how to attach the ECG Holter to your body as well as to the monitor adequately. You will receive a unique set of medical data about yourself.
One of the greatest value in Viatom CheckMe: sleep monitoring
Although there are many gadgets for sleep monitoring, I believe that the real value of Viatom Checkme Pro lies in its ability to measure your pulse as well as your blood oxygen level very accurately during your sleep. I think smartphone apps do not have the best sensors for accurate sleep monitoring. Especially for people suffering from sleep apnoea or snoring, it might prove quite useful.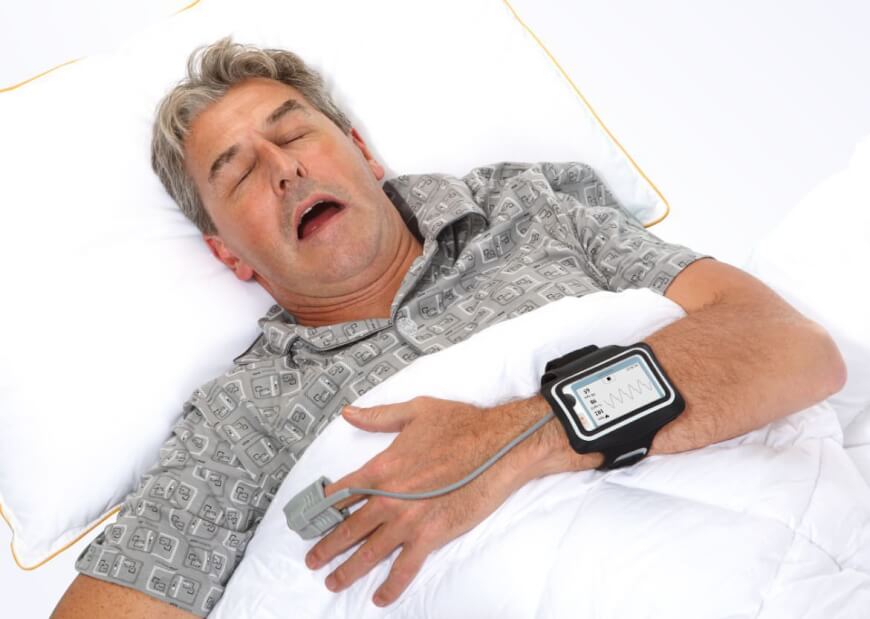 And finally, in case of every measurement, you can transfer the data to a smartphone. From there you can generate the results in a PDF-format and share it with your caregiver. Plain and simple! I believe that it is crucial for the future of healthcare to share your data digitally and to be able to move away from the printed paper format.
So, if you are eager to get your own device, visit Viatom's website and order one! I especially recommend it for medical professionals and hospitals!
Last but not least, my biggest surprise for our avid readers: the company was kind enough to offer three devices to those who sign up by clicking on the button below! We will notify the winners on the 7th of February by email.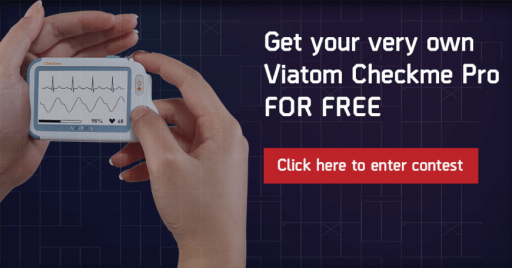 But, if you would rather play safe, visit
Viatom's website
and order your very own device! I especially recommend it for medical professionals and hospitals!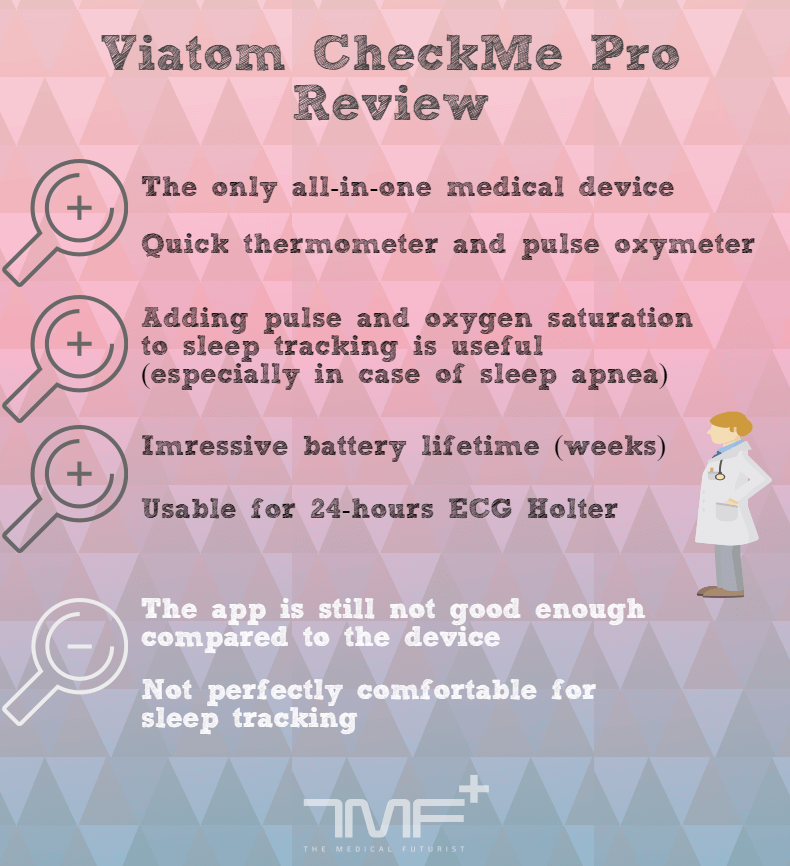 [subscribe image="false" type="article-horizontal"]Subscribe to
The Medical Futurist℠ Newsletter
News shaping the future of healthcare
Advice on taking charge of your health
Reviews of the latest health technology
[/subscribe]