Digital Technologies for Improving Hygiene in Health Facilities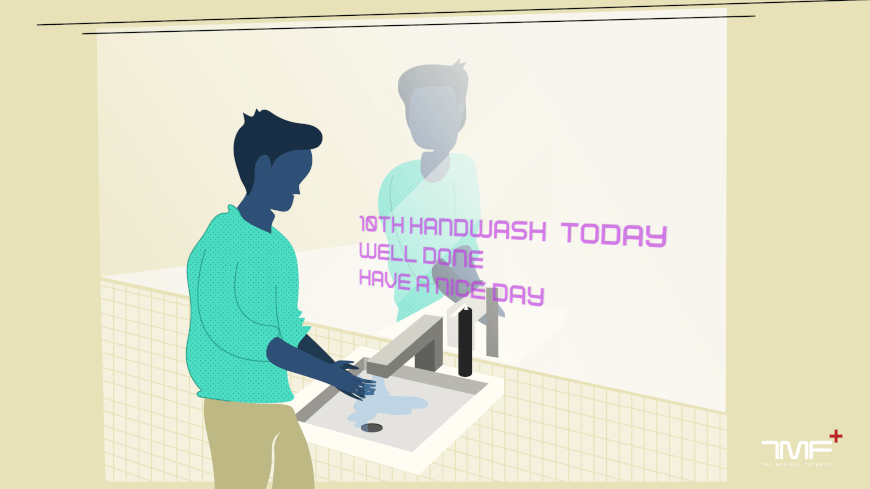 150 years after Semmelweis advised fellow physicians to sanitize their hands to mitigate the effect of infections, the maintenance of hygiene is still a widespread problem in hospitals and the source of healthcare-associated infections. Now, technological solutions line up against microorganisms, bacteria, and fungi. Here are a few examples.
1 in 9 in-patients will die due to infection
According to the US Center for Disease Control, studies show that on average, healthcare providers clean their hands less than half of the times they should. This significantly contributes to the spread of healthcare-associated infections (HAIs or HCAIs), such as MRSA (methicillin-resistant Staphylococcus aureus) and C. diff (Clostridium difficile), affecting 1 in 25 hospital patients on any given day. Statistics revealed that on average, 1 in 9 will die due to the infection, and the number of HAI caused the death of approximately 99,000 people in 2002 only in the US. That's almost the population of Seychelles.
Still, that was only the extent of the problem in one country. The World Health Organization estimates that there are over 1.4 million cases of HAI at any given time. Of every 100 hospitalized patients, 7 in developed and 10 in developing countries will acquire at least one healthcare-associated infection. However, this is likely to be a gross underestimation, due to the lack of proper surveillance.
These are insanely high numbers, especially considering that Dr. Ignác Semmelweis, "the savior of mothers", already evangelized in the 19th century that hand sanitizing could mitigate the effect of infections – although, at that time, he meant it only with regards to new mothers and "childbed fever". So, what is the cause of HAI and how could digital health technologies help in combatting this deadly phenomenon?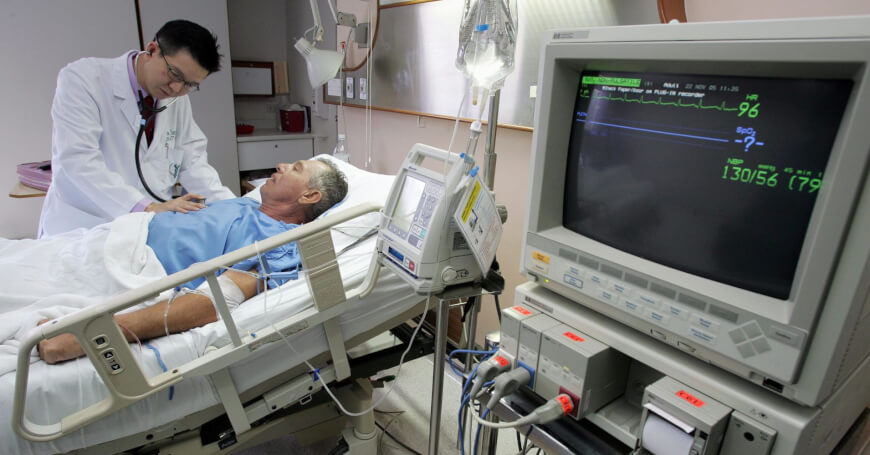 Place of healing = source of infection?
How ironic is the fact that people who go to the hospital in the hope of healing might end up even sicker as a result of an infection due to all kinds of microorganisms, bacteria, and fungi? Every patient is at risk of getting an infection while physicians treat them for something else. Even healthcare providers are at risk of getting an infection while they are treating patients.
Several factors contribute to the appearance of healthcare-related infections. A prolonged hospital stay, as well as the severity of the underlying illness, increases the risk of catching the germs, and so does patients' lower immune status due to their severe conditions. In addition, the WHO mentions poor environmental hygienic conditions and waste disposal, inadequate infrastructure, lack of equipment, understaffing, overcrowding, lack of procedure, the insufficient knowledge and application of infection control measures or the absence of local and national policies.
If the environmental factors in a healthcare facility, as well as the debilitated state of patients, were not enough for the rampant HAI-rage in hospitals, the increased power of resistance in microorganisms also contributes to humanity's defeat vis-á-vis infections. The WHO estimates that in 2016, 490 000 people developed multi-drug resistant tuberculosis globally, and drug resistance is starting to complicate the fight against HIV and malaria as well. Moreover, a study published in May 2018 in Science Translational Magazine found that superbugs got gradually better at surviving the alcohol used in hand-sanitizers.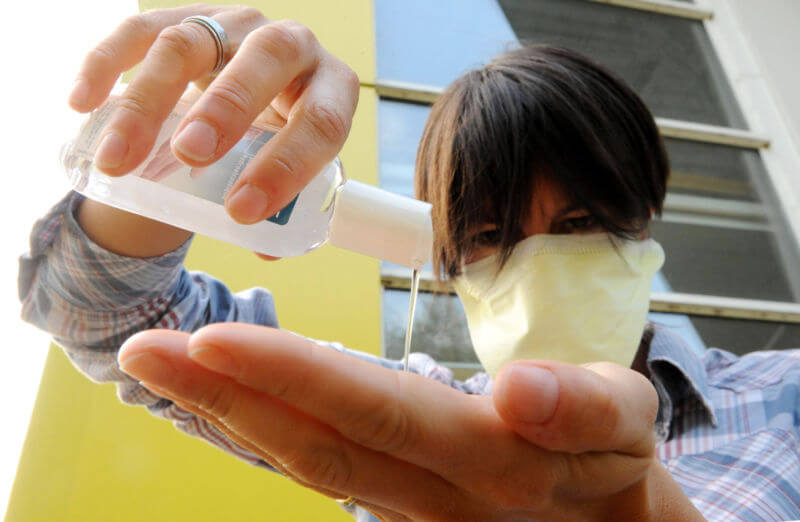 Why don't you wash your hands?
That's terrifying news. However, we have to acknowledge that one of the main reasons for HAI is the failure of healthcare professionals to wash their hands between patients or before procedures. The World Health Organization also considers hand washing as the primary measure proven to be effective in preventing HCAI and the spread of antimicrobial resistance.
Still, the adherence rates of healthcare workers are rather low on average. That might be due to individual factors – apparently, nurses turned out to be more likely to wash hands than physicians; clinical aspects as understaffing and patient overcrowdedness decrease the likelihood of hand sanitizing; and finally institutional conditions: the lack of soap and paper towels do not compel staff or patients to wash hands carefully.
While more resources, more awareness raising and the prioritization of (hand) sanitization among health staff could definitely aid in changing the situation, numerous digital solutions are also on the market focusing on improving hygiene.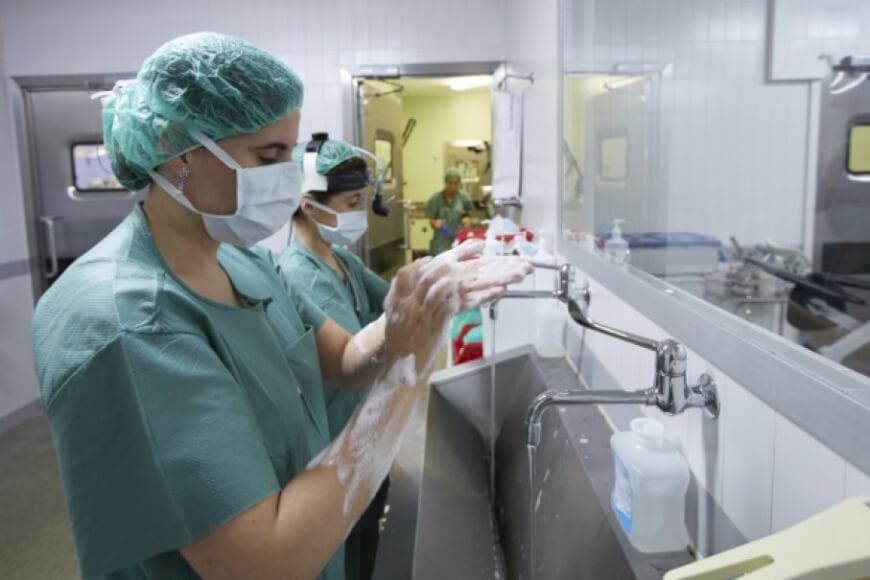 The next level of institutional cleanliness: Xenex
The Xenex Robot allows for fast and effective systematic disinfection of any space within a healthcare facility. This helpful automatic tool destroys deadly microorganisms causing HAIs by utilizing unique UV disinfection methodologies.
The robot is more effective in causing cellular damage to microorganisms than other devices for disinfection. Thus the number of HAIs might be more effectively reduced. Westchester Medical Center reported a 70 percent drop in Intensive Care Unit C. diff with the use of Xenex robots.
Electronic hand hygiene monitoring with Biovigil
For decades, doing a manual observation was considered as the primary method for measuring hand hygiene compliance. This method has many limitations – including bias and inadequate sample sizes projecting an inaccurate compliance picture.
Monitoring through specific sensors entirely changes that. For example, medical staff can wear the Biovigil badge on their coats. The little gadget senses whether or not the doctors or nurses washed their hands: if so, it turns green. After a while, it reminds the wearer to rewash their hands and becomes red if too much time passed from the last hand wash. Beyond the constant reminder, the badge also helps to make transparent how committed the health facility, or its members are towards hand hygiene.
Vitalacy works similarly, although instead of a badge, healthcare professionals wear a wristband, which indicates when it's time for a handwash. iScrub Lite is an application for healthcare professionals for iOS who wish to monitor hand-hygiene compliance with a tap. It records observations annotated with time, location and job role.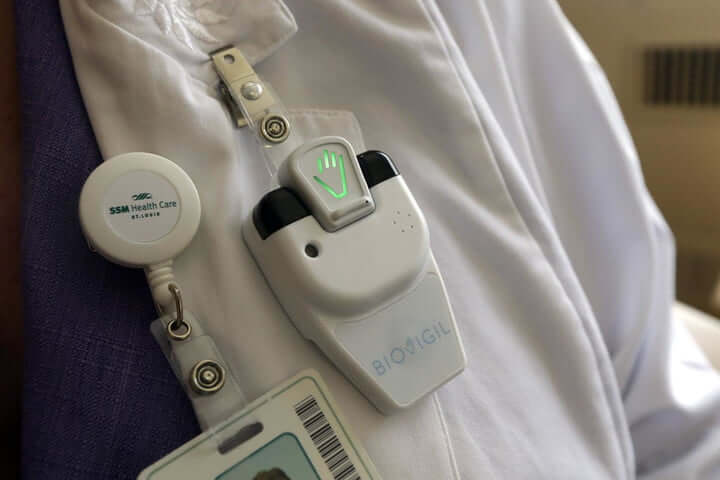 HandInScan evaluates hand hygiene performance
The Hungarian health-tech company, HandInScan provides technology-based, quality assured hand hygiene education and control – leading to safer and more efficient operation in areas of vital importance. The start-up has developed the Semmelweis system, a hand hygiene training, and control device able to assess users' performance within seconds. They believe that fostering technology-induced behavioral change in hand hygiene saves lives on a global scale. We couldn't agree more.
SureWash applies a similar method: it teaches hospital staff, patients or visitors how to wash hands properly through its gesture recognition applications and gives feedback in real time.
Turning disinfectants into a breathable mist
Mind-Boggling research was published in August 2018: researchers from the University of California detailed how they created a device diffusing disinfectants into a cloud to breath in. The equipment works on a range of disinfectants that have never been atomized before, such as triethylene glycol, or TEG. The team used the gadget to atomize disinfectants onto environmental surfaces contaminated with bacteria and showed that it eliminated 100 percent of bacteria that commonly cause HAIs.
The technology could become the new method for disinfecting hospital environments. However, it might also be used to deliver an entirely new class of medicines to patients via inhalers. Nevertheless, we have to wait at least 1-2 years until the researchers build the first prototypes for practical use.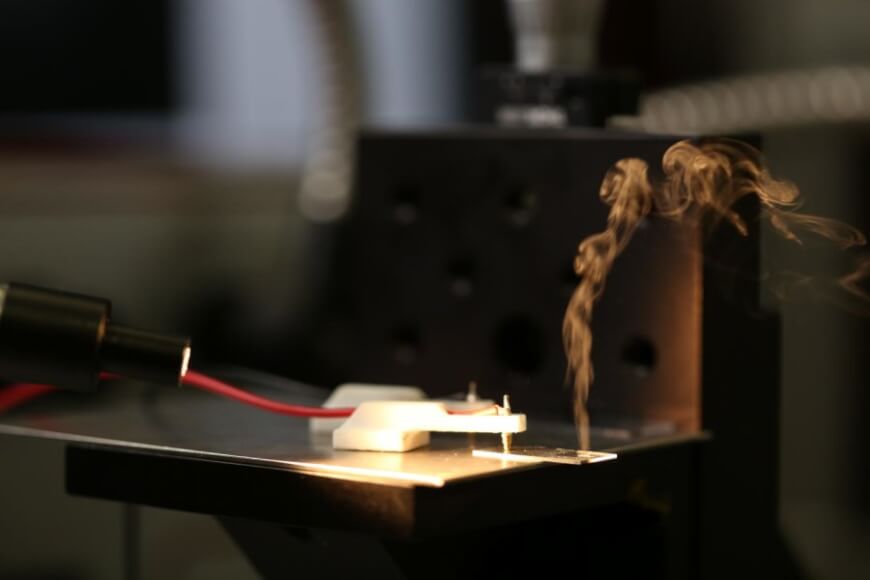 While medical professionals could perceive as slightly inconvenient to listen to beeping sounds constantly calling their attention to hand hygiene, but if regular handwash gets into the daily routine, it'll become a lot easier. Until then, keep calm and wash your hands!
Subscribe To The Medical Futurist℠ Newsletter
News shaping the future of healthcare
Advice on taking charge of your health
Reviews of the latest health technology