Coala Heart Monitor – The Swedish Response To The ECG Revolution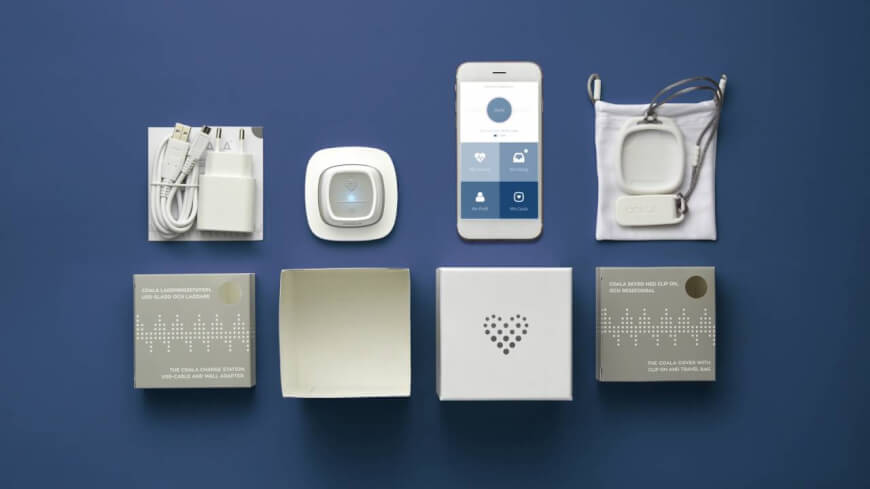 It has never been easier to measure ECG and monitor heart health at home. New pocket-sized gadgets, chest straps, even specialized earbuds promise accurate measurements during sports activity, cooking or watching TV at home. AliveCor's Kardia, MocaCare, Skeeper, just to name a few digital devices The Medical Futurist already reviewed. Recently, a Swedish company sent me their version and I eagerly tested it. Let's see what the Coala Heart Monitor can offer.
The ECG Revolution
A real revolution started in cardiology: miniaturized and patient-friendly designs of ECG monitors, single- and multi-channel ECGs arrive on the digital health market almost every day. Can you imagine that the first "electrocardiogram", as a matter of fact, a kind of string galvanometer with very high sensitivity built by Dutch physician, Willem Einthoven, was 600 pounds heavy and five people had to be in place to conduct the examination? Later, Frank Sanborn's company produced the first portable version of the electrocardiogram in 1928. It weighed 50 pounds and a 6-volt automobile battery powered it.
And what are we seeing today? More than a thousand Alivecor's KardiaMobile ECG device would make up the weight of the first portable ECG machine. 1255 to be exact. There was even a miniaturization of the various versions of Alivecor devices! For example, the first version of their FDA-approved, medical-grade ECG recorder only works on the iPhone 5; the next generation was already thinner and more sophisticated. The latest version is only a little bit thicker than your credit card. Amazing!
But, MocaCare, Skeeper, and the Coala Heart Monitor also fit in our pockets perfectly. The trend is visible in the field of heart health monitoring; and designers also started to embrace it: to build patient-friendly, easy-to-use, accurate, portable and digital ECG monitors to make patients' lives better. Let's see how Coala Heart Monitor performs in the race!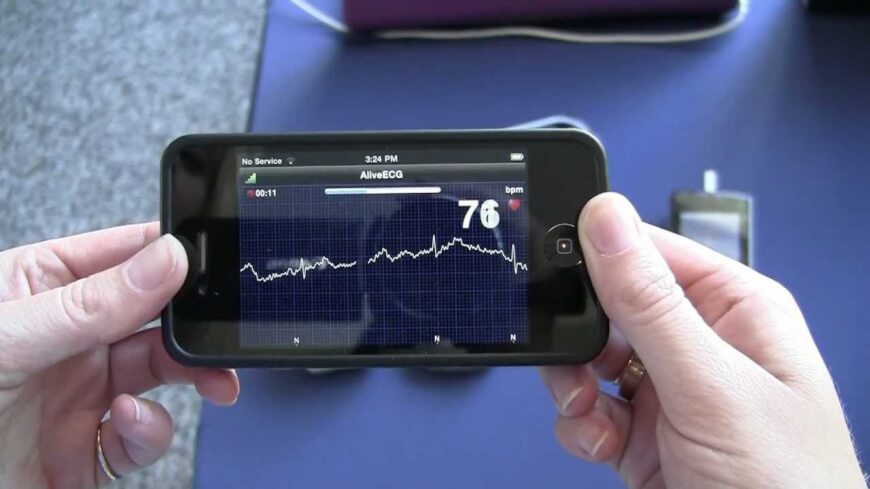 The Swedish Coala
According to the Institute for Health Metrics and Evaluation, heart diseases, such as ischemic heart disease or atrial fibrillation (AFIB) are among the most common causes of death in Sweden. The latter affects more than 300,000 people in the Scandinavian country. The researchers of Coala Heart Monitor think that the biggest problem is that many people do not know that they have a heart disease. If proper treatment is not provided, the risk of dying prematurely is twice as high. A person with AFIB runs five times the risk of suffering a stroke and three times the risk of heart failure. In addition, the risk increases with age. One in four people over 40 is at risk of suffering from AFIB.
That's why Swedish entrepreneurs and physicians initiated research in 2004 to develop wireless systems for digital monitoring and diagnosing of the heart. The first generation of Coala was born three years later in collaboration with the Karolinska Hospital and Lund Universities. Ten years later, after four generations of sensors, lots of algorithms and a portfolio of IP, the eager team founded Coala Life to industrialize and commercialize the innovations. Currently, their technology is CEE-approved, while the FDA-approval is pending. It is available primarily in Sweden, but providers could license the system Europe-wide. As the company told The Medical Futurist, in 2018, they plan to scale-up internationally as they have a lot of interest outside Sweden.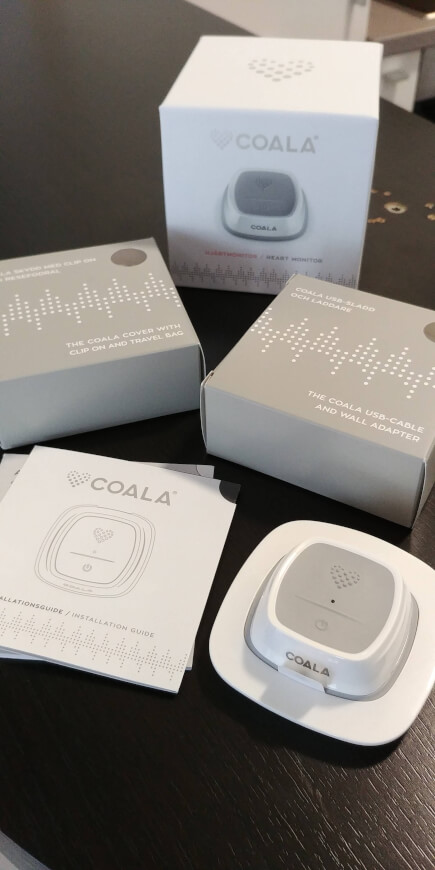 A combination of digital stethoscope and ECG monitor
Coala offers two types of heart monitors: one for patients and another, the Coala Pro, for professionals. The latter is intended for caregivers to perform multi-patient arrhythmia assessments and smart digital remote monitoring, it's simply digital telemedicine 2.0.The basic device itself is the combination of a digital stethoscope and a high-performance ECG monitor. The small, neatly designed gadget has three sensors: one for chest and two for thumb ECG recordings – in order to make the results more accurate. So, you simply hold the Coala for 30 seconds on your chest, followed by using your thumbs for 30 seconds. And voilá: in one minute you'll get analyses and screenings for 10 different cardiac pathologies. This includes AFIB, PVC, PAC, AV block II etc.
The user is able to monitor the results nearly real time in the Coala App. The medical device connects to the smartphone via Bluetooth, while data is stored in the cloud and provides easy access for caregivers through the Coala Care portal. Moreover, users have the chance to help scientists develop new drugs or treatments for heart disease if they share data with researchers in the Coala Atlas, a global database. Of course, opt-out is possible.
And where does the name come from? Coalas are the only terrestrial mammals that have two sets of vocal cords. By this, and despite their small size, they can create mating calls with a pitch as low as 20 Hz. The pitch is equivalent to the size and sounds of elephants, as well as the sounds of the human heart. The Coala Heart Monitor has unique dual sensors with the ability to pick up very low-frequency heart sounds, and as the Coala, it has capabilities of at least 20x bigger than its size.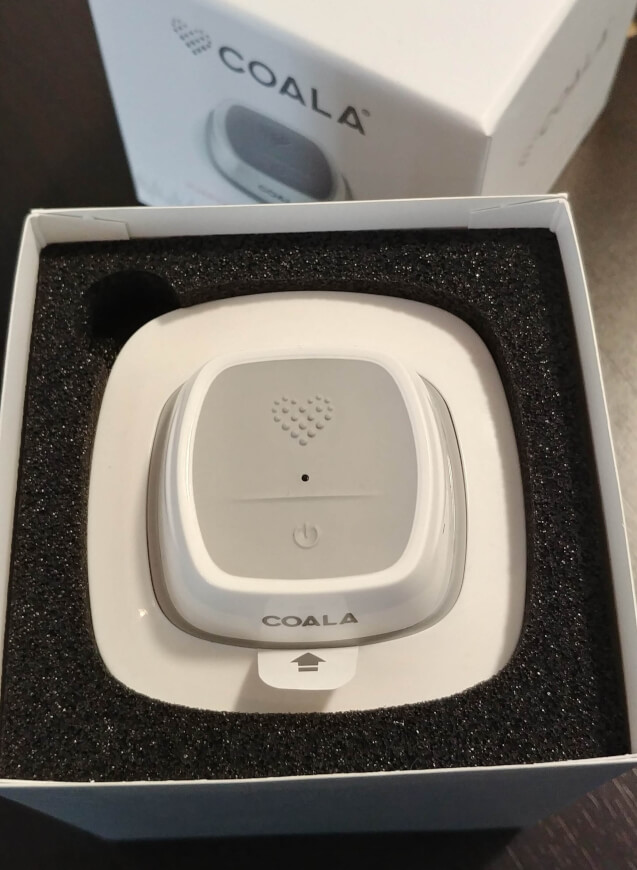 My experience with Coala
The explanatory letter that I received in the Coala App was in Swedish, which made me confused what to do.
Otherwise, it is really patient-friendly and it was very easy to carry out the measurement. As it promised, I had to put it on my chest for 30 seconds, then hold on to the sensors with my thumbs for 30 seconds, and the results were visible on the Coala App. As I'm a person who is used to gamification, though, I think it would have been useful if the screen had shown something entertaining or awareness-raising information during the measurement. For example, how to improve your heart health? What to eat or what sports activity to do? How often should you repeat the measurement? So something similar to what Tinke does.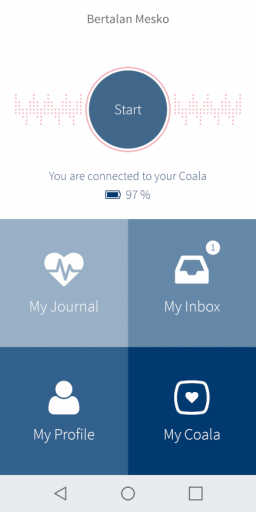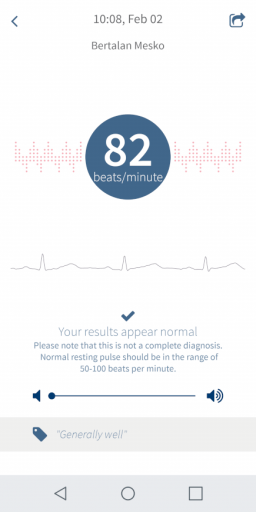 Besides, the Coala App measurement report is too simple, and I only stumbled upon the pdf report by chance. I was glad I finally found it, though, because it is highly professional, I would not think twice before sending it to a cardiologist. I can confidently say that the Coala gives the most detailed analysis on the market, but I only see that in the pdf report, which is a hindrance. It would be great to access this evaluation easier in the Coala App as well.
On a more technical level, the Coala Heart Monitor comes with a bracket and a micro USB cable for charging. The device functions seamlessly for a couple of days and indicates in percentages where the battery level stands. While this information is invaluable, it is a bit of a hassle to have a separate bracket for charging, as you also have to bring that with you wherever you go. In case of other medical devices,  you usually put the charging cable in the device/sensor itself.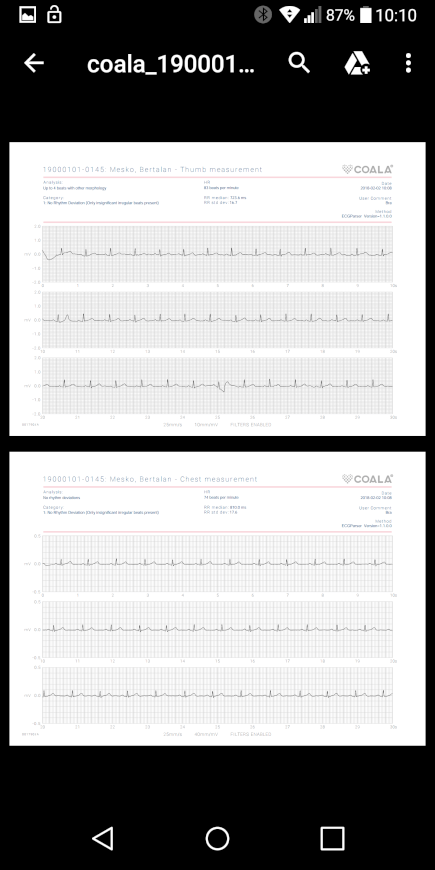 They sell the consumer version similar to models used in the mobile phone industry. Either you buy the Coala upfront fully packaged with all-inclusive unlimited use for 12 months (approx 199 Euros); on a 12 month plan including the device and unlimited use (from approx 20 Euros per month), or upfront payment of Coala (approx 150 Euros) and with a monthly subscription (from 5 Euros per month). The Coala Pro that is sold to the professional market has a different pricing scheme that was not available at the time the article was published.
Overall, the Coala Heart Monitor is very similar to MocaCare or Alivecor's Kardia. It's a patient-friendly, easy-to-use and accurate heart monitor combining a digital stethoscope and an ECG recorder offering very detailed measurement results. I would buy one for my parents or grandparents for long-term use, but I would not use it every day myself, mainly, because it does not offer additional tips and practices how to improve heart health.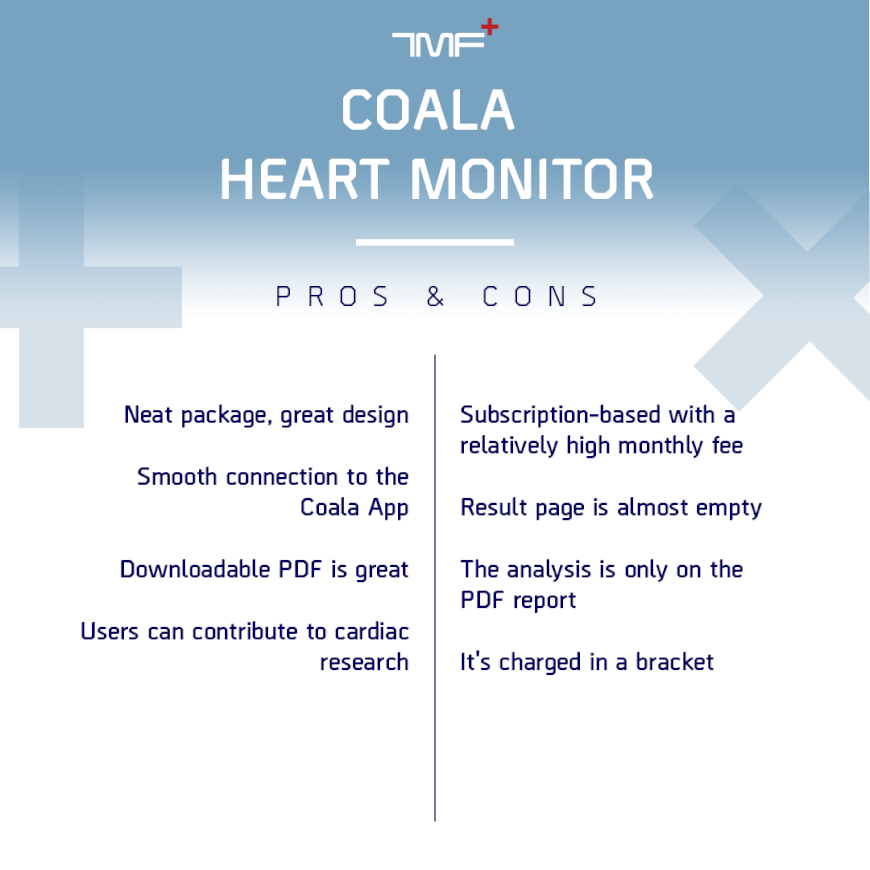 News shaping the future of healthcare
Advice on taking charge of your health
Reviews of the latest health technology