The Internet of Cosmetics And Beauty in The Bathroom of The Future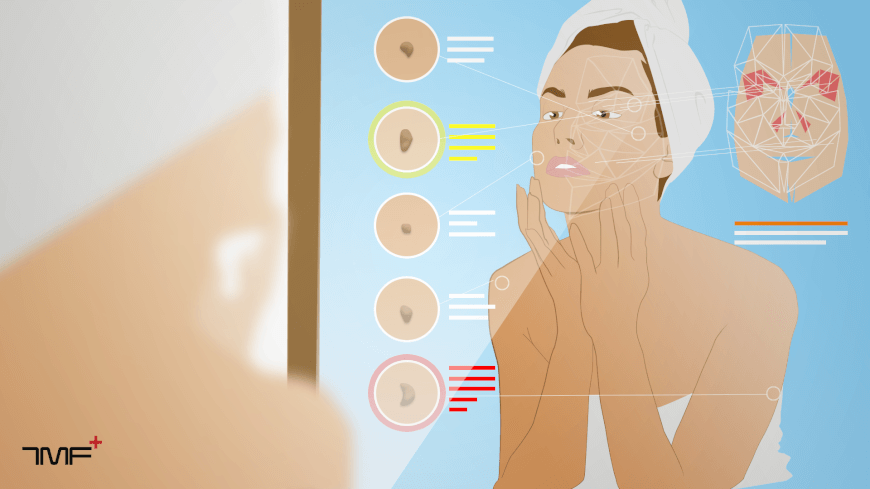 Smart mirrors might advise the clueless what to wear in the morning, skin scanners might find the most effective beauty products, toilets might eliminate the need for urine tests, and bioprinting might help cosmetics companies discontinue animal testing. Technology will significantly re-shape our sanctuaries for hygiene, and to see how it will happen, we looked at the latest trends. Here's an overview of what the bathroom of the future will look like.
The bathroom – source of ideas and singing talents
How old do you estimate the modern bathroom, everyone's favorite space for singing? Did you know that 150 years ago most people lived without running water or electricity in their homes? Did you know that although the godson of Queen Elizabeth I invented the flushing lavatory, its use only spread around from the second half of the 19th century?
The bathroom as we know it today is a relatively new concept. For centuries, people went to public bathing houses, used tin tubs in front of kitchen fires and did what they had to do in any comfortable room – or outdoors. As a comparison, today's bathrooms are meticulously tiled, clean sanctuaries of hygiene where some spend even more time than exercising. No wonder as it inspires people to become great singers: a survey revealed that 3 out of 5 Americans sing in the shower. In Woody Allen's To Rome With Love a guy can only sing on stage when a shower room surrounds him.
However, the bathroom is not just a place to follow our passion for music, but also for some eureka moments. Not only Archimedes is said to have found the ultimate response to a challenging set of problems while sitting in a bath, but another study also suggested that 40 percent of British people believe that they come up with their best ideas in the shower, tub or on the loo. In comparison, only 12 percent of the respondents thought their best ideas stem from loafing around in the office.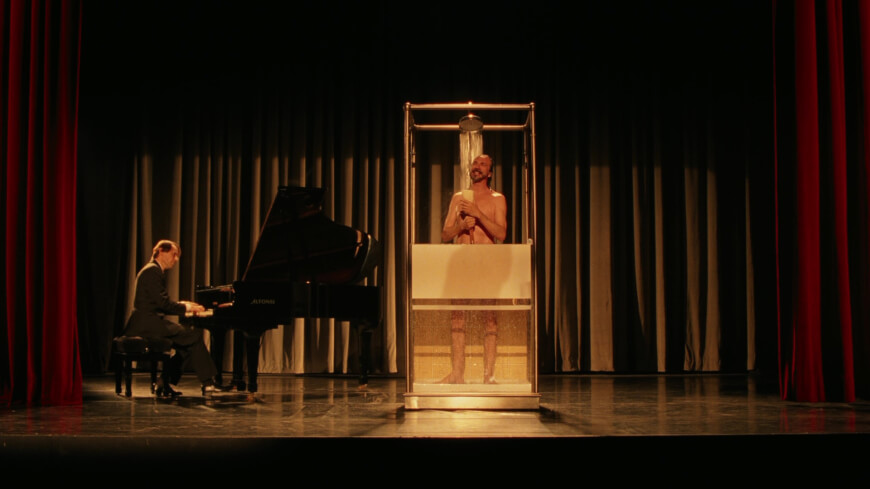 Employees might consider turning the working environment into a bathroom-like setting – similarly to the opera scene in the Woody Allen-movie -, or they might connect the room to the office to help employees make the most of their ideas. Sounds terrible, doesn't it? Let's hope the bathroom will appease our longing for privacy in the future as well, but it's sure that technology will change it. Let's see how!
The Internet of Bathroom Items
As all imaginable items grow smarter and smarter, personal articles such as televisions, smartphones/tablets but also showers, sinks or toilets will automatically be installed with sensors which will be able to communicate with each other and to compare data to the already existing information stored in clouds. These devices will be able to notify their users when some measurements are off, moreover they will also be able to send suggestions on how to change lifestyle routines, they will be able to alert medical professionals in case of emergency or to notify doctors if the patients do not get better even though they are adhering to the prescribed treatments. Bathroom items are perfect for monitoring and early diagnostics. Thus it is no wonder that smart mirrors, smart scales or digital toilets are already on the market – bringing beauty salons and wellness services home.
Beyond measuring various vital signs – temperature, weight, skin look, etc., using 3D scanning technologies, analyzing the results with the help of big data analytics and later on smart algorithms, the bathroom of the future will make use of augmented reality and personalized solutions.
Could you imagine that your mirror will offer you the clothing choices you can make for a given day based on your wardrobe and the weather forecast? What if the same mirror could also show you some matching make-up recommendations? Moreover, what if you could 3D print your own face creams, body lotions or foundation personalized for you based on the analysis of your skin? Does it sound like we watched too much science fiction? We don't think so. First of all, there is no such thing as too much sci-fi, and second of all, some of these are already on the market. Let's dive into the details!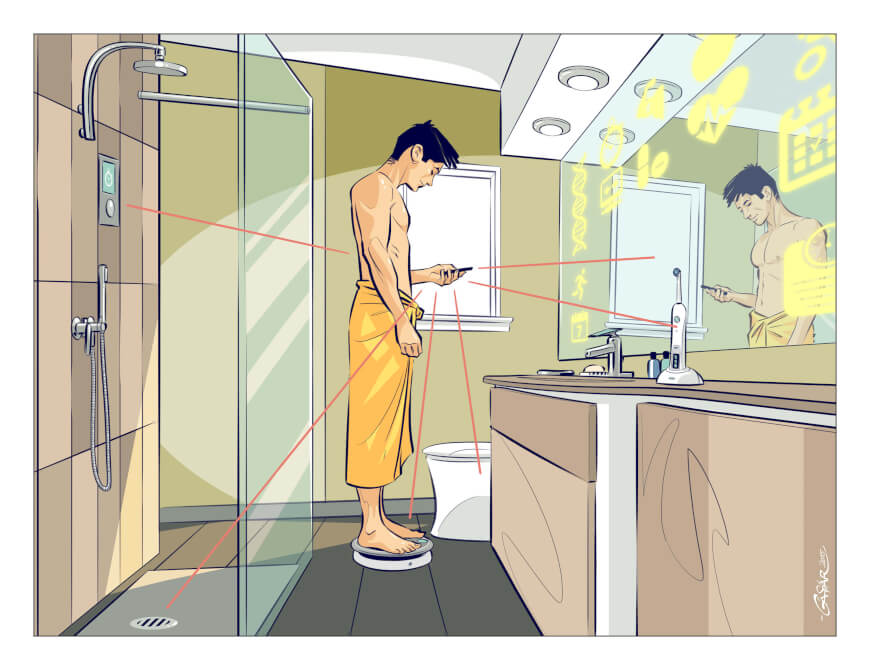 1) The age of smart mirrors
At the end of May, The Medical Futurist went to Paris to the VivaTech conference to rout out the most exciting novelties in digital health. As it is the fashion capital of the world, we knew that innovations in wellness and cosmetics will dominate the scene – and it did not disappoint us. We could clearly discern the most important trends in the beauty industry: smart diagnostics, product personalization and enhancing the customer experience through augmented reality.
A culmination of these trends is the appearance of the intelligent mirror on the market. Romain Daumont, Memomi's General Manager for the EMEA region, told The Medical Futurist that a smart mirror will be one of the key elements of the bathroom of the future that can share valuable general as well as beauty information with the user and make useful recommendations. He believes that as early as next year, we could see the first connected bathrooms incorporating smart mirrors – first of all in luxury hotels.
To illustrate how significant AR-powered smart mirrors could be in the future, L'Oreal presented two versions at the Vivatech conference. Both ModiFace and MemoMi, start-ups partnering L'Oreal, utilize augmented reality for their products. One of the mirrors offered a virtual hair color try-on: anyone could see how he or she looks with lilac curls or grey head of hair. The product is primarily aimed at hair salon use and not for home customers, but who knows what the future brings? MemoMi's smart mirror allowed visitors to try on makeup matching to the colors they are wearing, while another one suggested various outfits to make more relaxed choices in the morning.
Another example is the HiMirror, launched initially in 2016 by the New Kinpo Group, which offers an Amazon Alexa voice-controlled smart mirror that provides daily skin analysis and personalized beauty advice for users coupled with the option to try on makeup virtually.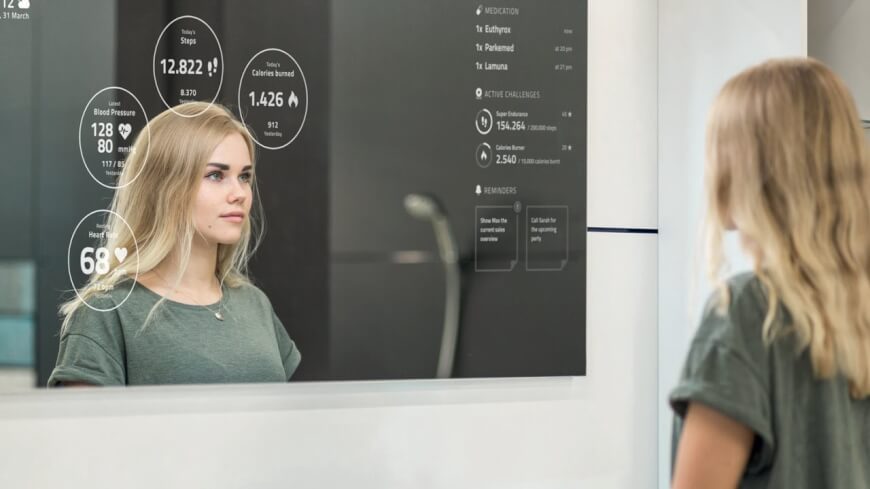 2) Data to the bathroom: skin scanners and hair analyzers
Gadgets for analyzing your skin and hair have been present on the beauty market for some time already, S-Skin introduced its microneedle patch and portable device at last year's CES. What makes Neutrogena's SkinScanner unique is that it attaches to your smartphone. The device takes a magnified image of your skin and measures the moisture content. An AI-enabled app called Skin 360 then analyzes the data and gives your skin a 0 to 100 rating and shows how it's improving over time. You'll see pores and wrinkles, all the details of your skin in a high-resolution image. As that might freak out many women, this device is more likely to show up at the beauty salon than at home.
The same goes for smart hair analyzers. The first was L'Oreal's smart hairbrush introduced at CES 2017. The beauty giant teamed up with Withings to create a device able to tell you whether you are brushing your hair too hard causing irreparable hair damage. As it was rather the dream of bored princesses than a useful product, the company's luxury haircare brand, Kérastase created a personal diagnostic for scalp and hair fiber quality, based on the combination of a mobile application and a live stream camera, aimed at professionals. Schwarzkopf Professional's Salonlab Analyzer & Customizer offers something similar: an IoT-based handheld device that measures hair moisture, quality, and color. However, it goes even further as a proprietary manufacturing system creates personalized hair products on-site.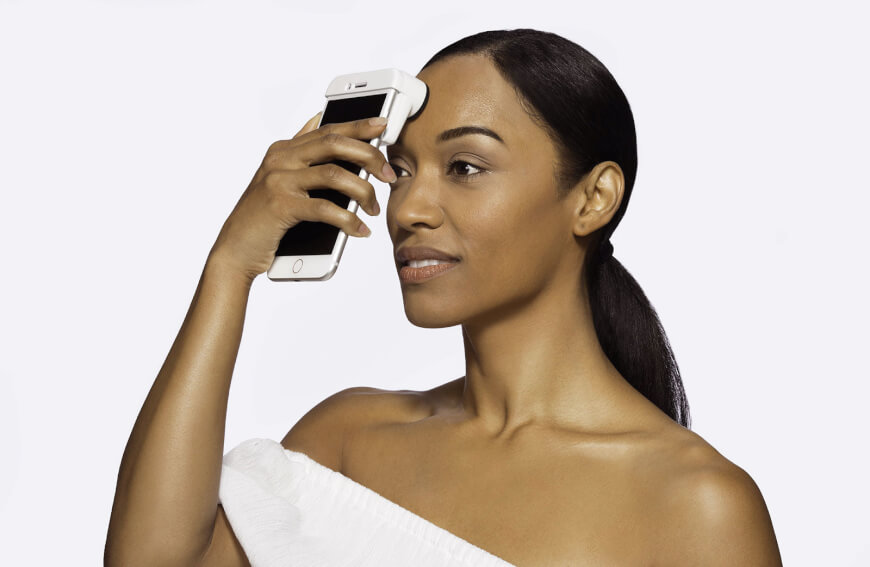 3) Personalized cosmetics and beauty products for smart usage
The bathroom of the future will undoubtedly be packed with many creams, lotions and other skin or hair care products which are based on diagnostics of beauty devices, or even that of dermatologists.
For example, SkinCeuticals' technology allows creating custom-made skin care based on a thorough skin diagnostic test made by a dermatologist. Lancome recently launched its service to manufacture personalized foundation by measuring the exact skin tone and providing a highly customized foundation on the spot. Customers choose from three levels of moisture and coverage (sheer, medium, and full), which Lancôme says provides 72,000 (!) possible combinations; and the foundation is blended right then and there in a contraption seemingly similar to a 3D printer. We tried it; it works wonders!
Genomics is also beginning to personalize beauty recommendations. While mainstream gene testing companies offer skin assessments such as Pathway Genomics' SKin IQ, companies are beginning to take up beauty-focused DNA kits. SkinGenie uses genomics and AI to assess risks to specific skincare traits and curated product recommendations based on a user's genome. SKINSHIFT offers a DNA test with customized product recommendations from the company's line of skincare products.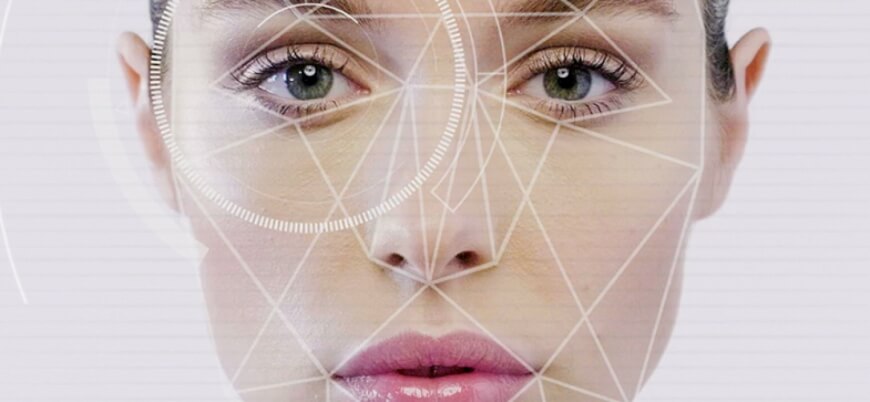 4) Smart toothbrushes for happy teeth
After your intelligent mirror decided what you should wear, what makeup you should apply and after using your personalized beauty products for cleaning your face and body, there's time for brushing your teeth. The Kolibree smart electric toothbrush makes sure you are brushing your teeth the right way through its app and offers kids fun games to keep up the good habit of regularly cleaning their teeth. In June 2016, Philips launched a Bluetooth-connected toothbrush, combining a variety of sensors in the handle to track in real time how you're brushing your teeth.
The toothpaste king, Colgate goes a step further. Its app-enabled electronic toothbrush has an artificial intelligence support to make the most out of oral hygiene. The more the toothbrush is used, the more the AI learns and will adapt to each user, adjusting to their own habits and providing improved brushing tips.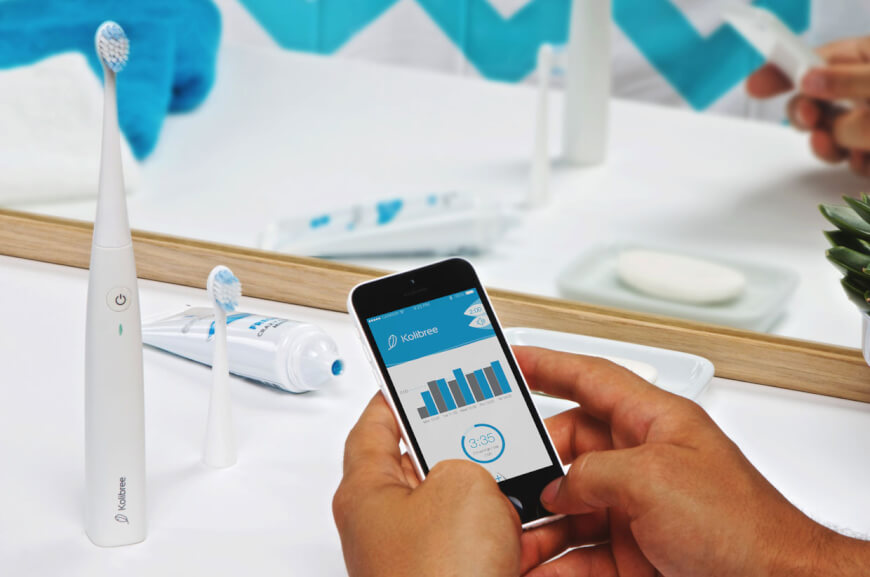 5) Smart scales to keep you informed
Scales are essential for monitoring your health and your body mass index – although many women freak out when they have to confront their weight. Although smart scales are not yet able to cheat with your actual weight after having analyzed your mood in the morning, they can provide useful information.
The award-winning wireless Qardio smart scale and full body composition analyzer even changed the numbers on the scale to smiles in order not to cause any distress to users. The intelligent body analyzer from Withings possesses similar features. It measures your weight, your body composition as well as your heart rate instantly and transfers the results to your smartphone.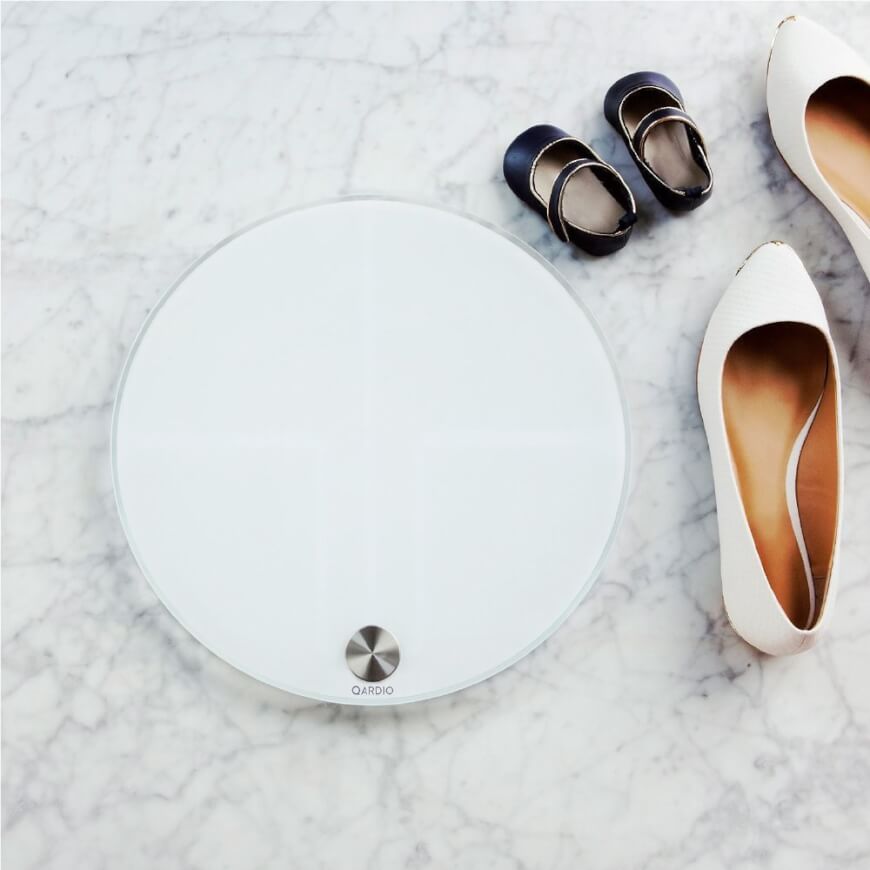 6) Digitalized and microchipped toilets
Japan is the country of endless technological possibilities – especially when it comes to the loo. It's not just another trip to the lavatory; it's a high-tech cultural experience. The Medical Futurist could experience that first-hand in Osaka in May. When Dr. Mesko entered the bathroom, the toilet greeted him, opened up automatically and cleaned itself. There was a control panel next to him with various functions, and he could flush the toilet with that too.
These sophisticated appliances provide users a wide variety of functions, including heated seats, warm water jets, and flushing at the touch of a button – or sometimes with just a wave of the hand. Features continue to advance, with some recent models even including seats and lids that raise and lower automatically.
From there, it is only one step further to apply various sensors into the toilet to measure your vital signs and health parameters. Imagine your little throne with microchips, similar to the MC10 biostamps, logging urine information – and notifying you or your doctor if something is different than the usual. You would not need to provide urine samples at the hospital or GP; your smart toilet would take care of that. The future looks convenient, don't you think?
7) Smart thermostats and water sensors
When you look at your bathroom as a unit in the home, it will undoubtedly be connected to a system taking care of sustainable energy usage. Sensors following movement patterns would take care of the lighting, and other intelligent devices would follow patterns of water usage – heating only the necessary amount of water promptly.
Moreover, when you go into the shower, your smart home might bring water temperature up or down by using a smart device like Google Nest, just as in the case of the overall bathroom temperature.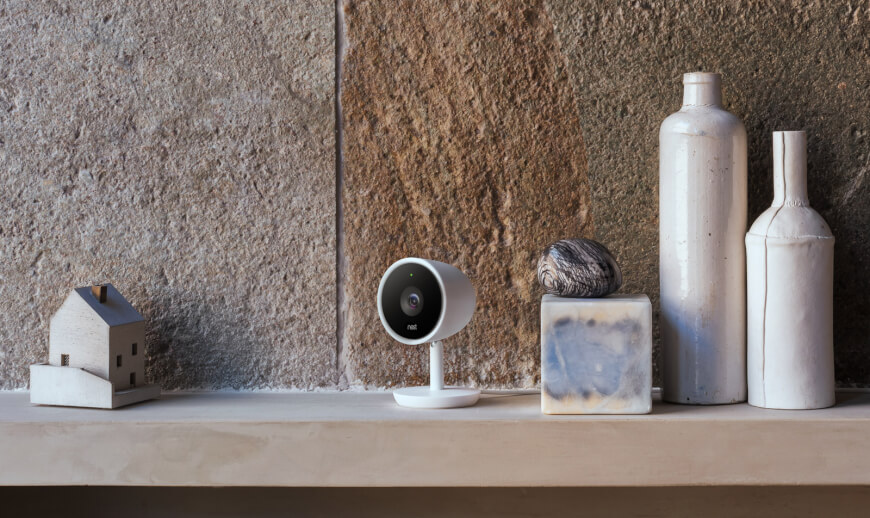 8) Synthetic skins and robots for experimenting with make-up
Beauty companies recognized that technology could offer a way to discontinue animal testing for skin care products. The revolutionary method of bioprinting means one of the disruptive solutions that might help the cosmetics industry.
For example, the almost 150 years old Japanese company, Shiseido has patented a so-called "artificial skin," which could be used for testing skin pharmaceuticals and cosmetics. According to the patent, Shiseido's method improves on previous artificial skin types by increasing communication between the dermis and the epidermal basement membrane. As another example, at the 2018 Vivatech conference, L'Oreal presented a robot which applies lipstick and mascara to models with high accuracy and speed. Do you think, later on, it might also be used for real people?
9) Where are all the men?
Although the bathroom is considered a stereotypically female territory, and it might seem from our collection as well, that the majority of digital tech solutions are aimed at women, many innovations are targeted for men, too.
Personal care and pharmaceutical companies have been selling male-focused personal care products such as razors or hair loss prevention pills for over a century. However, recent trends go way beyond the traditional habits. "Boy beauty" includes gender-neutral makeup and a wide variety of grooming products. Bevel, by Walker & Company, provides premium grooming products & services, designed to help reduce razor bumps & skin irritation. Augmented reality-powered dressing rooms help men get new clothes without the need of going out of the comfort of their living room.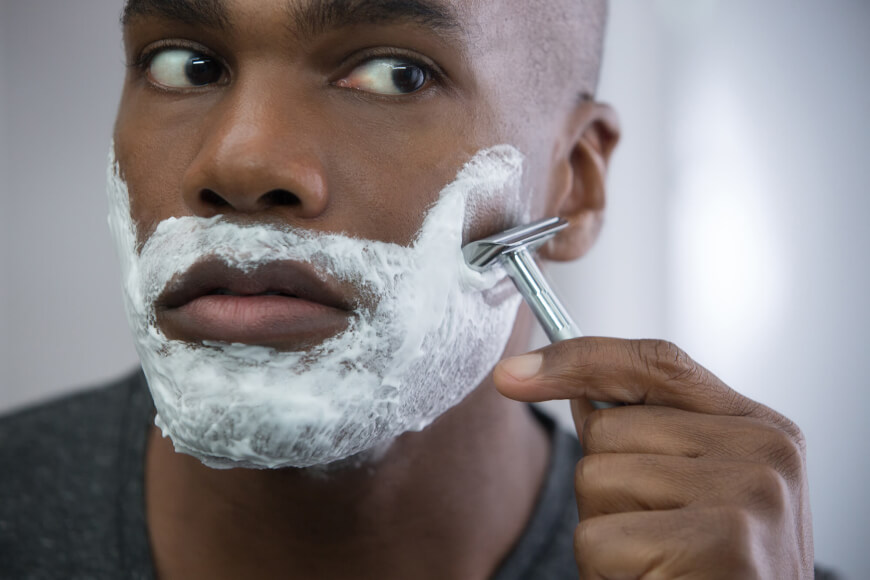 Do all these innovations sound as far-fetched? They will not appear all at once, but we should familiarize with the thought that soon we won't be alone in the bathroom. Technology will be there with us. However, it may solve the problem of dressing up fast in the morning or eliminate the need for urine tests, so I'm for it! Moreover, the bathroom of the future might also decide the age-old question of how much time women spend in front of the mirror, and a smart sensor could help men out what five more minutes actually mean. I would gladly buy that!
Subscribe To The Medical Futurist℠ Newsletter
News shaping the future of healthcare
Advice on taking charge of your health
Reviews of the latest health technology